This Ads Insights function is based on the Amazon sponsored ads displayed on the first 3 pages of the search results, counter-checking Listing's ad campaigns, ad groups and organic search terms. SellerSprite Ads Insights can help you investigate more details about the ads your competitors are running. It offers an in-depth visibility into your competitors ad's structure and performance.
This feature is designed to display the overall structure of an Amazon Listing, containing the ad Campaign, Ad Group and Search Term of a Listing. The database queries results according to any variant ASIN. That is to say, different variants of the same listing have the same query result.
For each product, usually you will have several ad campaigns and many ad groups. For instance: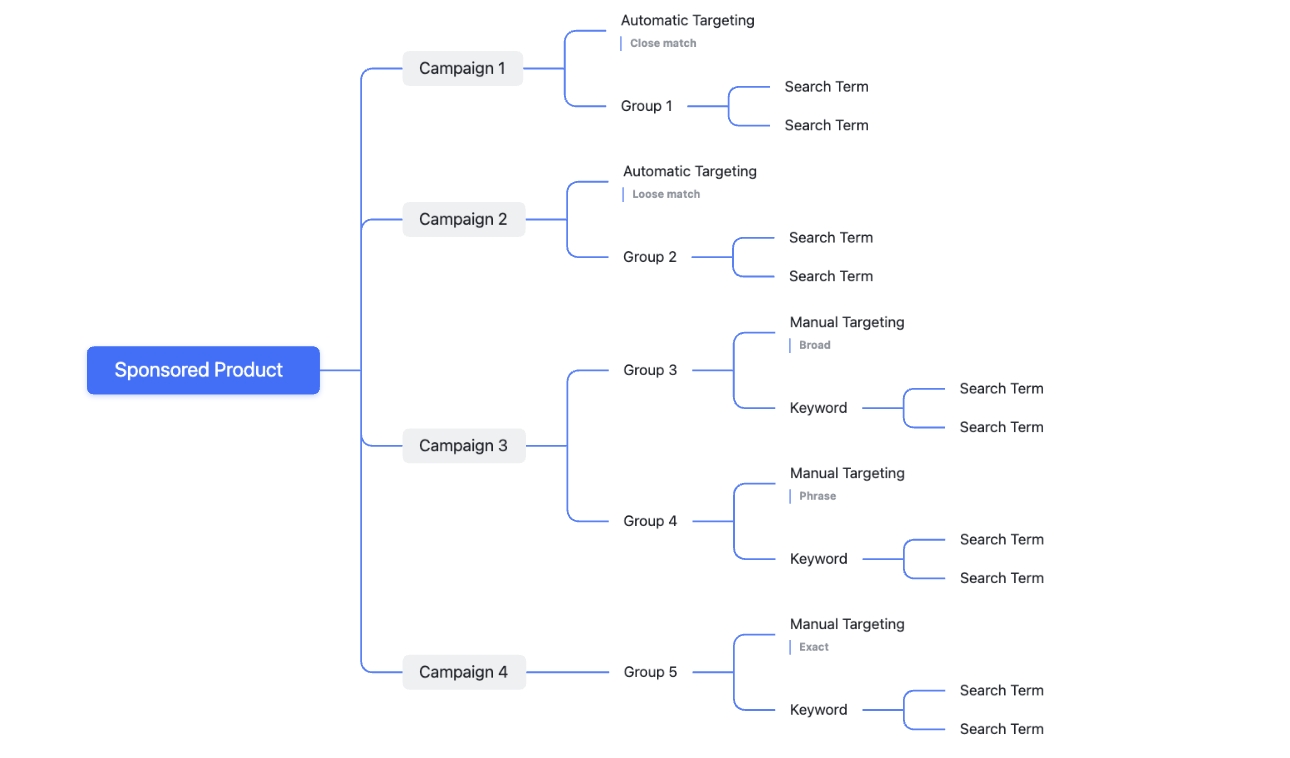 Before showing you the function of Ads Insights, let's learn about the match type of Sponsored Products ads. It's easy to compare ad groups and other search terms in Ads Insights, and evaluate ad type quickly.
Automatic targeting
The automatic strategy involves targeting keywords and ASINs that Amazon's algorithm determines are related to your product listing.
Within automatic targeting, sellers can use four different match types:
- Close match ads appear when buyers use search terms that are closely related to the product you're advertising.
- Loose match ads appear when buyers search keywords loosely related to your product.
- Substitutes target buyers who are considering products that are similar to your product but sold by a different brand (eg: a Cuisinart blender instead of a KitchenAid blender).
- Complements target buyers viewing detail pages of products that complement yours (eg: paintbrushes to go with a paint set).
As "automatic" implies, this is the easier targeting method from a seller's perspective. The downside is that it lacks the optimization options that other ad types offer.
Manual targeting
Manual targeting involves hand-selecting the keywords you want to bid on. Manually targeted ads will only appear if a buyer's search terms match your chosen keywords. As a more "hands-on" type of ad, you will need to monitor changes in costs and make adjustments where applicable. This optimization often results in more effective ads and a lower long-term ad spend.
SellerSprite Ads Insights
Let's take B07SL2X217 as an example to show you how this feature works.
Choose the right marketplace and the data chart format, monthly or weekly. And then enter ASIN B07SL2X217 into the blank box, click "search".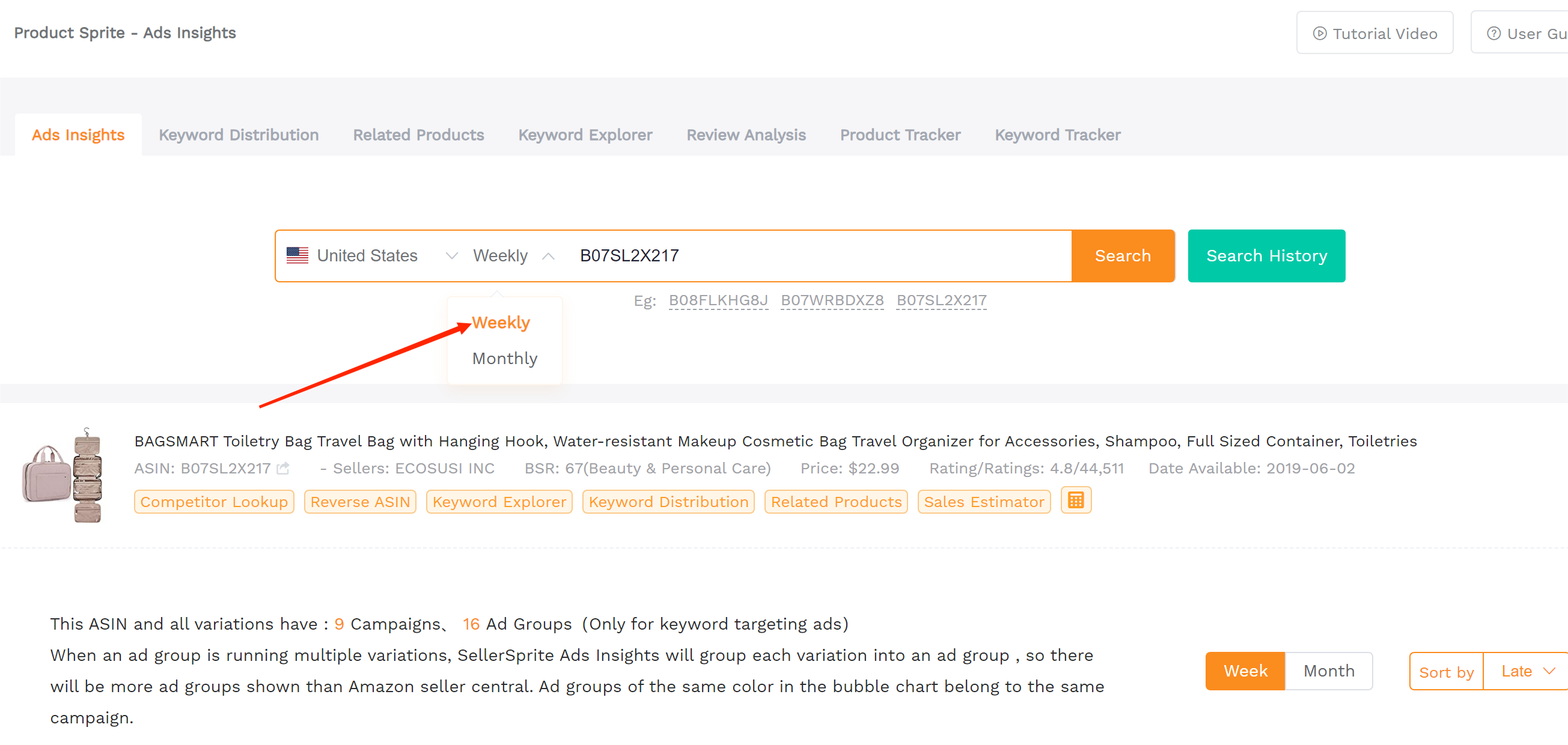 There are 6 ad campaigns,9 ad groups for this ASIN and all of its variations. In this mode, the results are displayed in order of ad campaign creation date, Latest First.

SellerSprite Ads Insights will group each variation into an ad group, so there will be more ad groups shown than Amazon seller central.
Ad groups of the same color in the bubble chart belong to the same campaign.

The Circle of the chart indicates the amount of ad keywords during different times. The size of the circle indicates the size of the number of search terms; the larger the circle, the larger the number of keywords. Bring your mouse on a circle, you can see exactly how many keywords that ad group has in it.
The display size of the circle changes greatly, that is, the number of search words fluctuates greatly. It is usually caused by several reasons:

1. The seller uses automatic targeting as a search term (automatic targeting).
2. The seller uses Broad matching and Manual Targeting as campaign levels to reach visitors with specific search terms (keywords) in their ads.
3. The seller uses Phrase matching for their campaigns or keywords.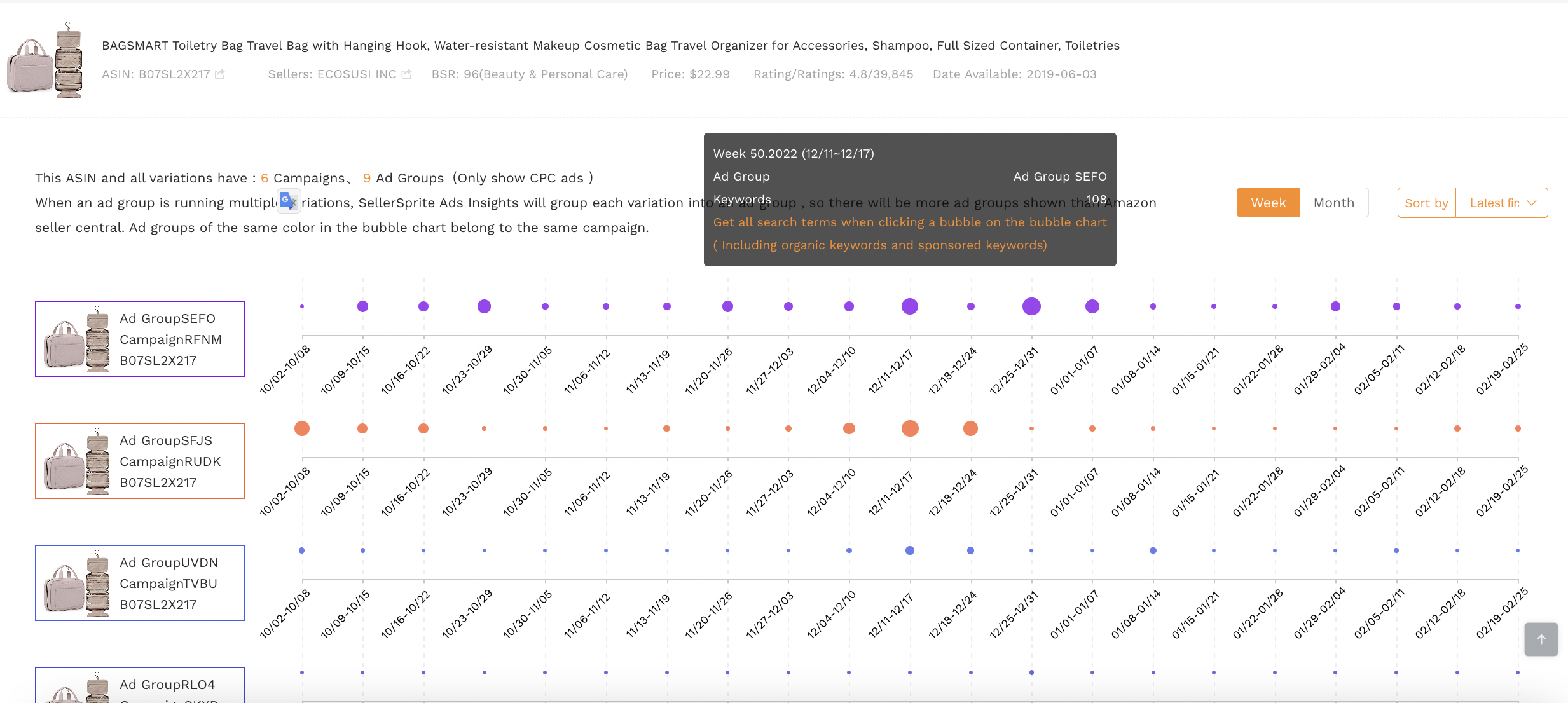 Click the circle to see the search terms details, such as ad search keywords, the ASIN displayed when searching for this keyword, SP rank of keyword, organic rank etc. You can also link through to Amazon's search suggestions page via related search terms.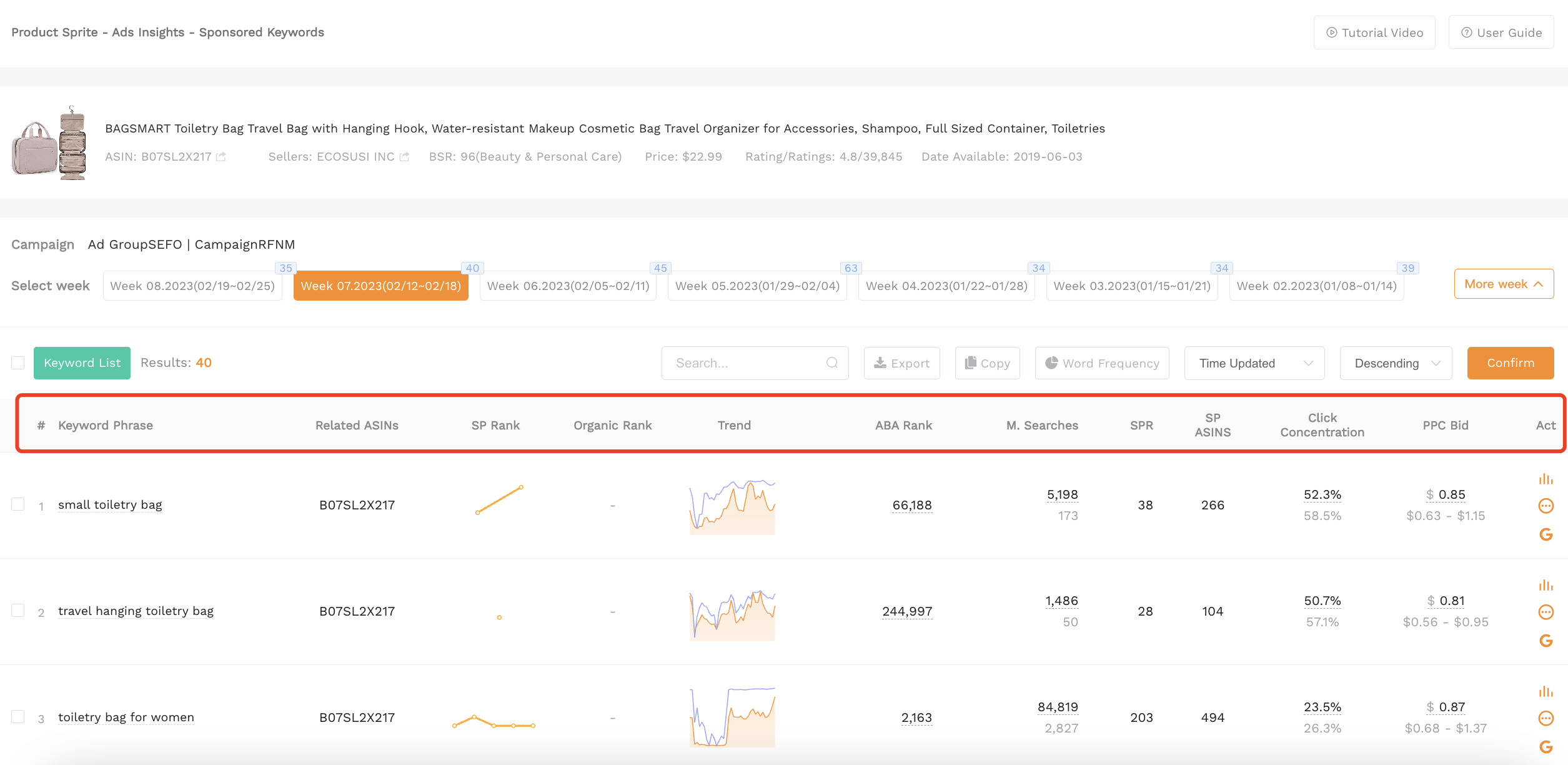 Clicking the Week 06.2023(02/05-02/10), we found that the "toiletry bag" is a seed phrase in this group, and its search terms are probably around the seed phrase "toiletry bag".
We can guess that this is a manual targeting phrase match with "toiletry bag" as the seed phrase.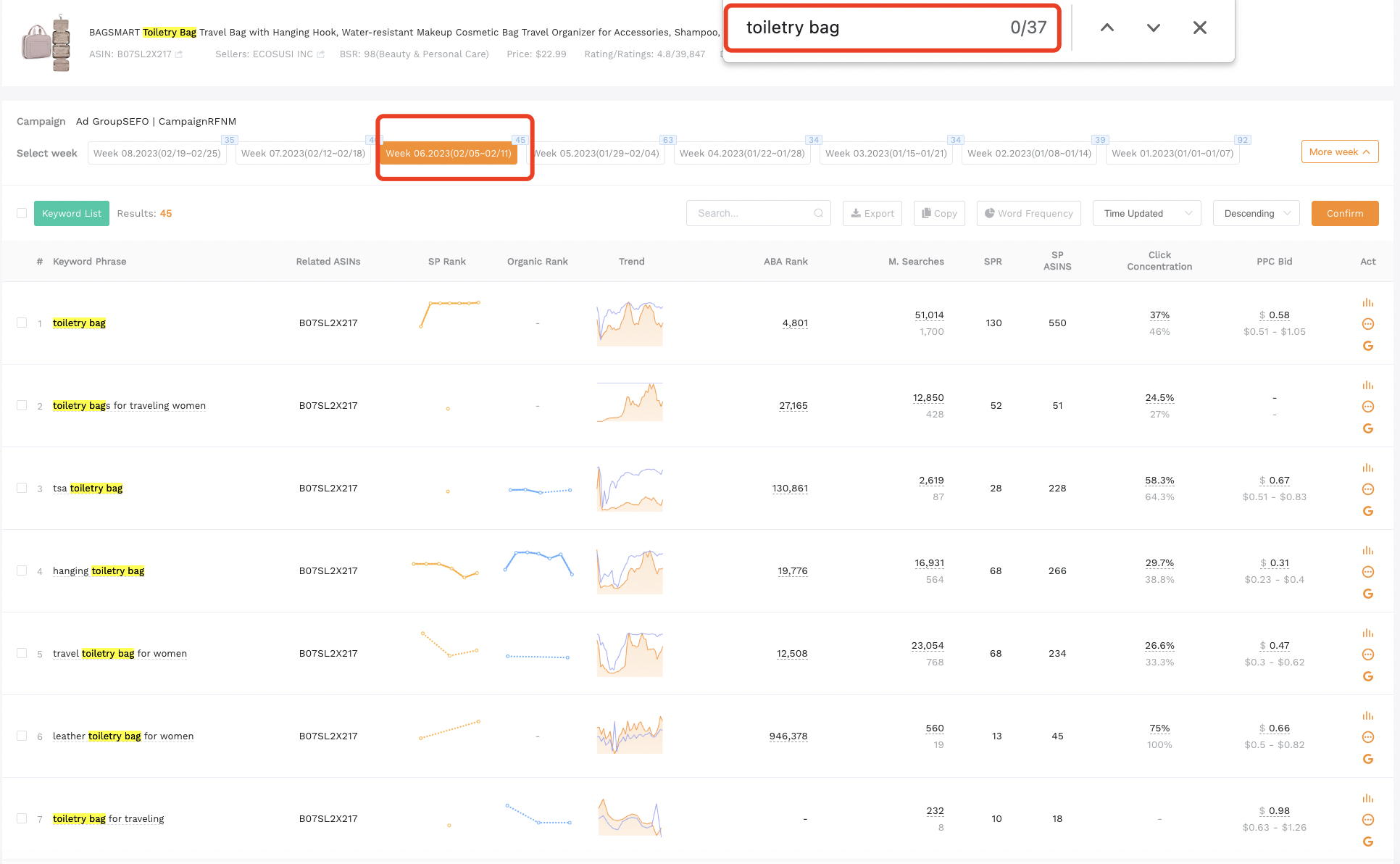 Ad Group 2 and ad Group 6 belong to the same ad Campaign. These two different variations of the same ad campaign have the same keyword targeting and keyword match type.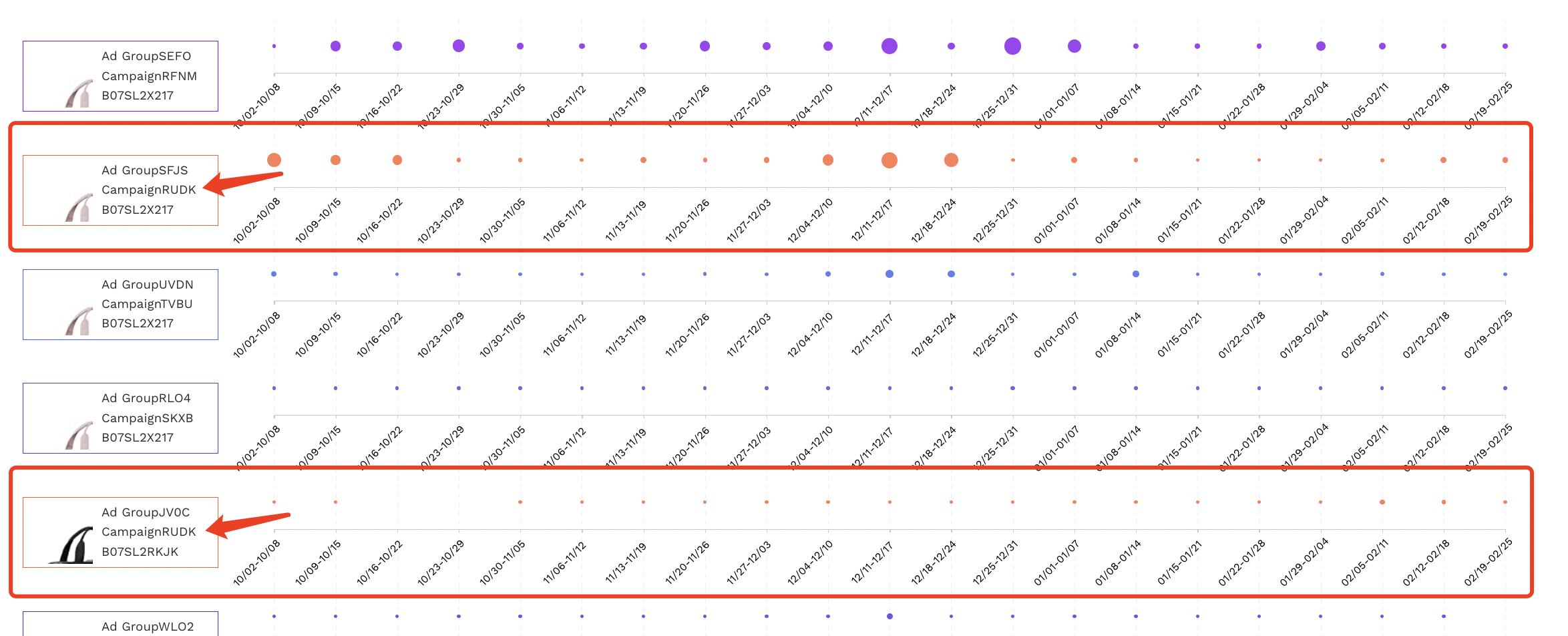 Clicking the Week 05.2023(01/29-02/04)of CampaignRUDK, some words in the search results do not match the product, such as shampoo bottles, so we can determine that the ad group is a loose matching ad group of automatic targeting campaign.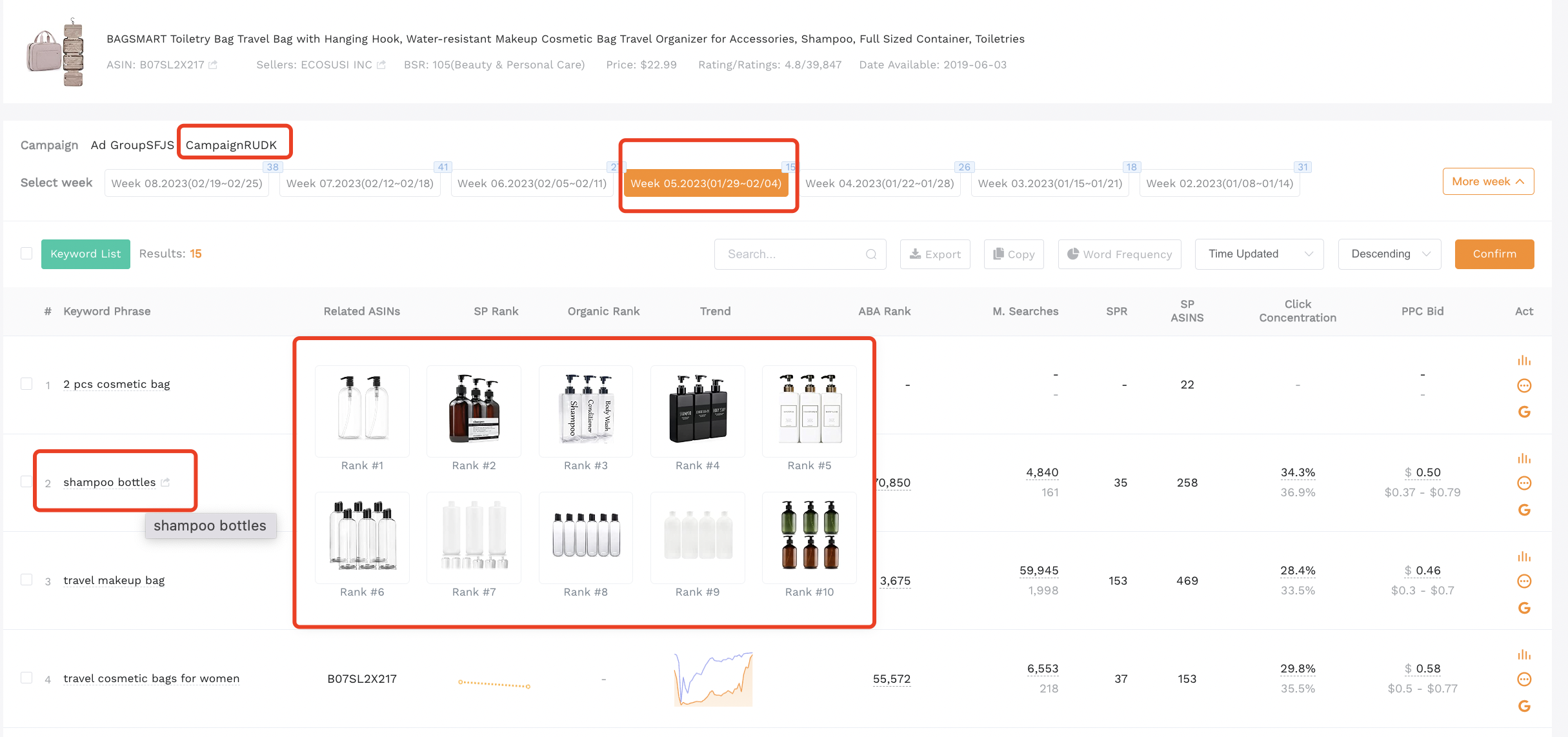 In order to confirm our assumption that the ad group is a loose matching ad group of automatic targeting campaign, we clicked on another ad group of CampaignRUDK and found that there were keywords in the search results that also did not match this product.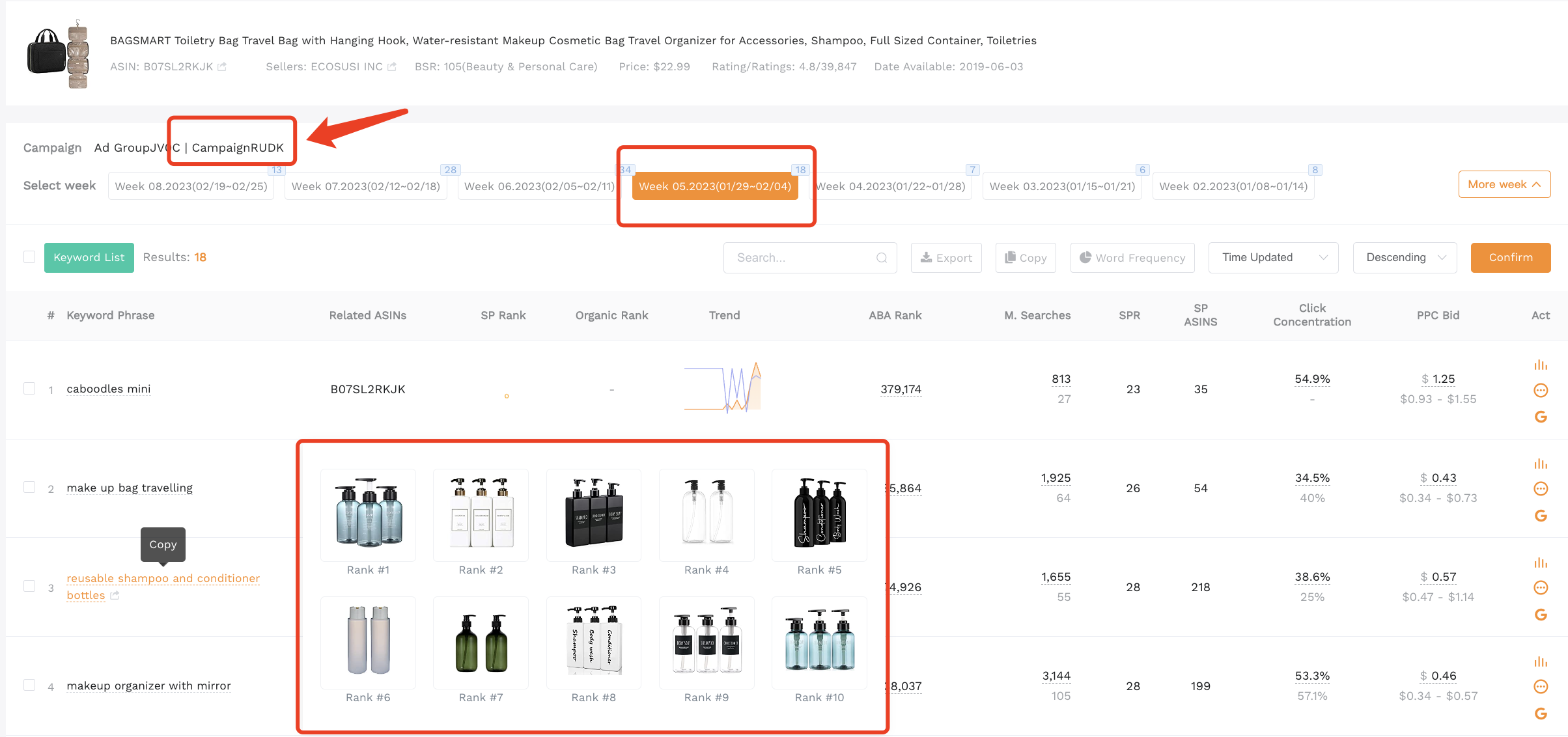 When we click the Week 05.2023(01/29-02/04) of Ad GroupUVDN, we find that this ad group has few keywords and the keywords are not too related to each other.
But all these words are closely related to the product, so we guess that this ad group is an exact matching ad group.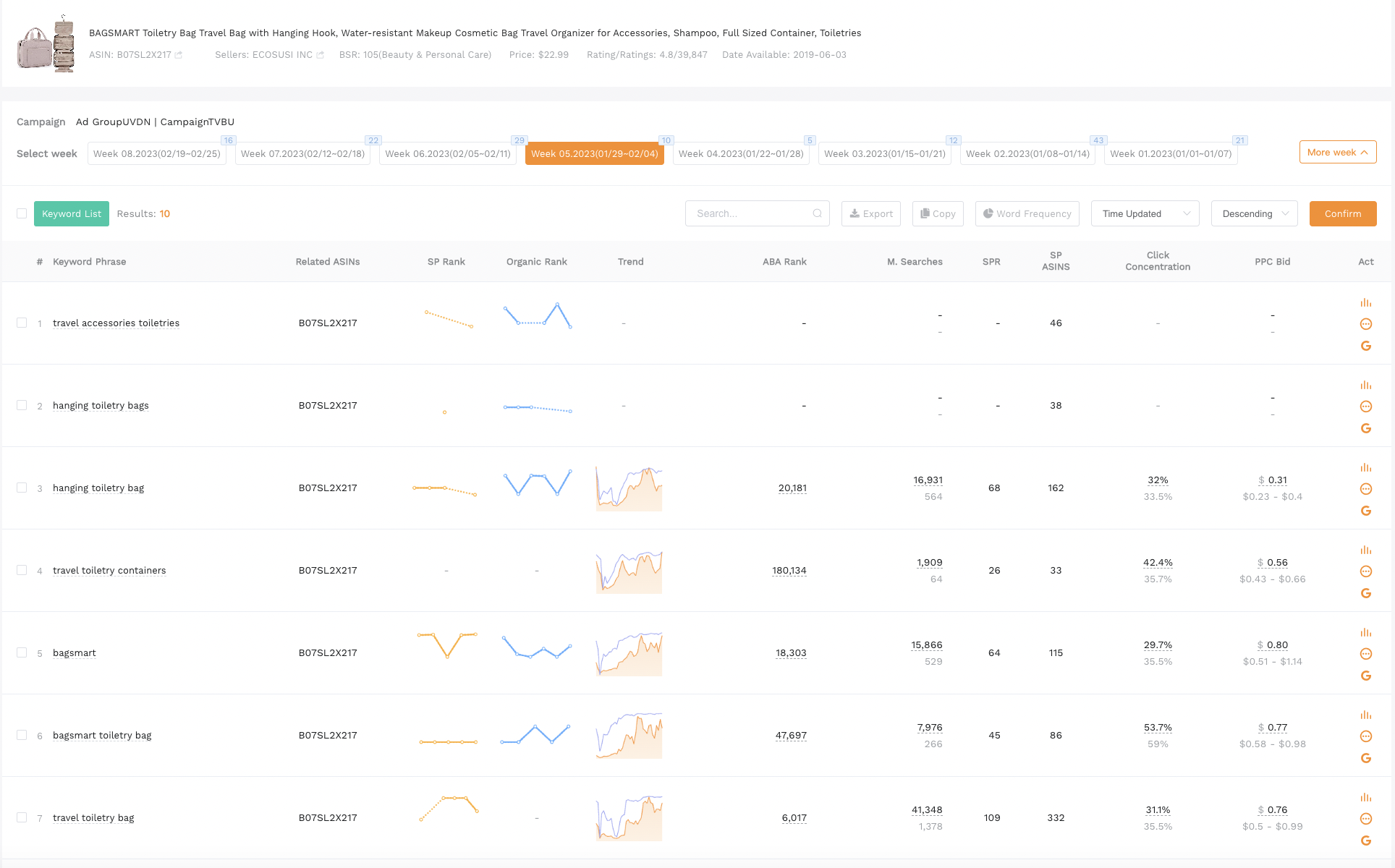 The two ad groups below belong to the same campaign, and we can see that the size of the circle changes greatly. That means, the number of search words fluctuates greatly.
It looks like this campaign is an automatic targeting ad campaign or a broad matching manual ad campaign.

After clicking on the circles, we go to the details page and see that there is no specific seed phrase and there is no particular pattern for the words in this ad group. The brand word "bagsmart" also appears in the results, so we deduce that this is an automatic targeting ad campaign.
By further analyzing all the search terms in the list, we found that these words are closely related to the product, so we can conclude that this campaign is a close matching automatic targeting ad campaign.
Here's some tips for Ads insight !
If you can't get the regularity of these keywords directly at once, don't worry. You can click [Export] at the top of the search term detail page and export keywords to an Excel table to sort the keywords and analyze them.
Another way, you can [Copy] all the keywords to SellerSprite Keywords Mining-Bulk Mining to get the high-frequency words.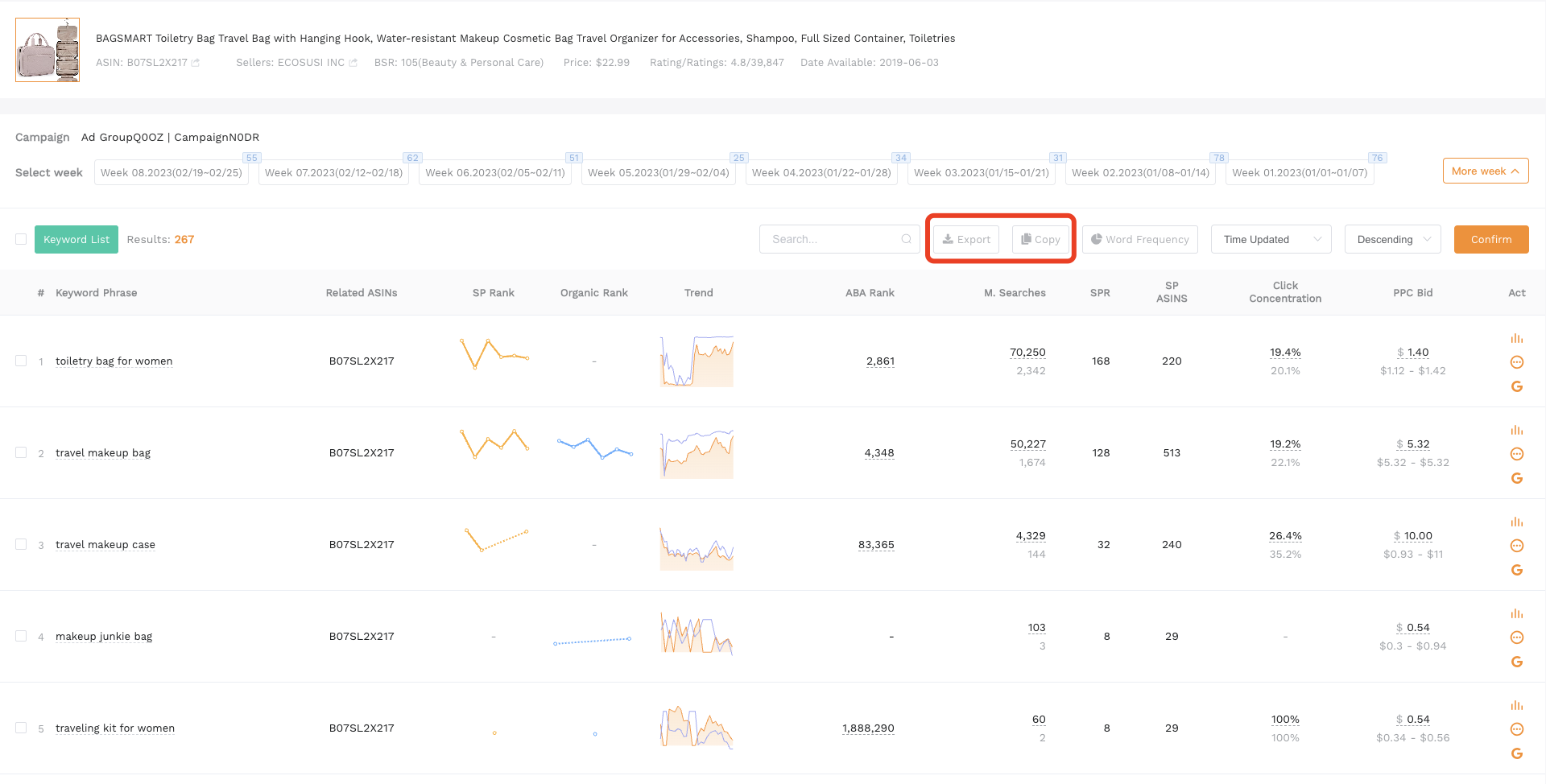 We've summarized a few rules based on our ad experience to help you speculate on the sponsored ad type and keywords match type.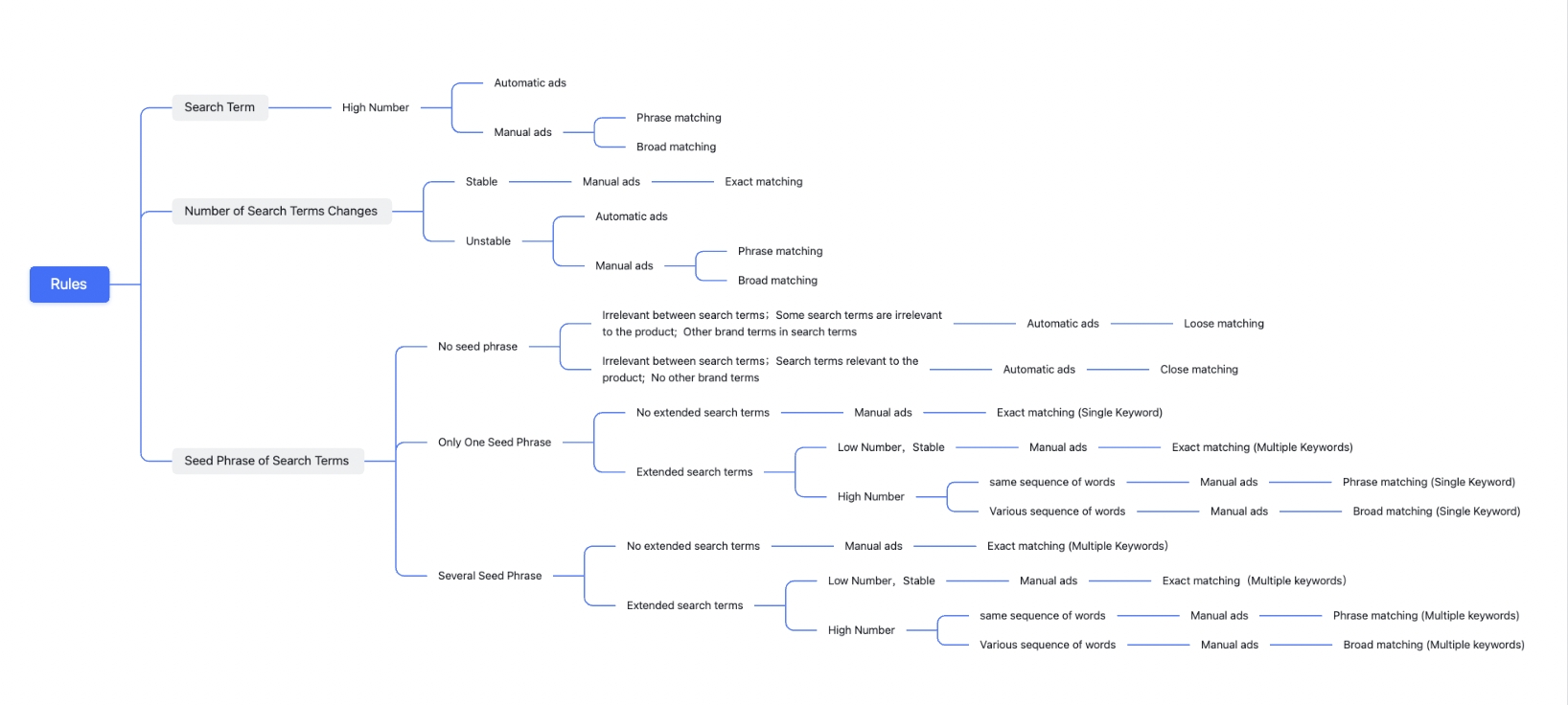 We believe that not everyone will play the game according to common sense. So we would like to analyze according to the situation.
Through SellerSprite's ad insight function, we can also take a look at the sponsored product offered by sellers and see which variations are showing up there. For product B07SL2X217, the pink one is the main color of sponsored items.
So guys, this is basic explanation of "Ads insight". Please write on commecnt section below if you have any questions.
Happy selling.