Different sellers are different in financial strengths, operational capability and supply chain, different markets on Amazon also have different competition level and entry barrier, so, you must discover the products to sell on Amazon based on your demand and actual situation.
Now, we're gonna to show you the method you could use with SellerSprite's product research tool, to find the most profitable products and opportunity.
You'll start by selecting marketplaces and specific categories, you can select one or multiple categories that you're interested in selling. And if you are not sure which category to get started, you can just leave this blank.
And the filters on the right side can help you narrow down the product results that suits your goals and demands, so you can enter the filters as many as you'd like based your own strategy, or combine our own 5 presets to get you started, let's go through them.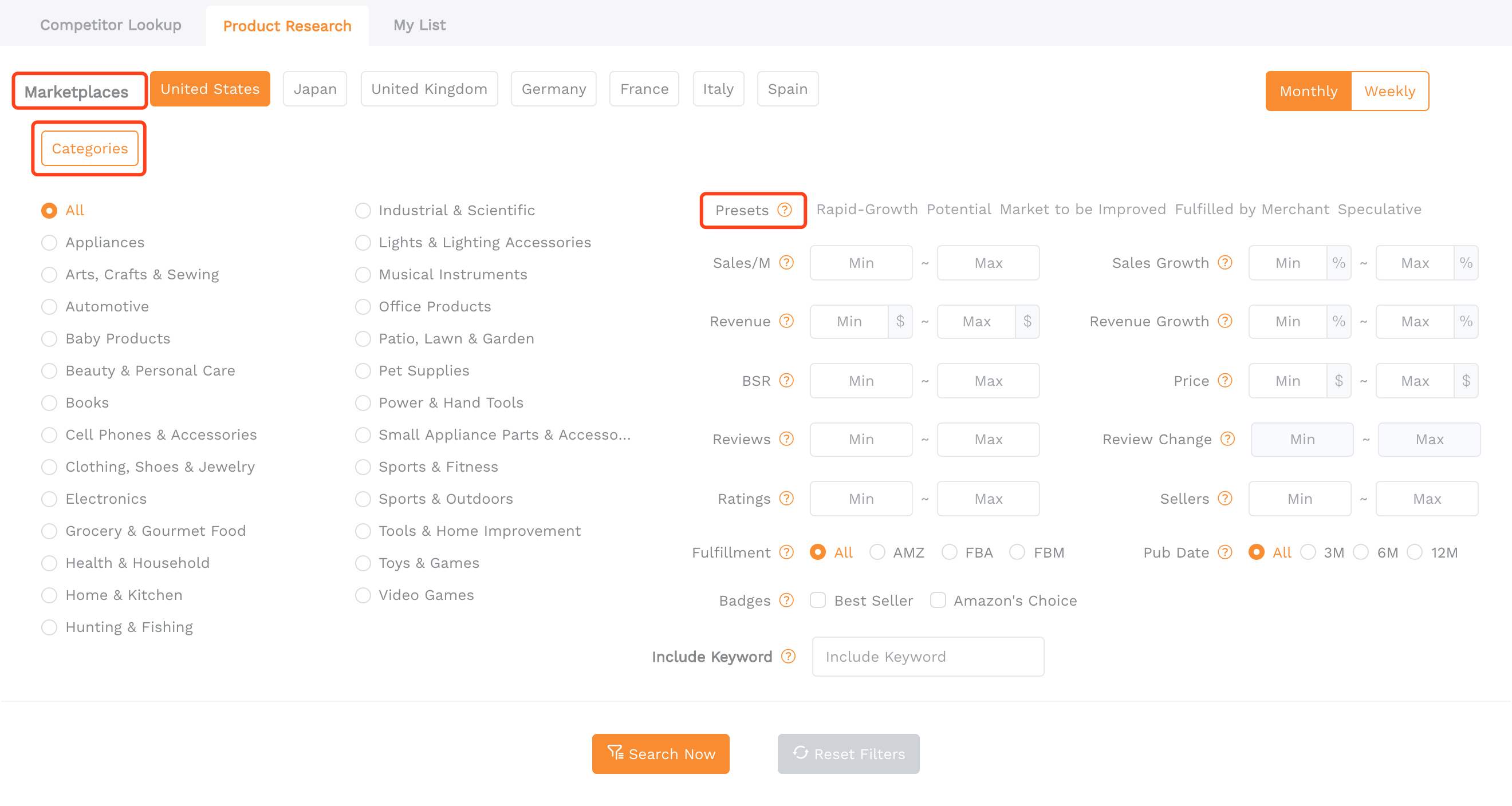 First, rapid growth market, it discovers the products whose sales increased fast over last month. The monthly sales is 300 at least, the minimum sales growth rate is 10%, let's try the sports&outdoor category, once ready, hit search.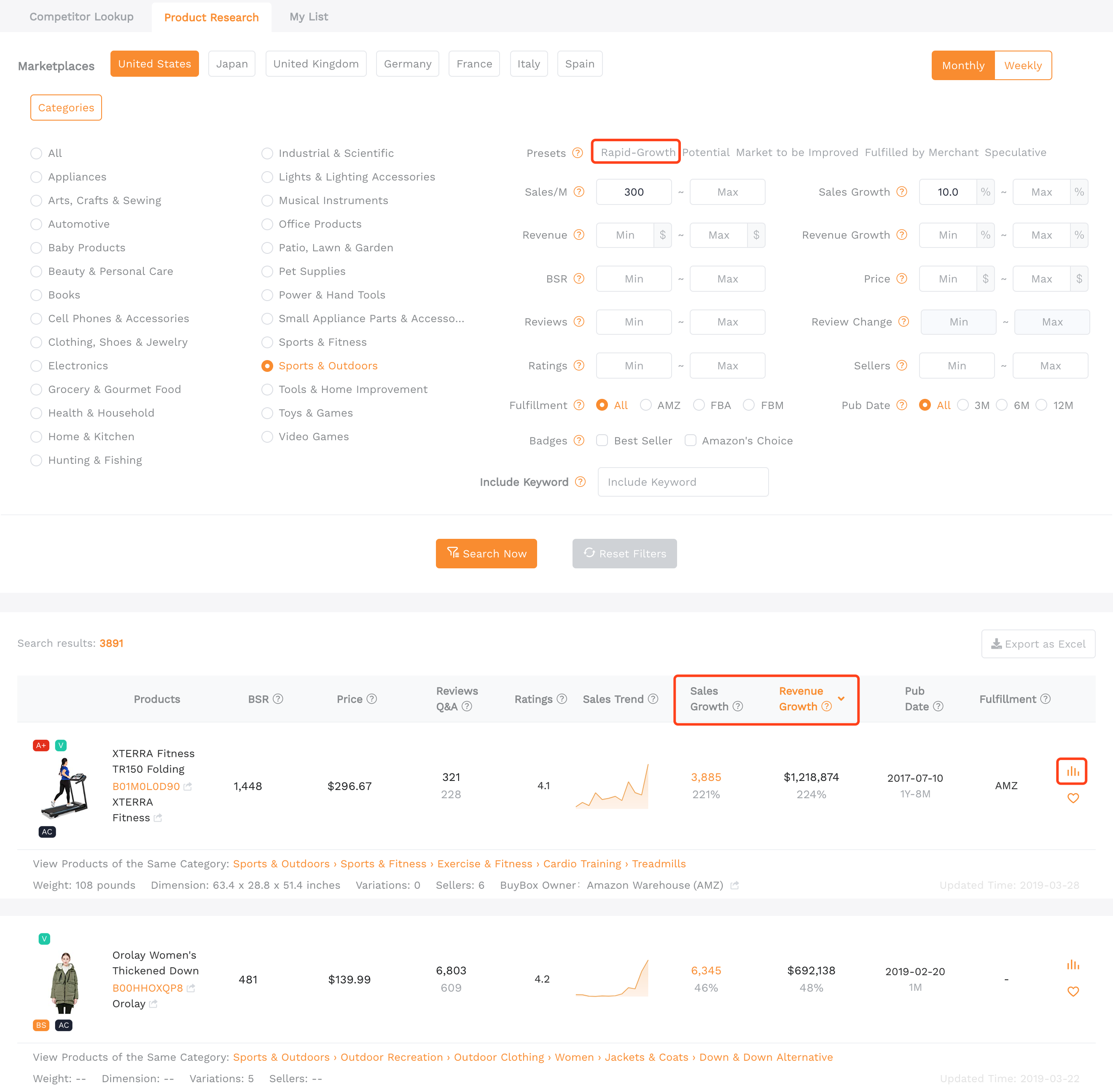 We get a list of product sorted by revenue in descending, and you can sort by any column that you'd like by clicking the column title.
Along with each individual product that fit your criteria, you will see the basic product information, category, monthly sales, launch date and other important data for research. And there is a button where you can dig in further to view the product's detailed data and trends.
We show you the data for sales, revenue, avg price, conversion rate in each month, and the historical trends for sales, bsr, price, reviews and q&a. In addition, you are able to click the category node to see the products under the same category.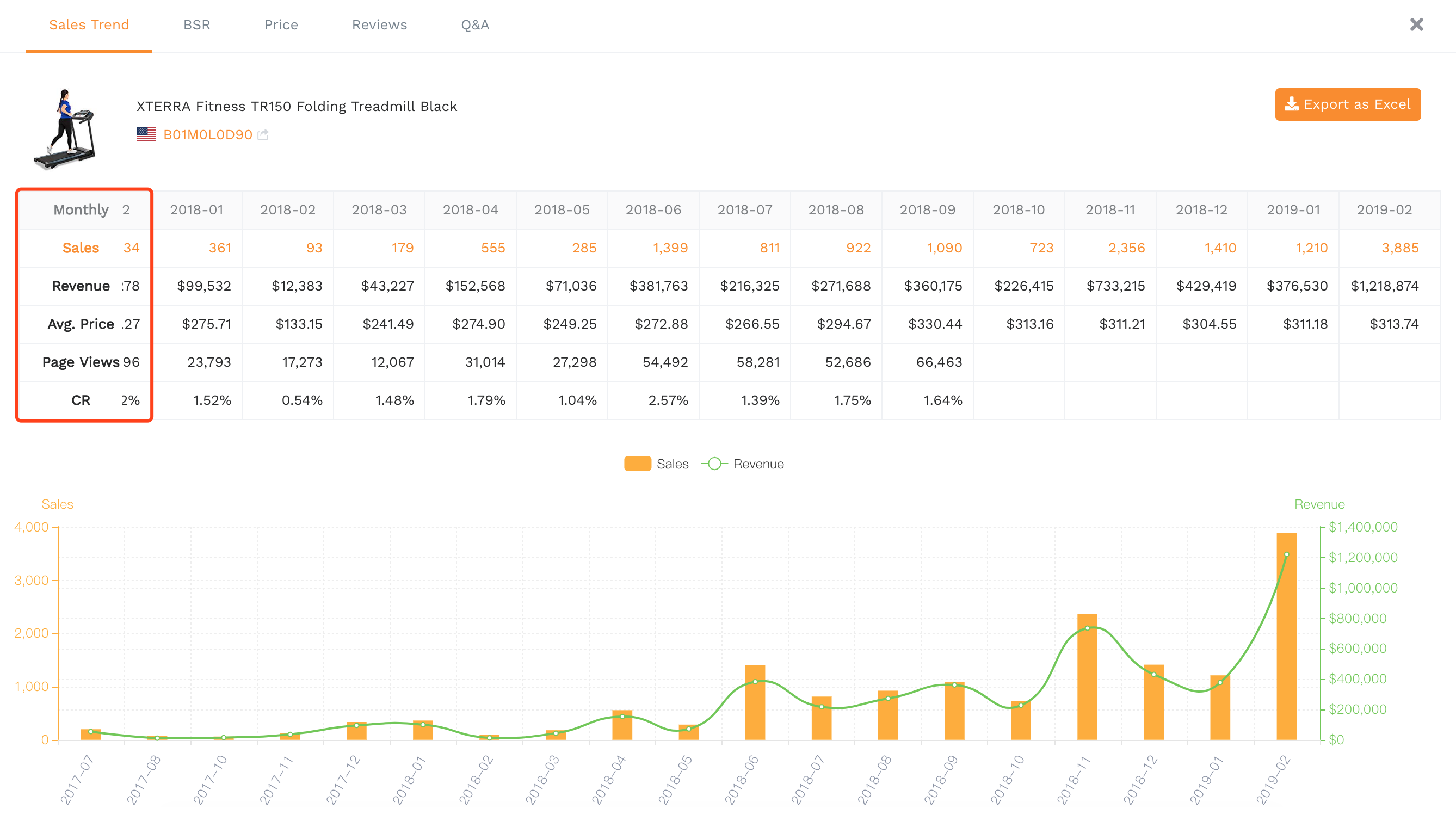 Remember, you have ability to click the button on the upper right to switch into weekly sales, so that you can filter and searched by weekly data. Right here, the sales trends, for monthly data, it's the monthly sales trends for the last 12 months, while for weekly data, it's the weekly sales trends for the last 13 weeks.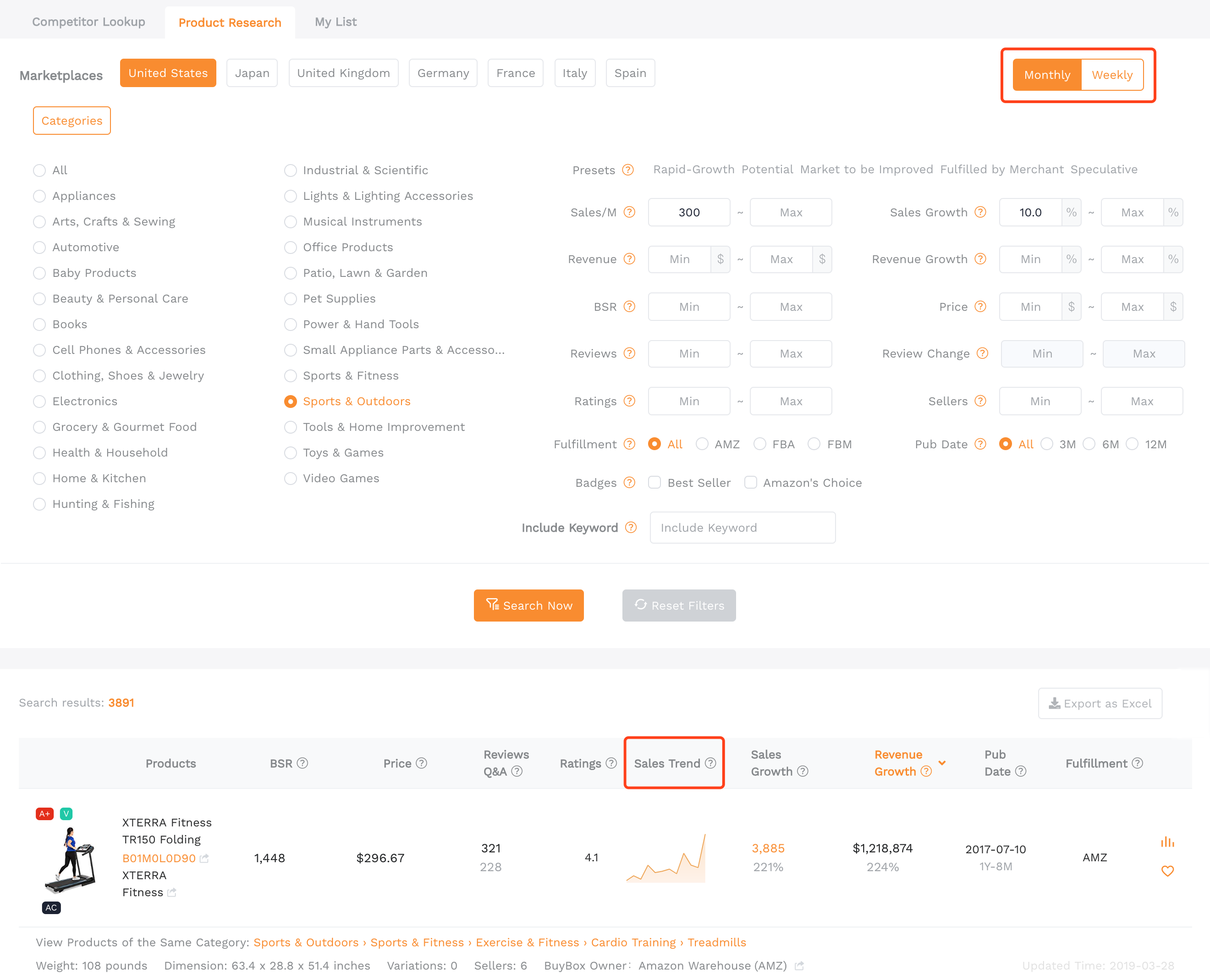 Second, potential market, it discovers the products that are selling well and have a good sales growth rate. The maximum monthly sales is 600, the growth rate is 10% at least, and launched less than 6 months, let's try tools&home improvement category, once you've got all of your filter set, click search.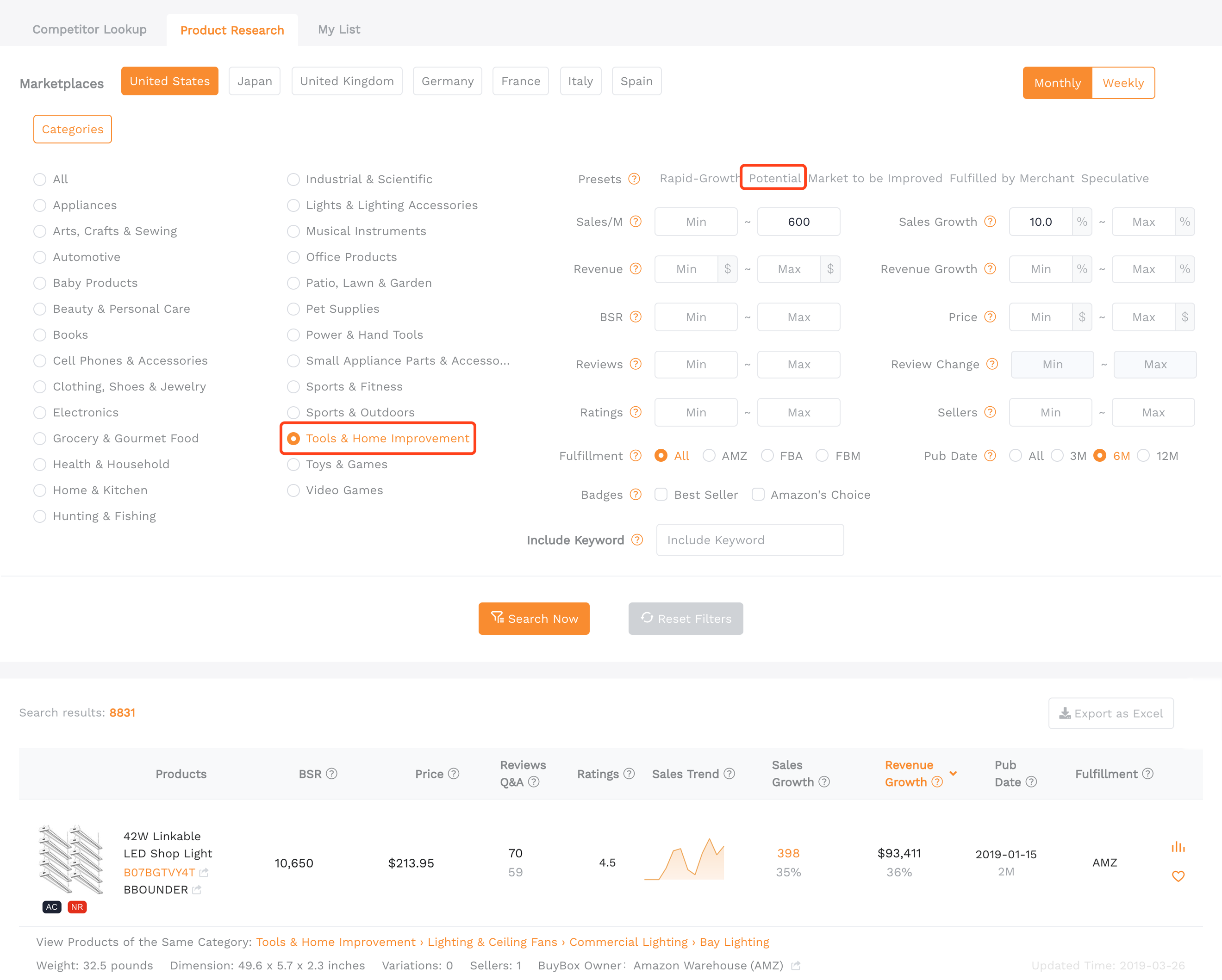 Over 9 thousand product results are got here, quite a mass of data for analysis, if you need to narrow down the results, you can input more filters based on your demand, BSR, reviews, badges and so on, whatever you'd preferred to do, the more you filter, the more targeted your results are going to be.

Suppose that you're a beginner on Amazon, the reduction of the cost for trial and error is important. So, you're gonna to enter more filters based on this demand, the price is within 20 dollars, the reviews is less than 50, again, hit search, over 2000 search results were left.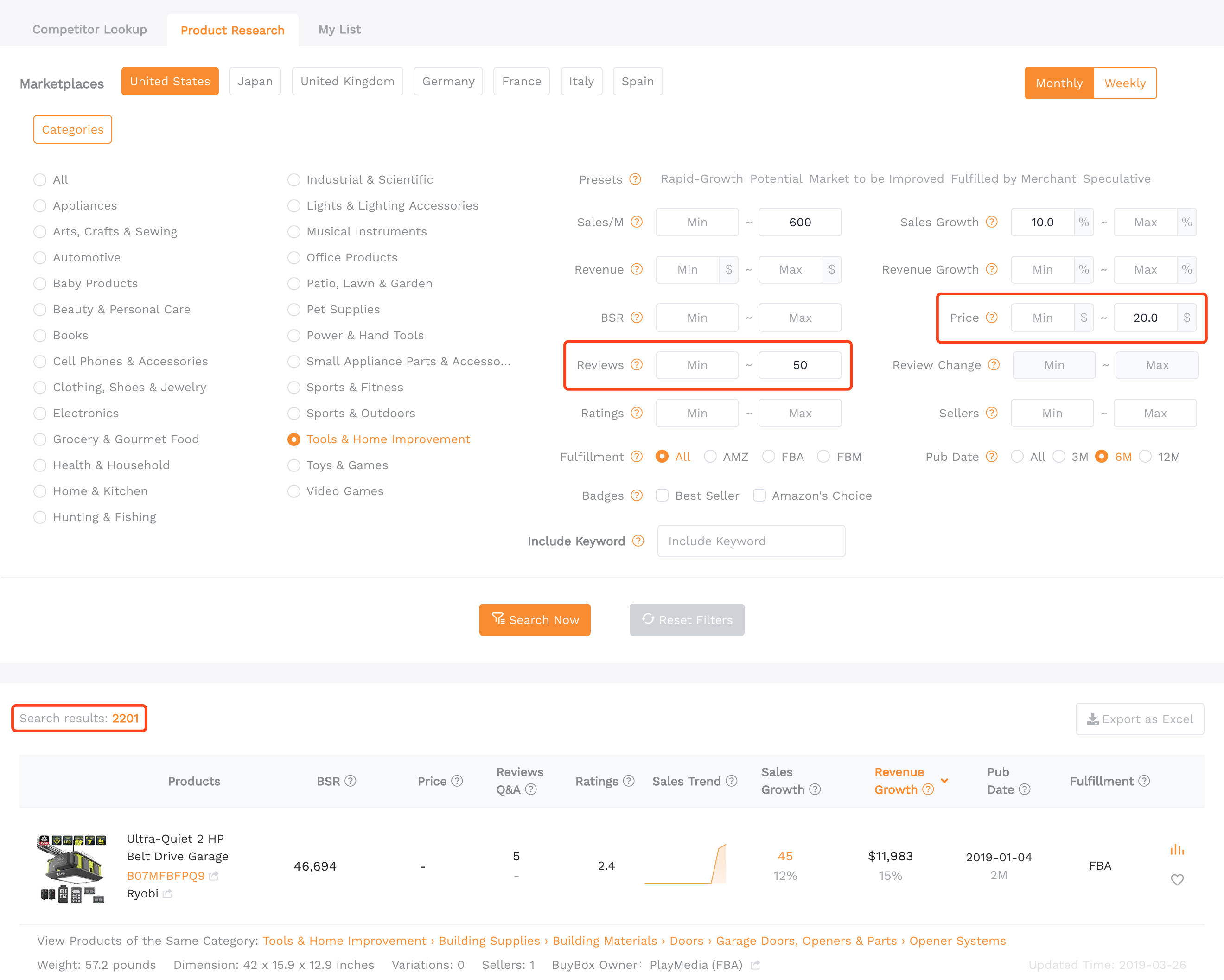 Head down to view the results, you are able to browse each individual results by turning pages or preview by clicking the pictures. Click in and click the arrow to switch the picture forward and backward. If you are interested in a product, a title right here will take you to the listing page on Amazon.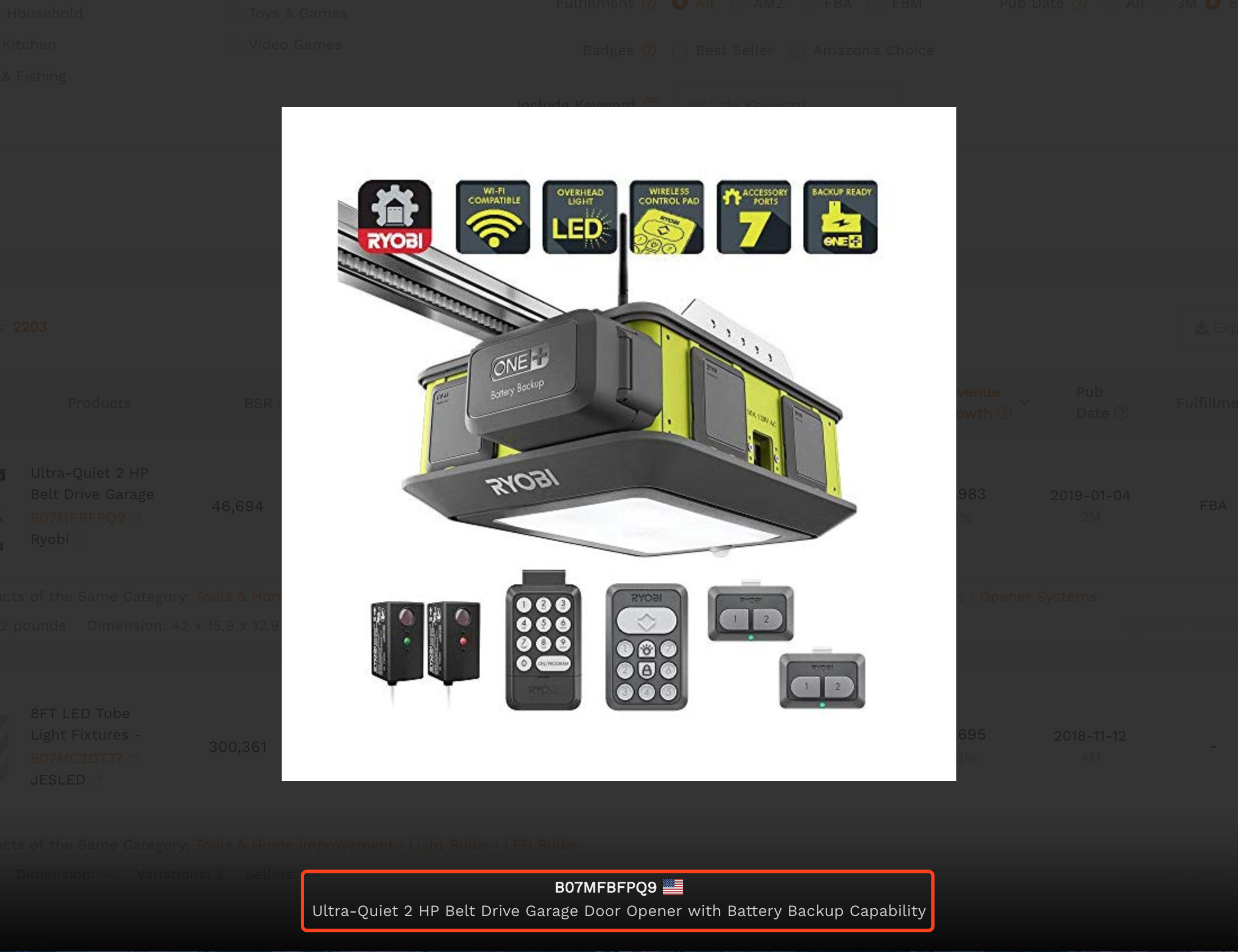 Third, the rest presets are market to be improved, fulfilled by merchant, and speculative market.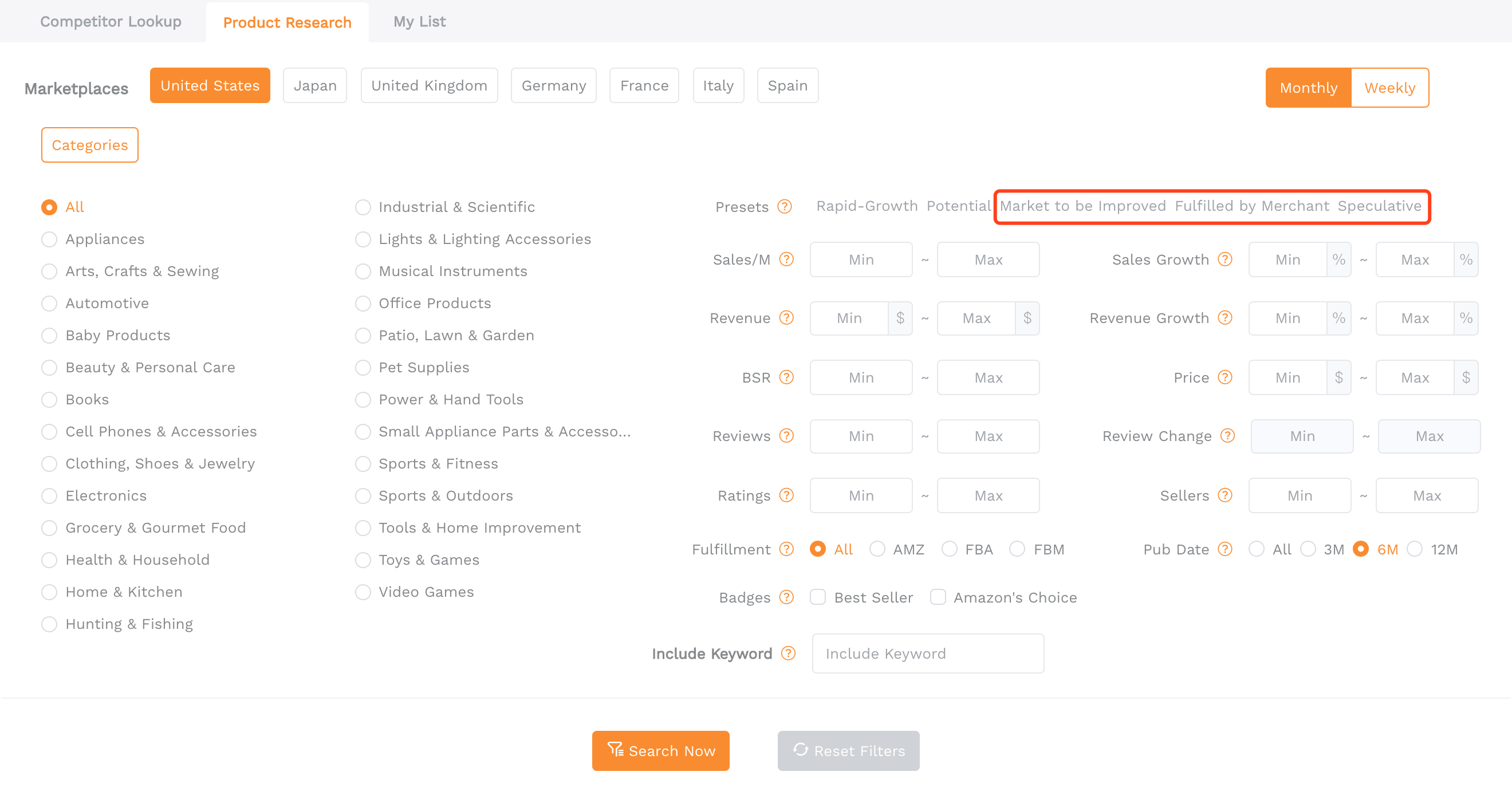 Let's start with market to be improved, it discovers products that are selling well, but customers aren't reviewing well, monthly sales is more than 300, review rating is less than 3.7. You can improve on existing products by reading some reviews or identify areas for improvement when you manufacture your product.
Go ahead with fulfilled by merchant, it discovers the products that have good demand and the fulfillment method is FBM. The minimum monthly sales is 300, fulfilled by merchant, this market have ability to reduce the cost and pressure on overstocks.
The last one is speculative market, you can hunt down the opportunity by looking for the existing product that has many hijackers. The number of sellers is more than 3, and the monthly sales is 600 at least.
That's Sellersprite's product research tool, you can use anyone of the 5 built-in presets to get started, or apply your own product hunting strategy. Remember, you don't need to use all of these filters at once, you can pick the most important to you, and play around all the combinations to discover products and opportunity.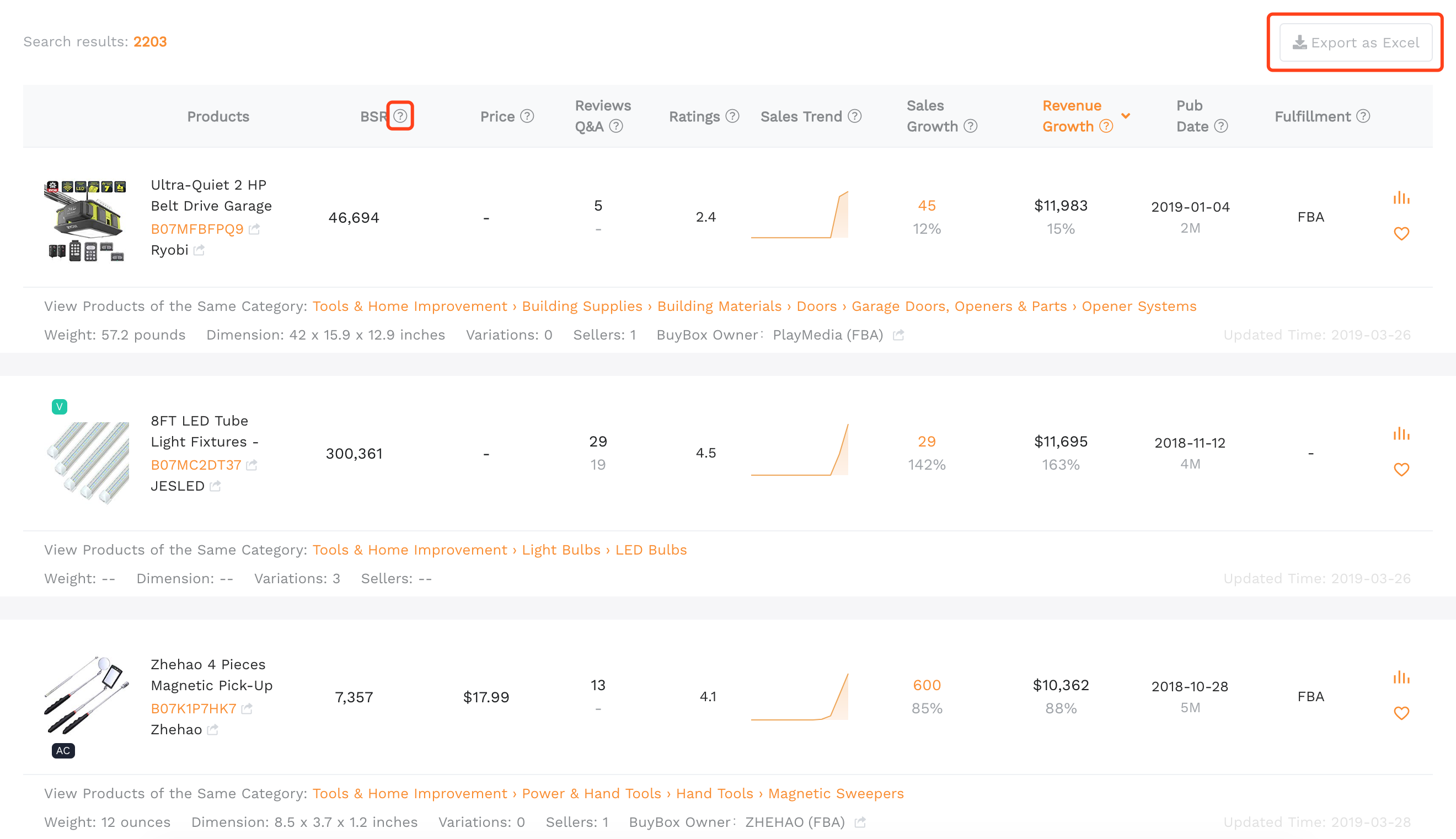 Again, all the search result can be exported to excel file here, and all the column title has explanations that you can view by hovering over the little question marks.
Product research tool is constantly upgrading, more helpful features will be developed, like profit margin, shop selection and some others, it's recommended to use both our product research and keyword research tool to discover the profitable markets and products.