With competitor lookup tool, by entering one or a few of the following search criteria, you can get a deep insight into your competitors' information, and exactly how your competitors are performing. The criteria including category, keyword, brand, seller, and ASIN, let's go through them.

First, searched by category. With this criterion, you are able to see the sales and other important information of competitors under a specific category. Clicking category, you will see a list of Amazon main categories, the number on the right side is how many products are selling in the category. And you can double click the category title into next subcategories until you find your target category node, the lowest subcategory query is available.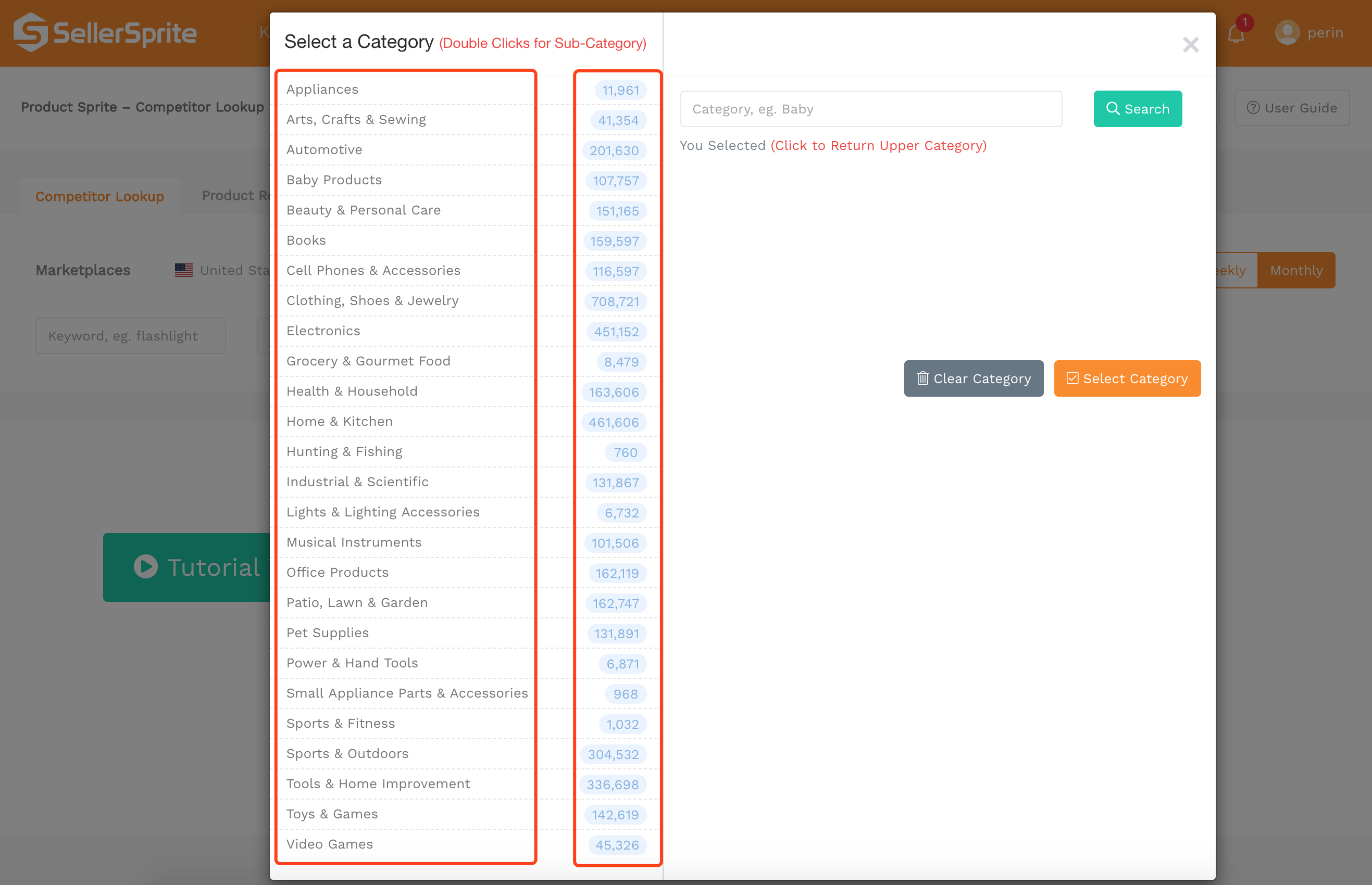 Hit search, you will see the monthly sales and other important information of each individual products under the given category, they are sorted by the monthly revenue descending, and you can sort by any column that you'd like by clicking the column title.
Remember, you have ability to click the button on the upper right to switch the result into weekly sales data.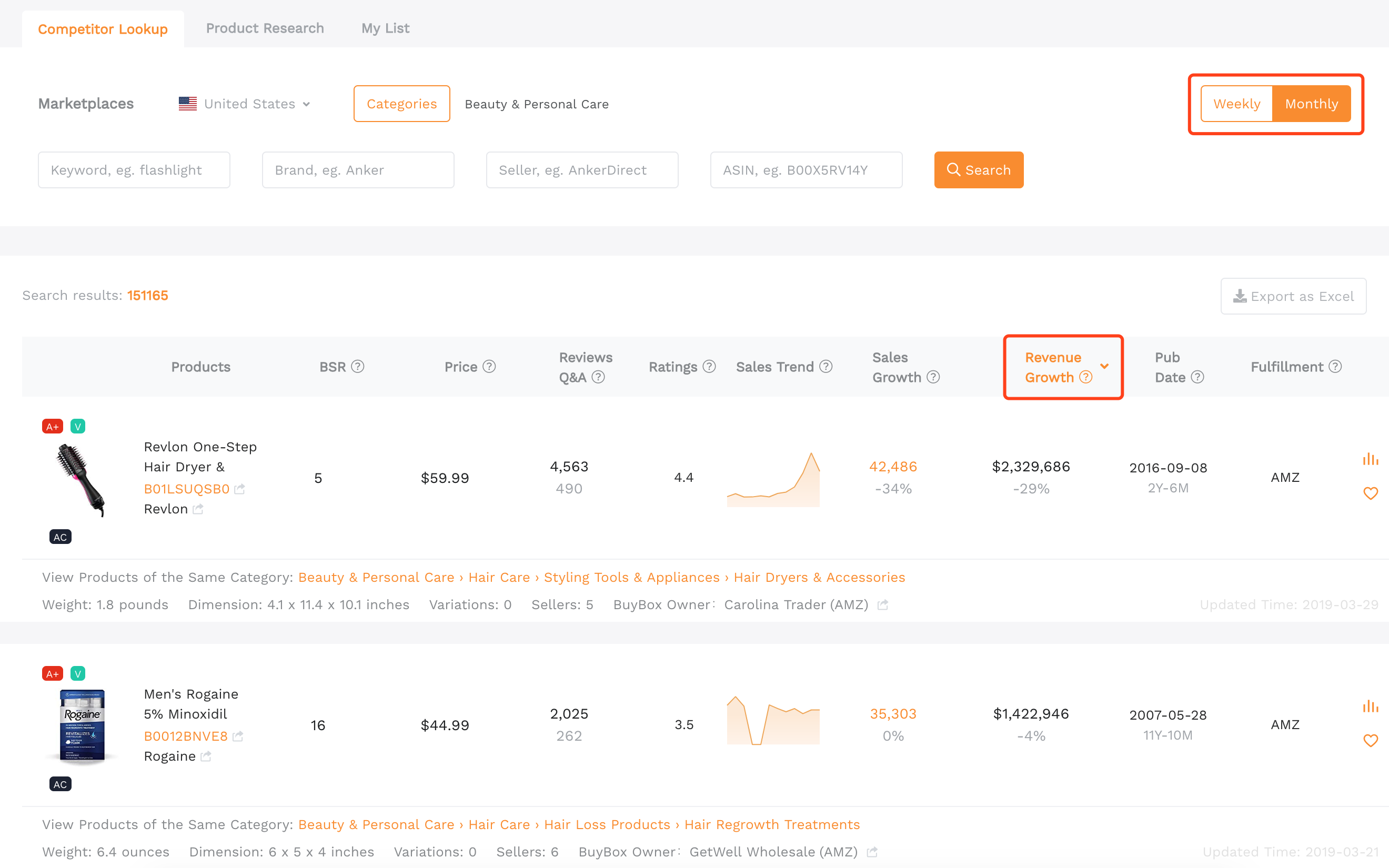 When searching with other criteria, you can specify a category to filter the result to fall into your preferred category, or you can just leave it blank also, it all depends on your demand.
Second, searched by keyword. It's the keyword that is present in title. If you want to analyze the sales of a certain type products, it is recommended to searched by keyword.
Let's try the keyword "fortnite". As a trending game, almost all of related products launch less than half a year, most of them sells well and the sales are on the rise in recent months. If you are interested in this product, you have ability to search this keyword with keyword mining tool for further analysis.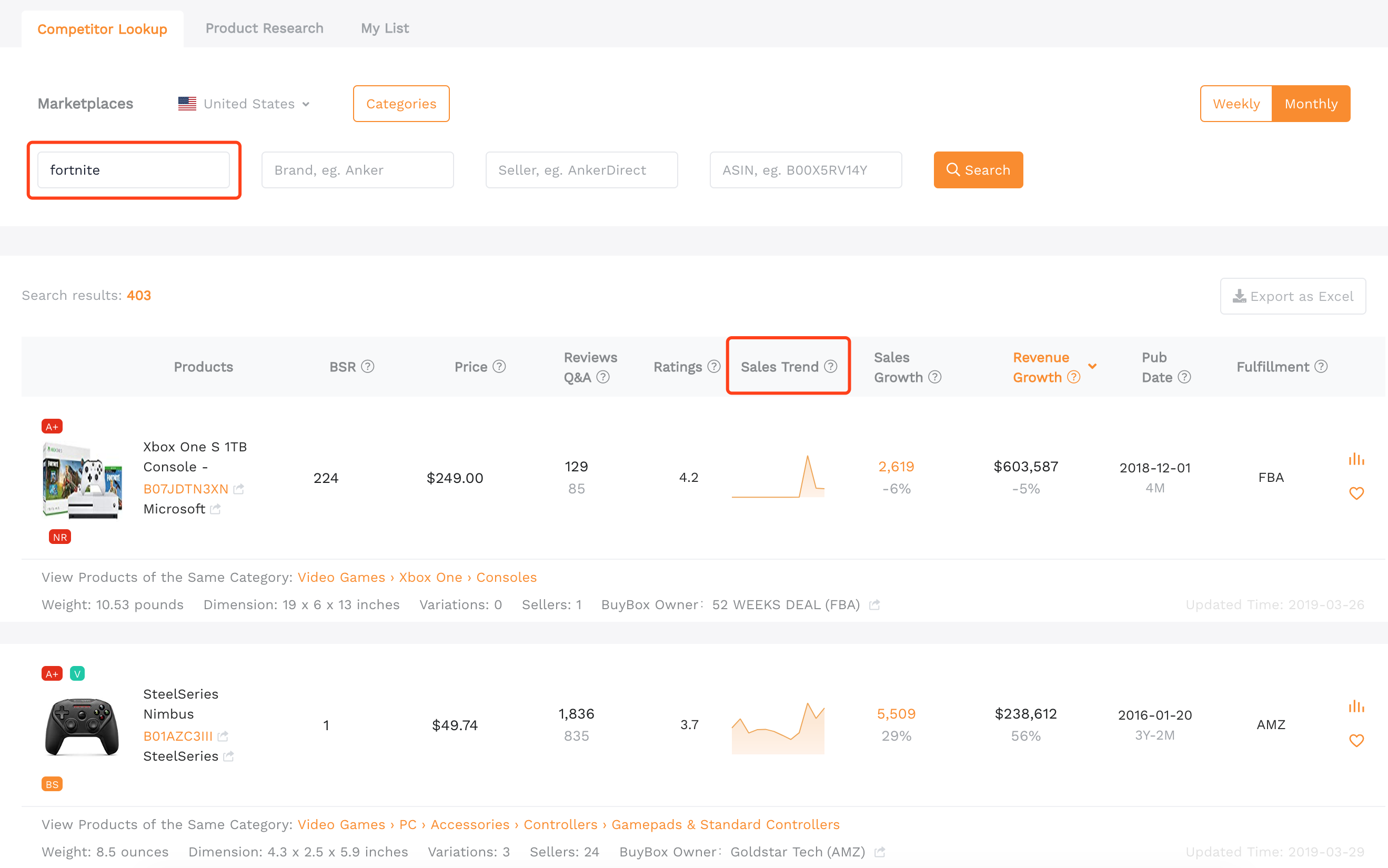 Third, searched by brand. Maybe you are observing how different brands are performing to look for product idea or doing a competitor research, you can have a deep analysis by searching with brand.
Suppose that you are interested in the products and sales data of a well-known brand-Aukey. Entering the brand name and search, as you can see, this brand mainly sells electronic and household products.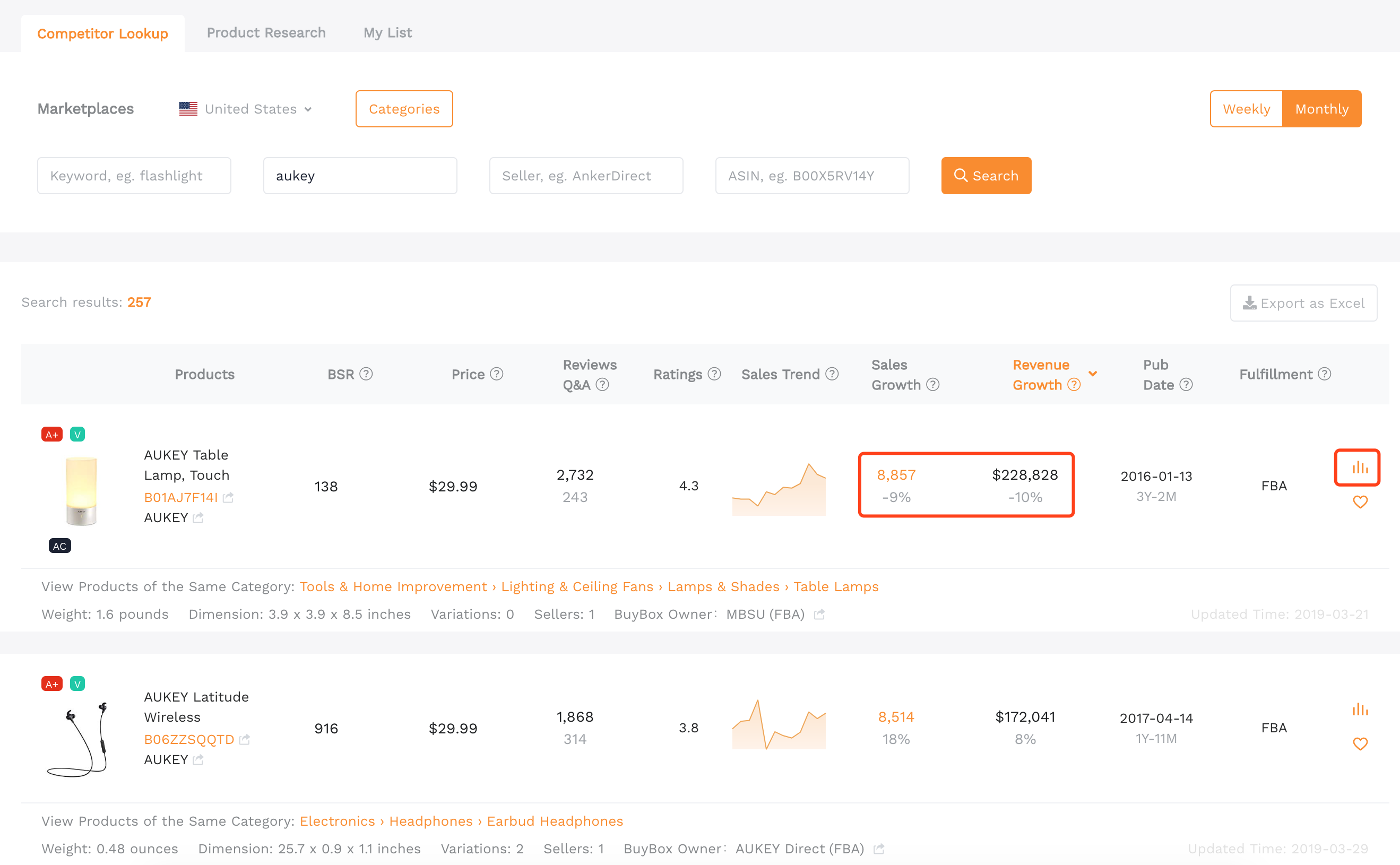 Among the 257 results, nearly half of them are selling well, a touch sensor table lamp is the most popular, sells over 8 thousand units, and 200 thousand dollar in latest month. You can dig in further to view the product historical trend graph, we show you the trends for sales, BSR, price, reviews Q&A.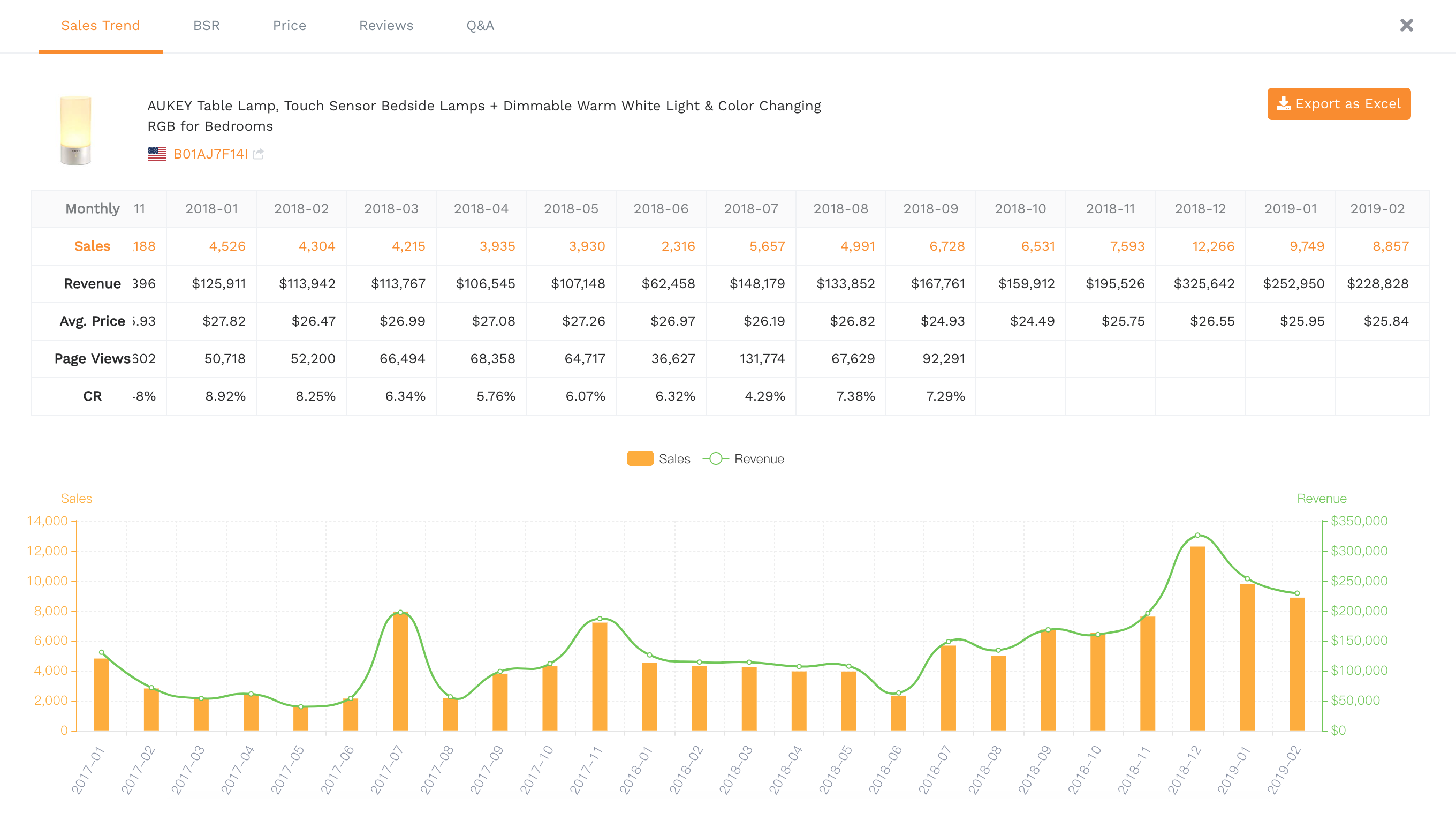 Seen from this trend graph below, the sales of this product keeps stable over the past two years, and due to holiday promotion, like Cyber Monday, Prime Day, the sales performed best in July, Nov and Dec.
Fourth, searched by seller. You can analyze your interested seller by searching their seller name. For example, when searching on Amazon, you noticed a familiar seller, called Firemall LLC, you are able to search this seller for its sales and product information, entering the name and hit search.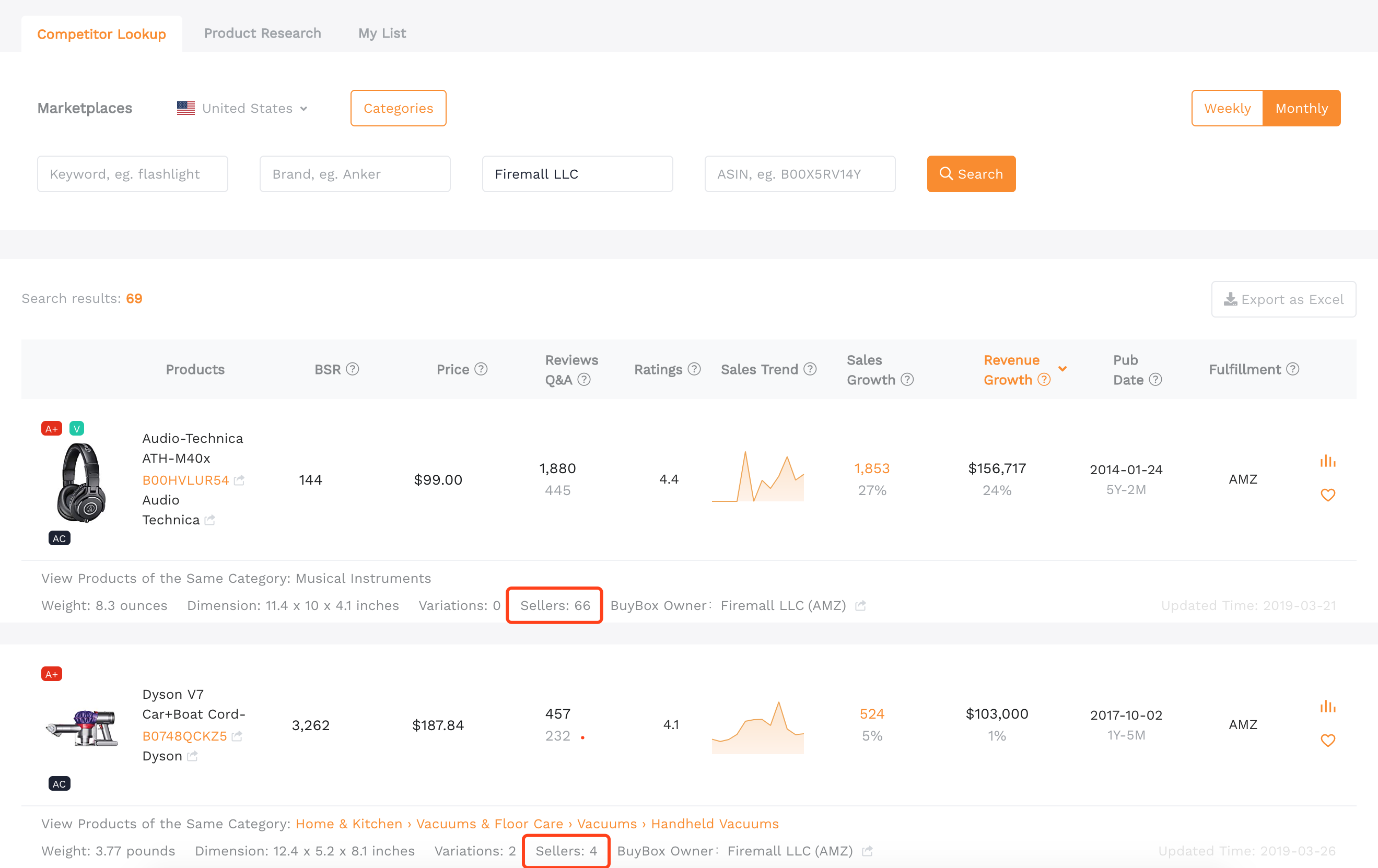 Loot at the results, total 69 products are being sold by this seller, and most of them sells well. Since the number of sellers for most of products are more than one, like 66, 4, and 3, we find that this seller might be a professional hijacker, mainly follows the electronic and beauty products.

Fifth, searched by ASIN. As its literal meaning implies, you can get the information of specific product by entering the ASIN.


As long as the target product has sales, you can find information for it. Entering a child ASIN and hit search. Along with the ASIN, you will see the basic product information, and other important data for research.
Remember, you can click in to see the detailed historical data and trends, and you are able to click the category node to see the products under the same category.
In addition, when you find a product you'd like to further research, add it to your list to track and revisit its performance.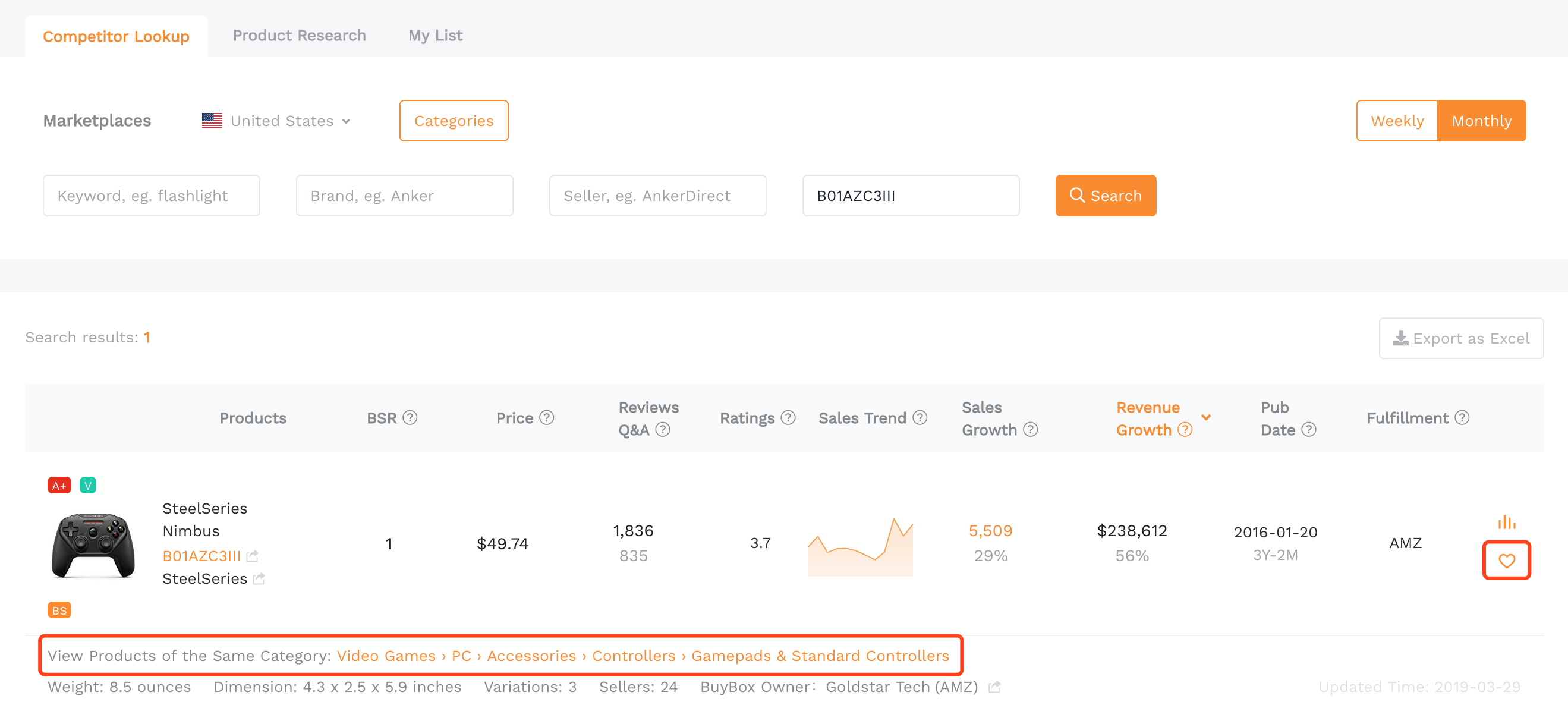 That's Sellersprite's competitor look-up tool, this feature will keep developing, upgrading and adding other functions, including reports, distribution graph of launch date, sales and category for brand products.
Again, all the search result can be exported to excel file, and all the column title has explanations that you can view by hovering over the little question marks.