There is no doubt that sellers need auxiliary tools to conduct their business. Recently, many cross-border sellers said they found it difficult selecting right products to sell on Amazon and had no idea about the product research tools. Now I'll introduce several tools to assist sellers to operate their business with ease.

Amazon product research tool – Amazon search bar

Presumably the search bar is not strange to you all. When we shopping online, we usually input products' name we want to buy. Actually the logic is same for sellers to select products. How can we do product research by Amazon search bar?

The first step: let's take cooker as an example. When searching cooker on Amazon search box, it shows there are 10,000 results, which presents the competitiveness of cooker – relatives is relatively high.



The second step: when we input cooker, the search box will automatically present a series long-tailed keywords such as rice cooker, egg cooker and so on. With these long – tailed keywords we can discover potential market.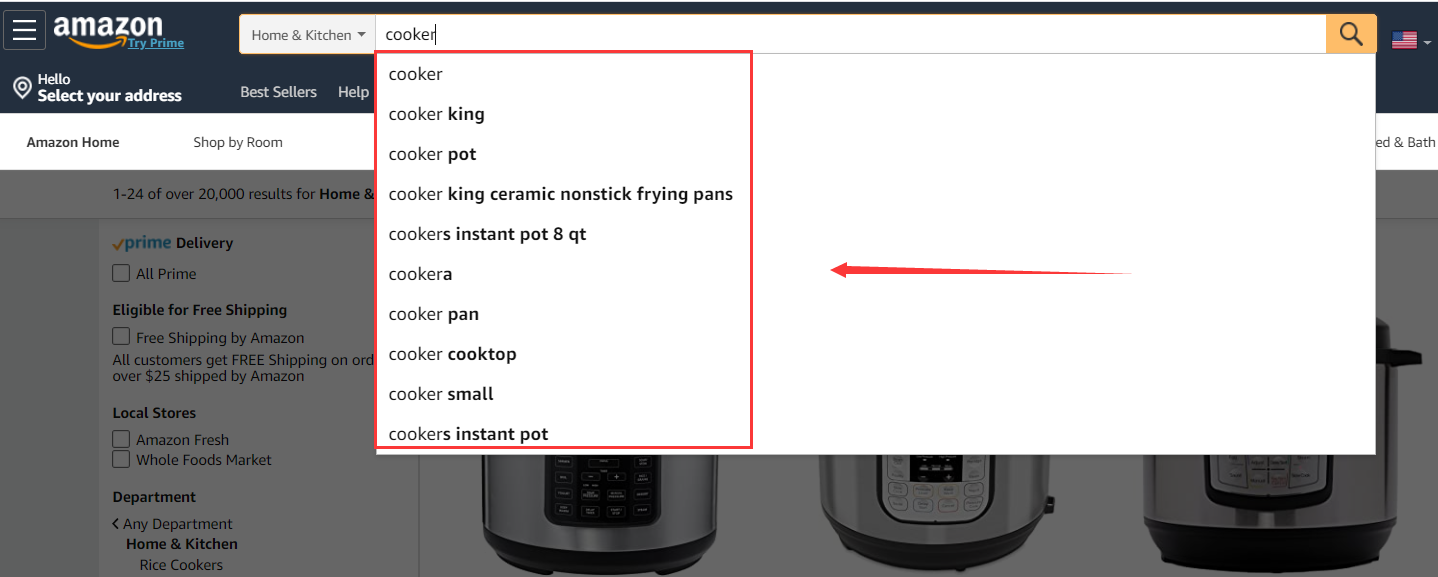 The third step: enter a category and carry rounds of selection. Products on the top that owns relatively less reviews can be taken into consideration.



Amazon Product Research tool – Amazon best seller

Amazon best seller can be seen as a handy free tool for Amazon sellers

Firstly, enter Amazon America and choose a product you're interested in, for example, iPhone 6 plus. Click Apple iPhone 6 Plus 16GB GSM Unlocked Smartphone to enter the product page.

Secondly, pull down to find Product Details page, in which we can see the head Amazon Sellers Rank as shown in the figure, it lists 1141th. It means the seller is poor ranking on sales leader board of whole category. On the list, we can also see the first 100 best listings if we click see top 100 in cell phones or accessories. If sellers can carefully combed and analyze those products in the listings, and combine them with yourselves' current situation involving property, supply of goods and so on to make an overall consideration of the market prospect, it will be simple for sellers to decide whether yourselves suitable to participate in the hot products' competition. In addition, to analyze from this perspective, sellers can also get reference about how to do product research.

Amazon Product Research Tools – Amazon Mover & Shakers

The list shows the fluctuation trend of top 1000 of all categories. Take Movers & Shakers in books as an example, for its fluctuation, every product has a red or green arrow, of which the green shows the product is nearly more popular, just as the picture Radiant-eat your way to healthy skin shows green. We get to know the book should be a best seller currently. And the red arrow shows the product experiencing declining period and losing its popularity. On top of that, products' fluctuation trend can be a reference for sellers to select products to sell on Amazon, and sellers can grasp the point and choose products with relatively high potential to meet market demands.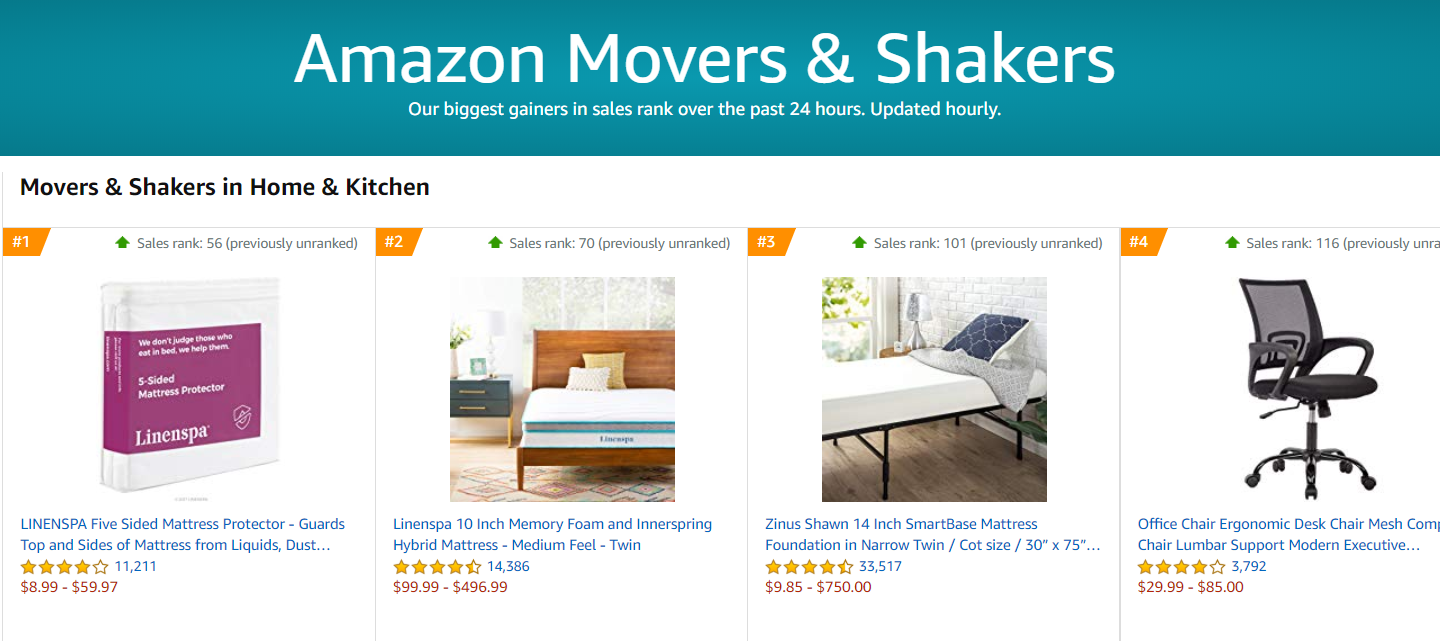 Amazon Hot New Releases

The list presents the newly-released products on Amazon – it is launched for a relatively short time but the rankings rise fast. The competitiveness among products on BSR should be rather fierce, however, Amazon Hot New Releases is not that stressful. So maybe it is worthy sellers to operate. Link on that page usually appear on right of category page. Click it and you'll not only know the best sellers but also can predicate next best sellers according to that. For example, video game category on the picture, that two products call of duty appear on the Hot New Release as the same time means we should pay more attention to the two topic when we do product research.

Offsite tools
Compared with Amazon Product Research Tools, many hold that the data from Amazon official cannot be a direct reference. So they usually analyze and manage with the help of the third-party tools. Here are some common tools:

Keepa

Keepa is presumably a tailored free tool for Amazon. Amazon sellers can track goods' sales ranking and prices. Many will compare prices with Keepa.

We must make good use of three indicators of Keepa when we do product research. The first is to verdict products' competitiveness according to Amazon inventory.

If you found in the Amazon history period that it lack of inventory information only for 2 days, it means it is always in quick replenishment. For sellers it is unwise to choose the product to sell. On the contrary, if you notice there is a product in stock only for 1 week each month, then you can take advantage of the opportunity to compete with other sellers with your enough inventories. You can also deliver goods to Amazon on top of those products. To be able to make good use of our own strengths against the weaknesses of competitors, we will have more chances to win.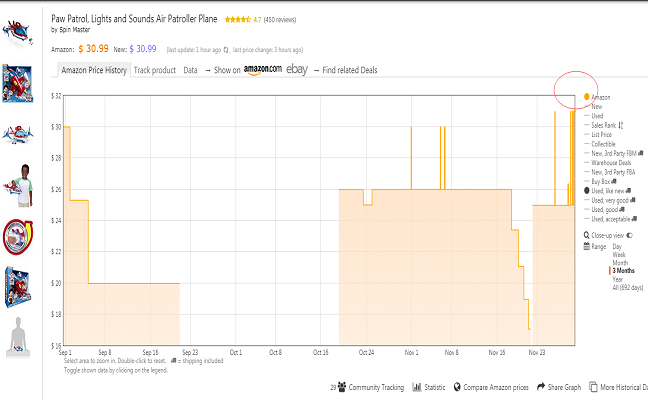 Next we interpret the chart. As shown in the following figure, the price of paw patrol, lights and sounds air patroller plane between September and November, the chart of Keepa you can see light orange dash area, which represents in this period Amazon has inventory, and the goods is in sale. However, the white area represents there is a period in which Amazon doesn't have inventory, which also means it is out of stock. Keepa is a good tool. It helps you sell some products in which there are no inventory on Amazon, thus competition avoided. So the chart can help offer reference to do product research.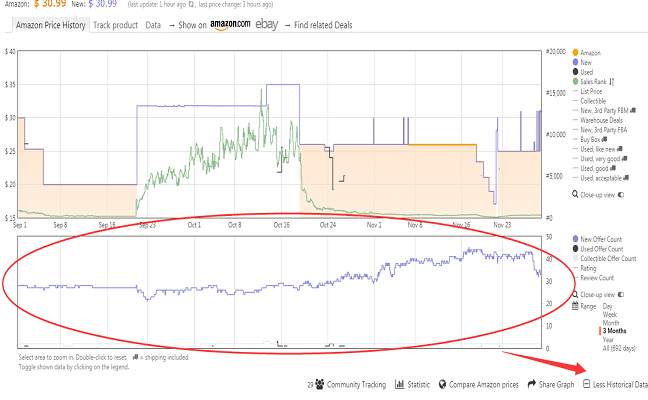 Analyze market supply and competition on the basis of data performance

On the bottom of Keepa exists a More historical data, which is powerful but easily overlooked. We can click the more historical data on bottom right corner to check new offer count, which represents the number of new sellers or listings. From the data, we can determine whether we have opportunity to join in those new sellers.

By unfolding the data, you can see a data chart below the front view, which listed as follow. The excel displays the number of competitors that own inventory of the same products. At the same time, we can observe that the curve fluctuates. It presents the changing situation of new enterer and the total competitors who sell the goods. It should be a nice choice to avoid intense competition reasonably by following the changing rules that rivals entering market.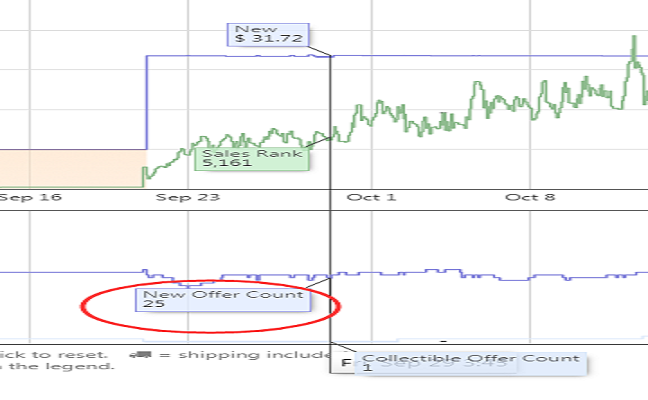 Grasp the opportunity to enter market through the comparison of sales ranking

Click the second item Statistic and we'll see some average data including averaged rankings, averaged prices, of which the most useful is the averaged sales rank. The chart provides data of assigned products' averaged sales rank over past 90 days. And sellers can make comparisons among some best sellers of the top category. If the current sales rank of the goods is higher than that of historical averaged ranks, the product is in demand and it can be a reference to help decide whether entering the market.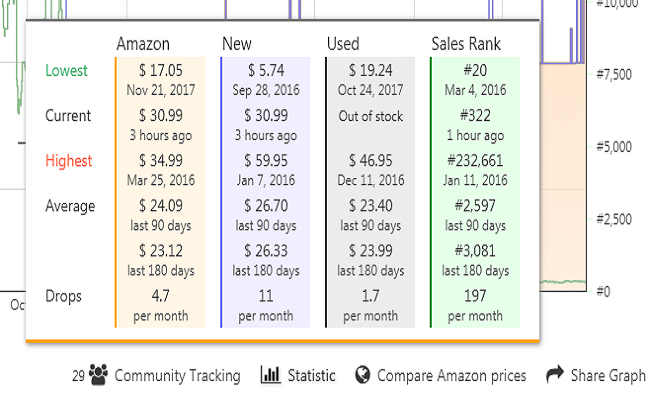 Amazon Product Research Tool – SellerSprite

Seller Sprite has two ways to carry out including Web App and Google Chrome extension app. Make keyword research with the help of Seller Sprite and you'll estimate sales volume, unit price and ranking information, thus the situation of products can be known, and powerful help such as to determine whether we should develop some products can be provided. Its extension app is well-known as a perfect replacement of Keepa, which means you have an all-in-one tool when you purchase Seller Sprite. It's worthy!

SellerSprite is handy and easy to use. It will help you complete your task in several hours.
1. Serch products on Amazon such as " funny hats"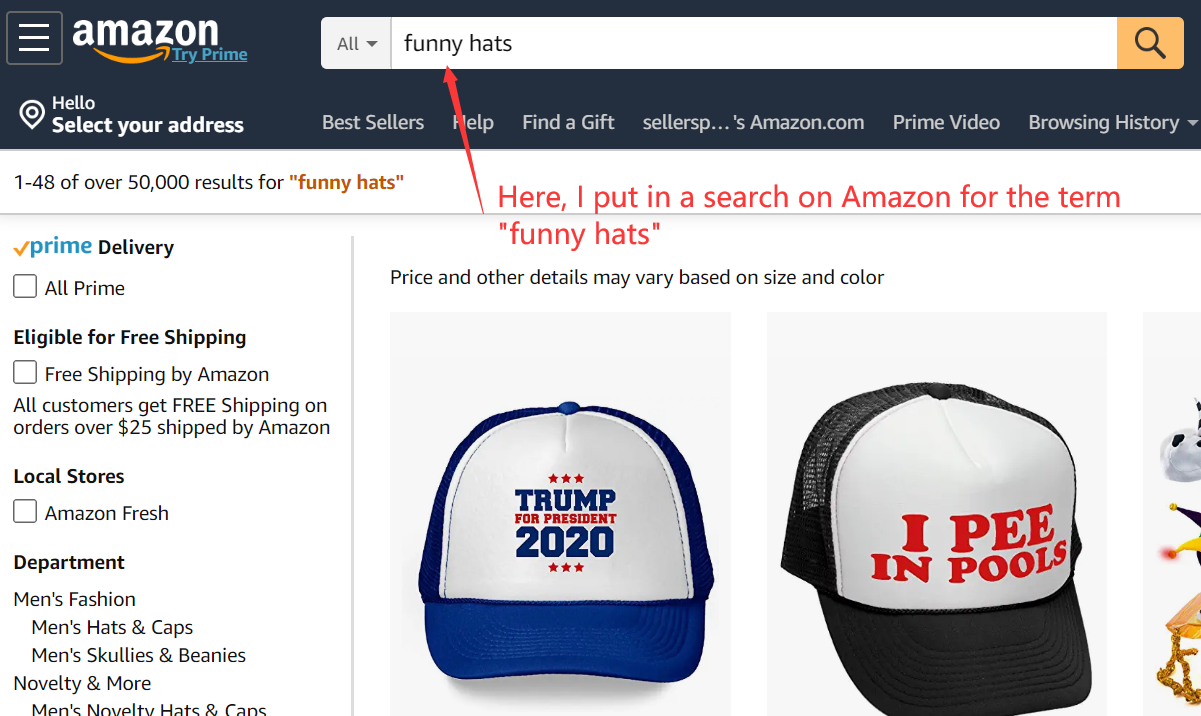 2. Click the S button on searched page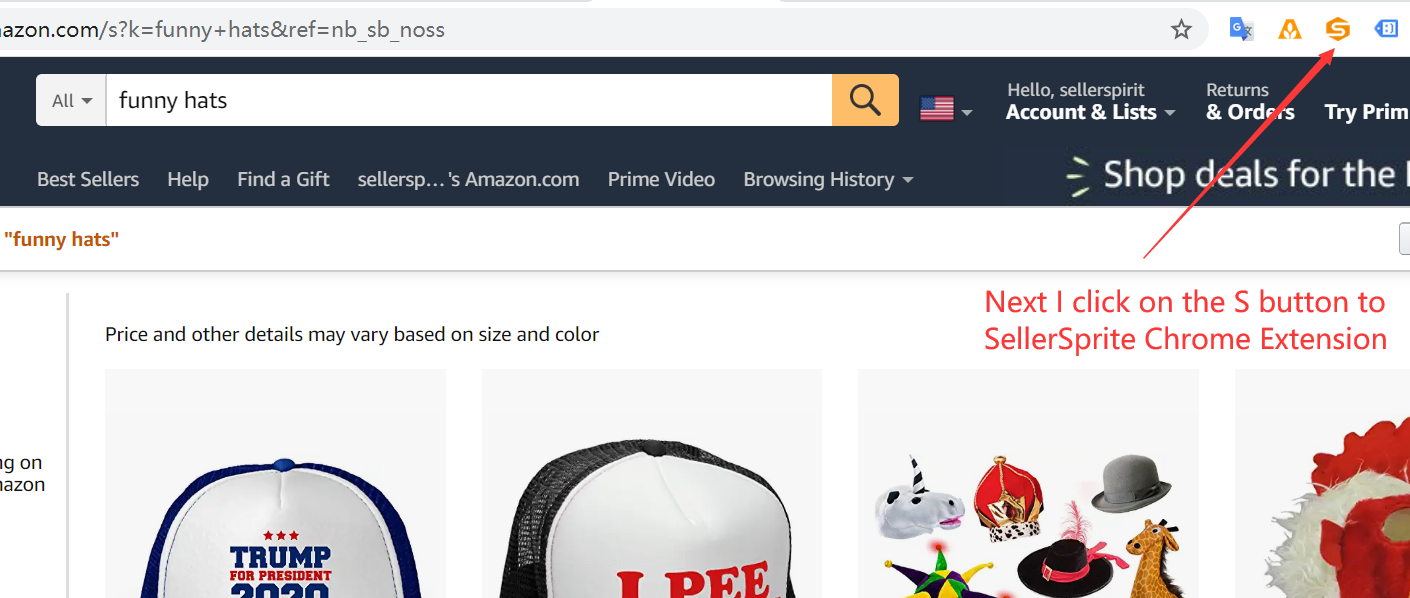 3. Check Seller Sprite to get newest data about Amazon products.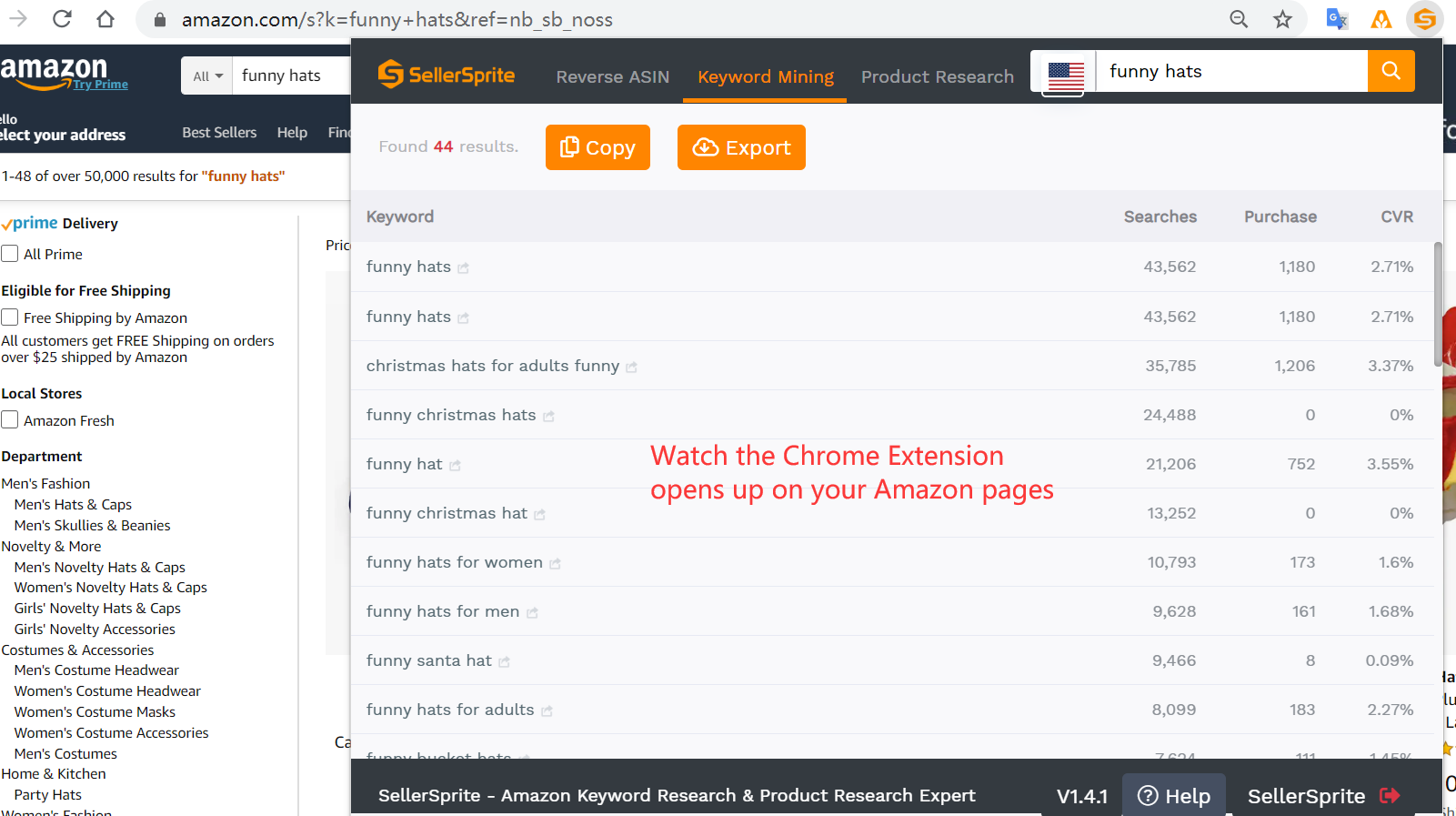 Google Trend

Google Trend is an app product launched by Google which is based on search log analysis. It tells sellers the search frequency of a keyword and relevant statistics data.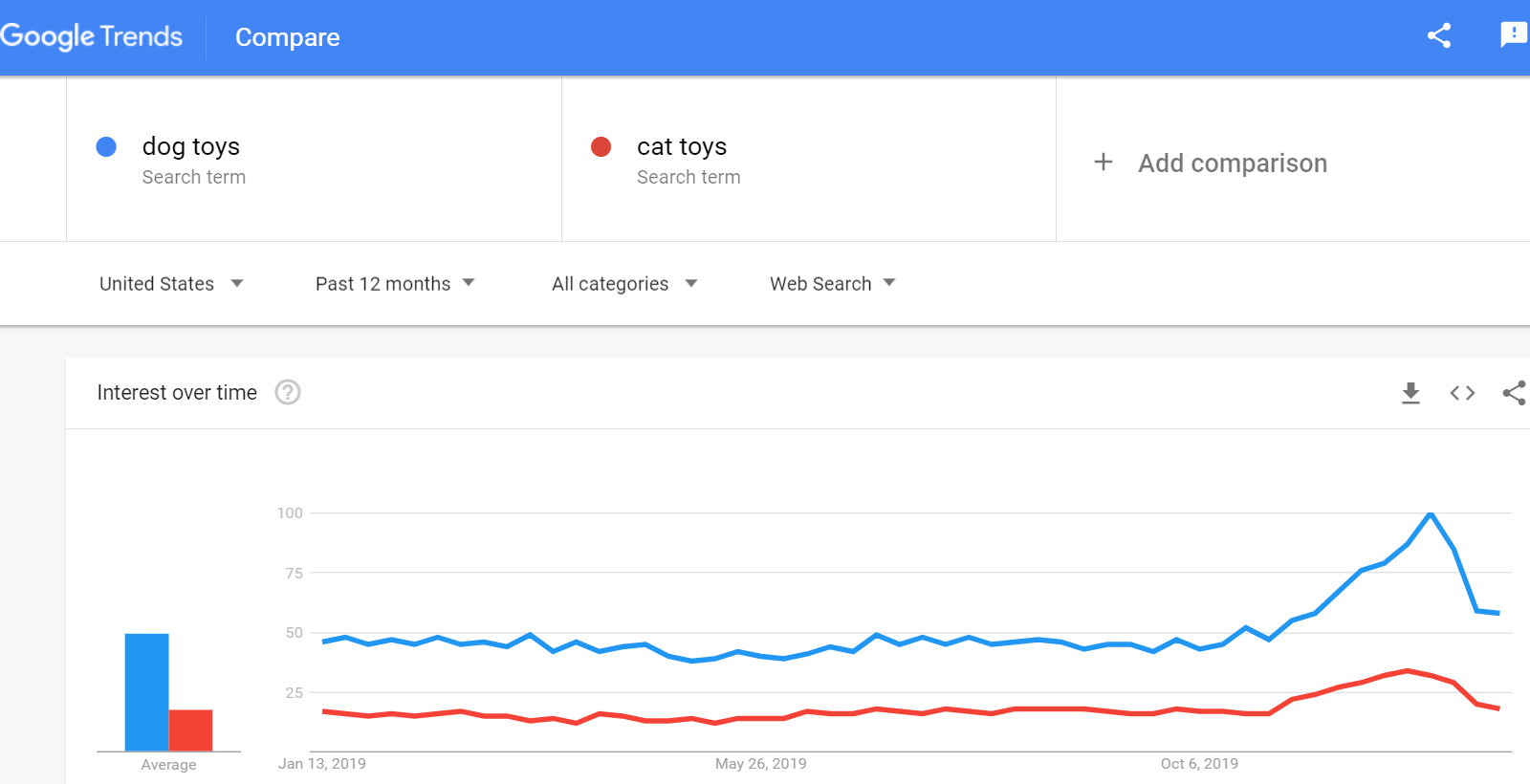 From the perspective of sellers, Google Trend is an essential tool to help us analyze the demand and track products' development trend. Sellers can track the development trend of a keyword such as the comparison of dog toys and cat toys. From that we can know dog toys is more competitive and promising. Sellers can compare different keywords then optimize our own products and keywords.

Keyword Tool – Merchant Words

Sellers want to enter a strange category to compete with others, or want to develop new products, but they cannot make a right judgment about market demand due to lack of information and experience about new market. At this time, we can take advantage of keyword research tools to see the search heat, thus grasping the market demand. Similarly, let's take dog toys as an example, the heat in America is highest, next is the U.K.. However, buyers in France are not so enthusiastic. Sellers can do investigation on different products to assistant select suitable products.