The Product & Keyword Tracker tool allows a seller to track daily changes in price, sales, ratings, and BSR for any product on Amazon while monitoring competitor product and keyword performance.
Up to 500 products and 2000 keywords may be stored in the Product & Keyword Tracker for the purpose of daily monitoring, dependent on the subscription.
let's begin.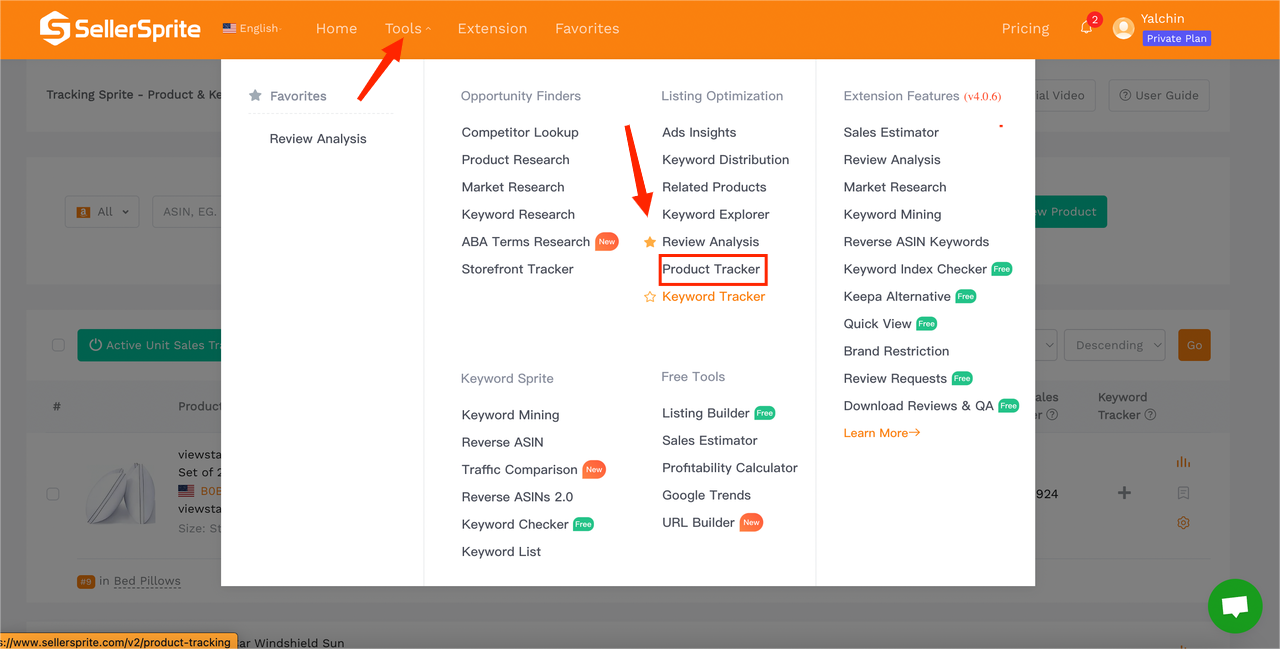 You can first choose a region from which to conduct monitoring. Choose the region-specific market in which tracking should take place, picking from the United States, Japan, United Kingdom, Germany, France, Italy, Spain, Canada, or India.
Identify your compatitors that you wanna track and grab their ASINs then come to SellerSprite Prodcut tracker. Click "Add New products".


Then paste those ASINs here. Either sellers can add these products to previously created tags, or create new tag. Then just click "Start tracking".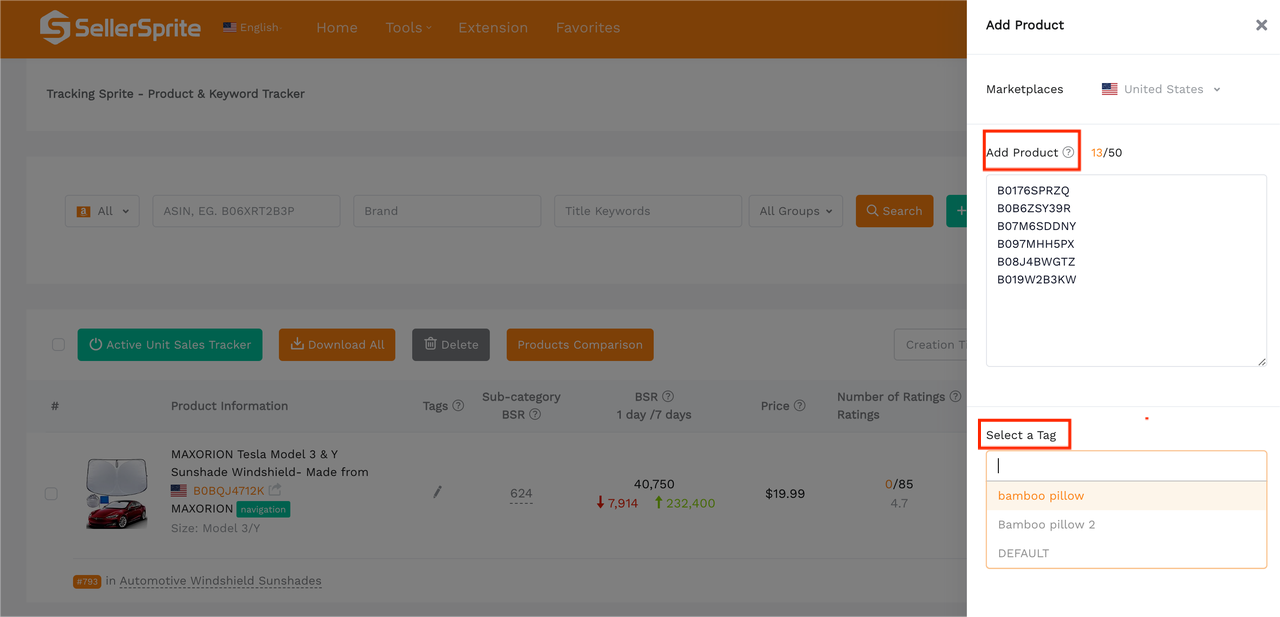 Those ASINs have been added to product tracker.

Having begun tracking, the product is revealed on the main page alongside 8 columns of daily updated, listing-specific datasets. Each dataset shown is actionable, meaning if a seller were to click any of the numbers populating a particular row, then further historical data on said item would present itself in the form of a pop-out graph.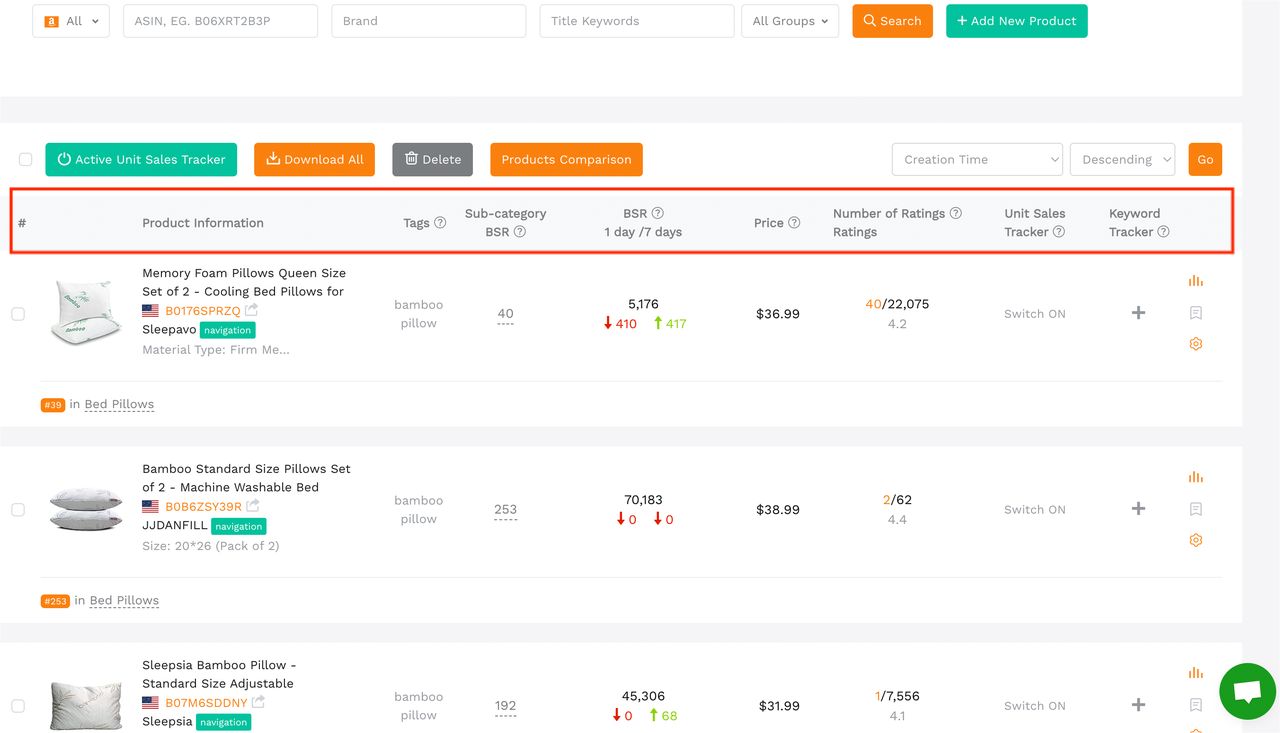 The Tags column posits the tag(s) associated with the shown ASIN.
The Sub-Category BSR column bears 3 values related to the ASIN's dominant sub-category BSR. The upper number is representative of the product's current BSR within its broader sub-market. The 2 numbers below indicate daily BSR increase and weekly BSR increase.

Note that sub-category and sub-market are used interchangeably in this overview, with the understanding that each term bears unique nuances which ought to be understood contextually.

The Price column posits the latest listing price for the given product.

The Number of Ratings column shows first the number of ratings given the product within the last 7 days, and second the total number of ratings currently held by the listing. The number on the bottom is representative of the product's current average consumer rating.

The Unit Sales Tracker column, after having been switched on, displays 2 values: the number of units sold within the past day on the left, and the number of units sold within the past 7 days on the right.

Click to "Swithch ON" under "Unite Sales Tracker". After that we are going to track daily sales as well unite by unite.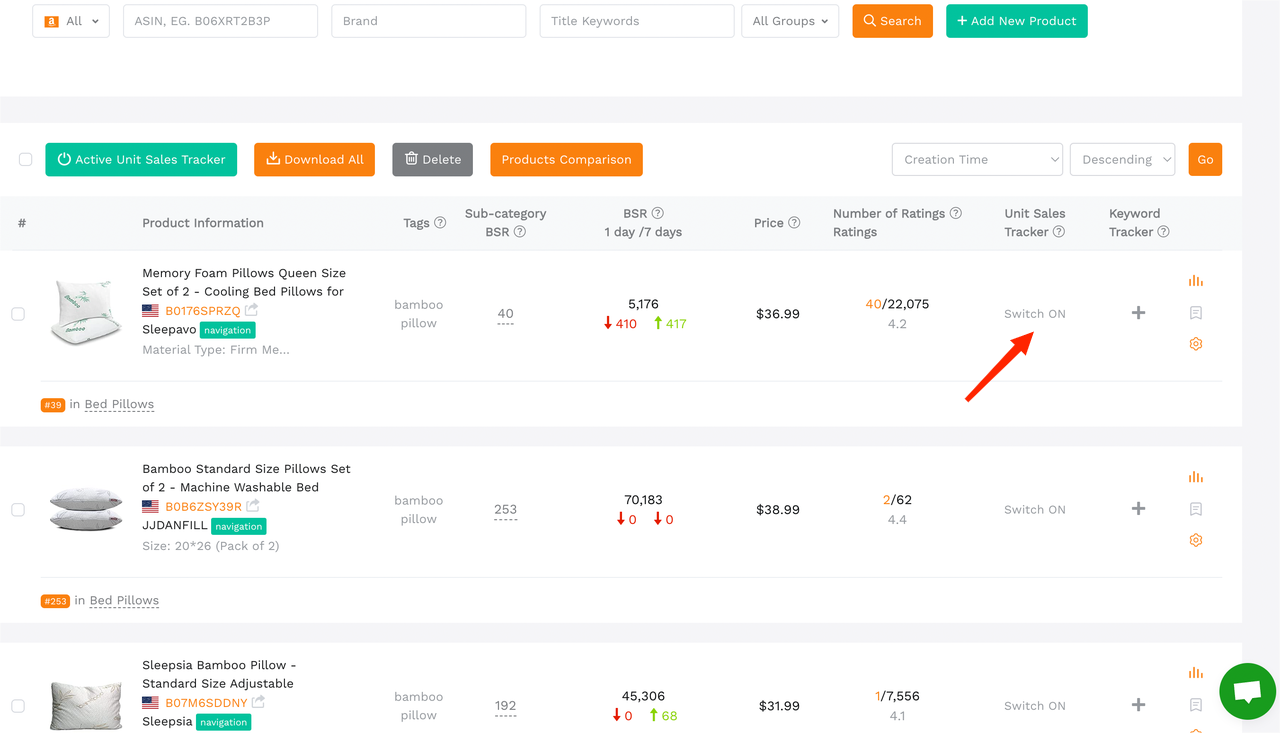 Then click "Unite Sale Tracker". Switch it on.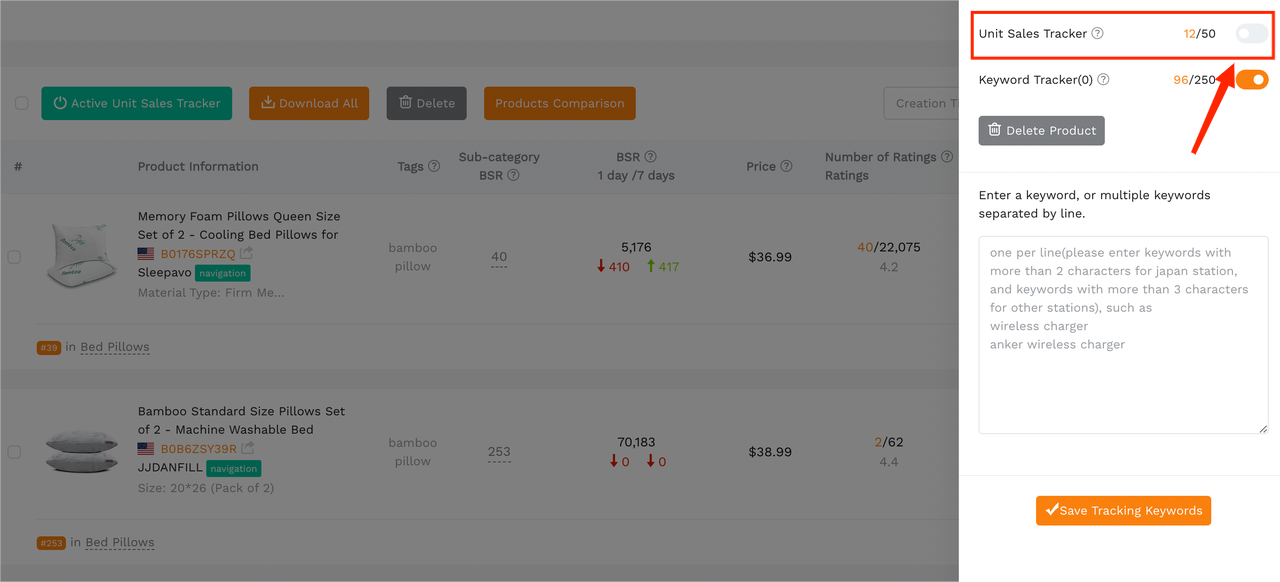 Then you can see product daily sales.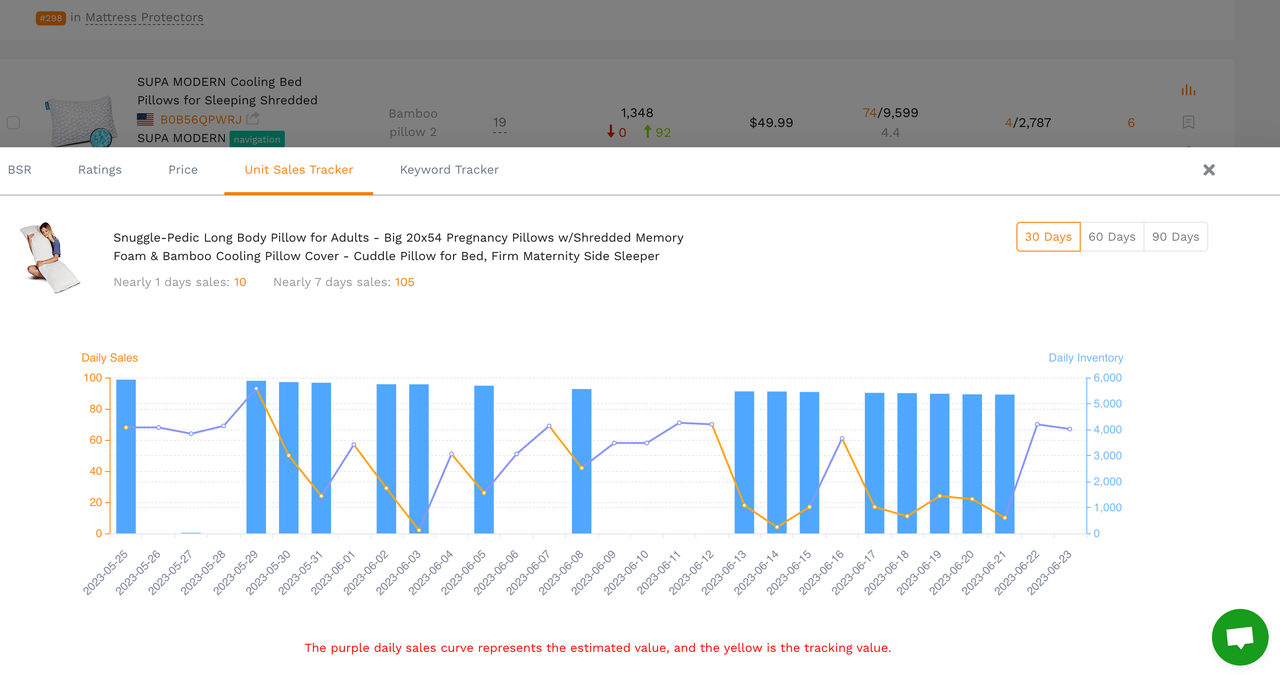 Question is how we do that?
SellerSprite Product tracked goes to amazon and check how many unites available for purchaing from particular seller. Then write this number to "Product Tracker". This is available when there is not "Maximum Order Quantity".
As you see from SellerSprite chrome extension, there are 5328 unites product on amazon warehouse from this seller. This is one of the greate features of our software. If the seller hasn't set Maximum order quantity, then we can check and write on excel how many unites decrease daily. But this is only working if the seller has maximum 999 unites products on amazon warehouse. If it is more then can not check how many unites sales they get.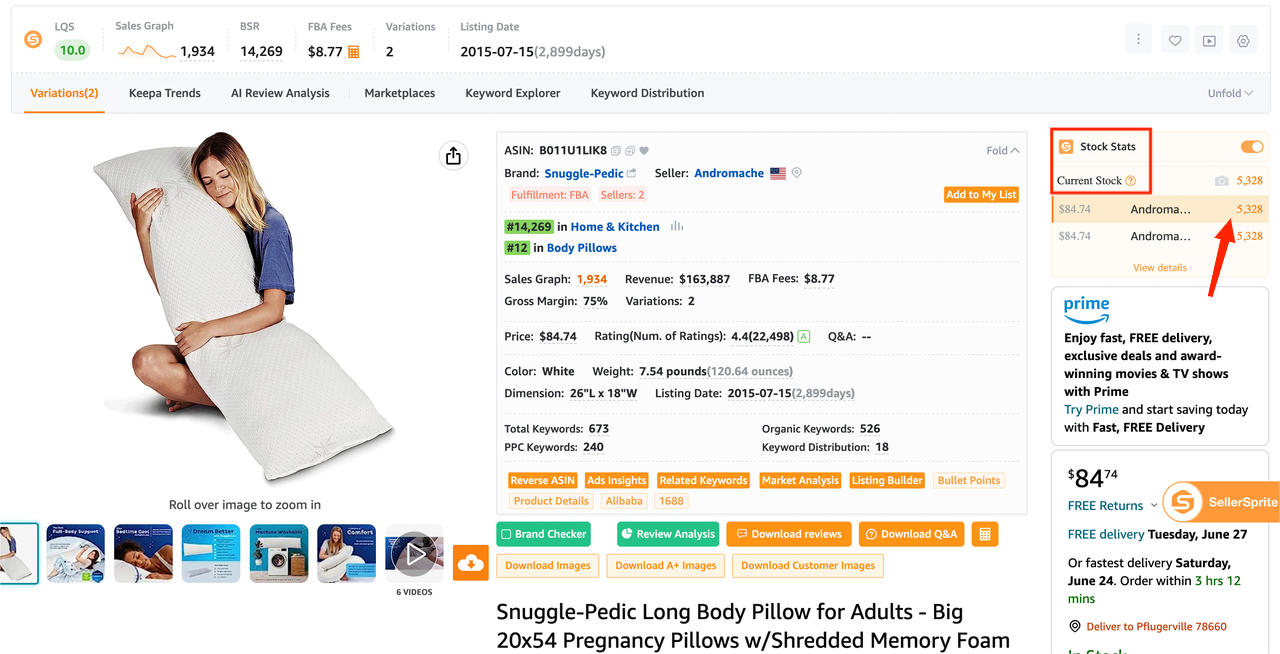 Now let's add some keywords to track keyword position for ASIN.
Grab the keywords you wanna track and come to SellerSprite, find the product you wanna track ranking position. Then click here.

Add those keywords then click "Save Tracking Keywords".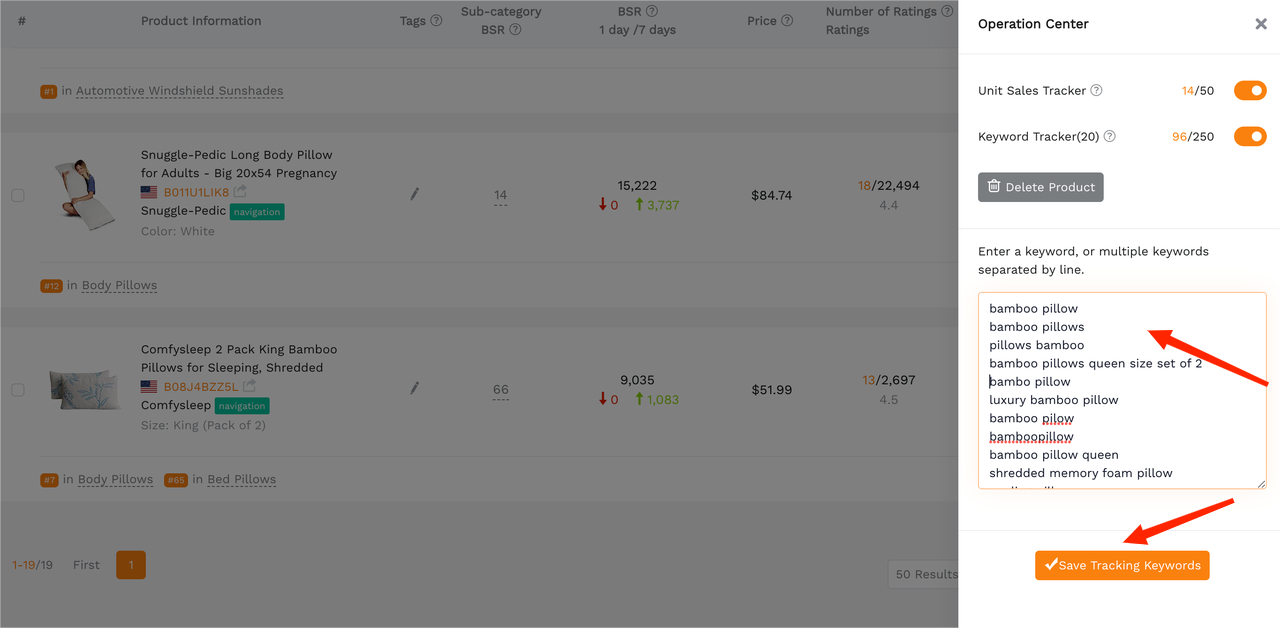 We check and write the position of product for each keyword daily. we can see Organic and Sponsored positions as well.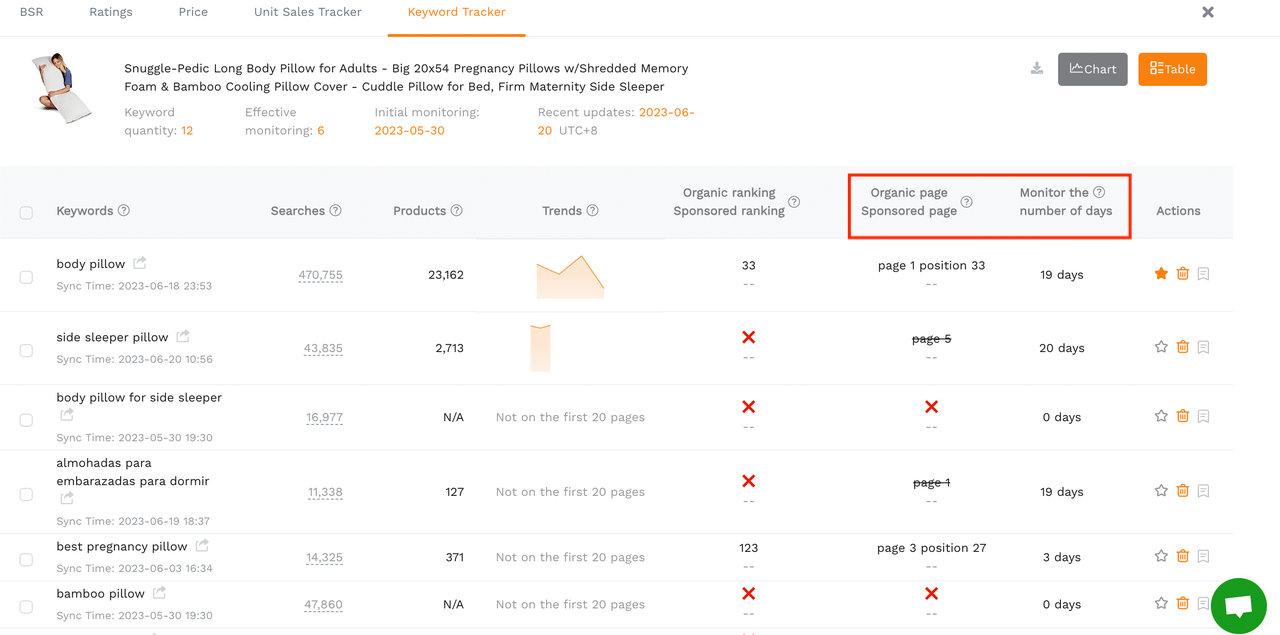 SellerSprite product tracker allows to see product BSR (for main and sub category), Unite sales, Ratings etc..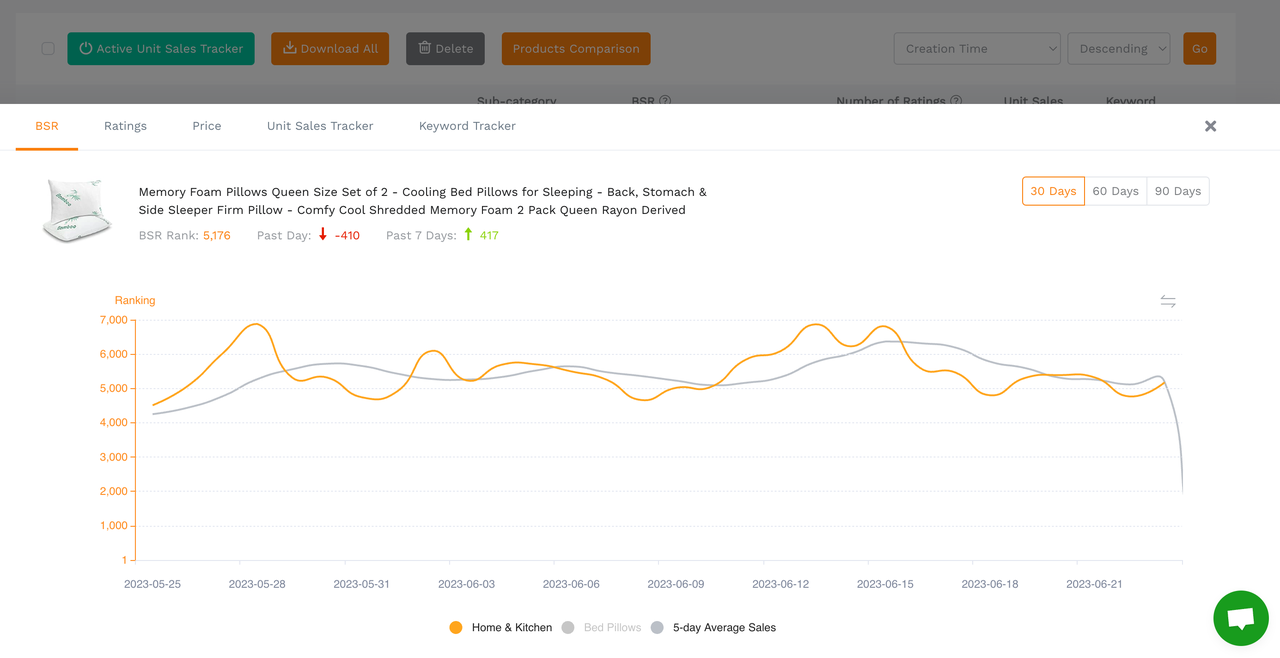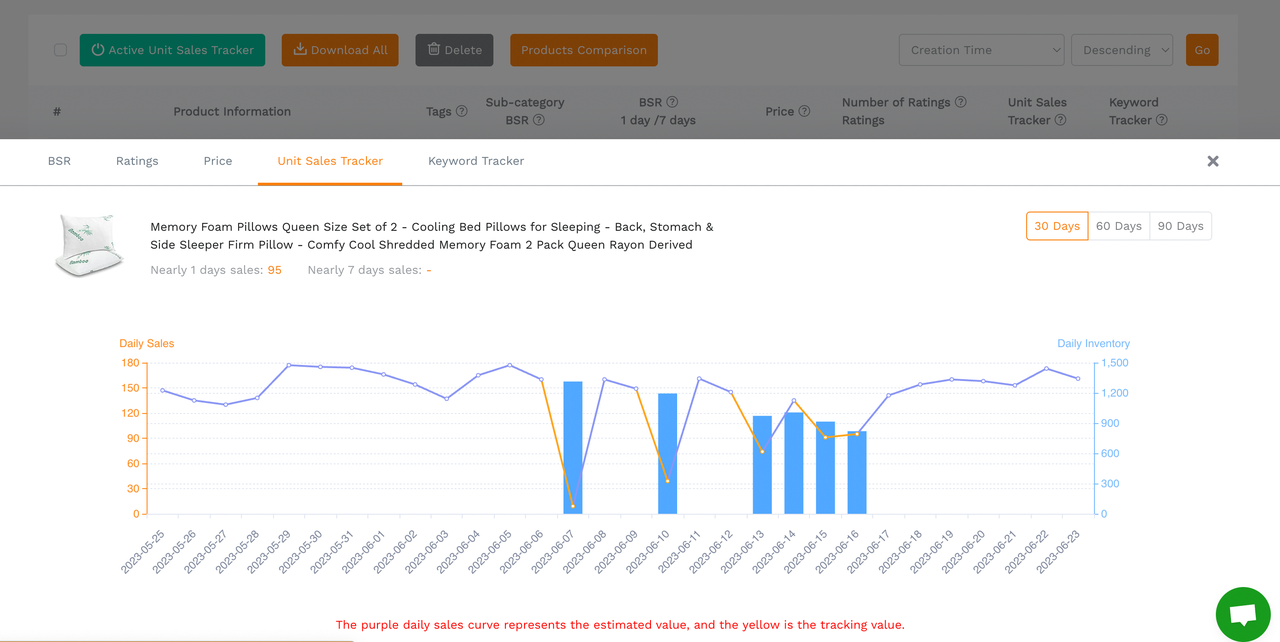 Sellers can use filtration and find any product they have added into pracking easily.
-Put ASIN here and find product easily.
-Find products by using "Brand name".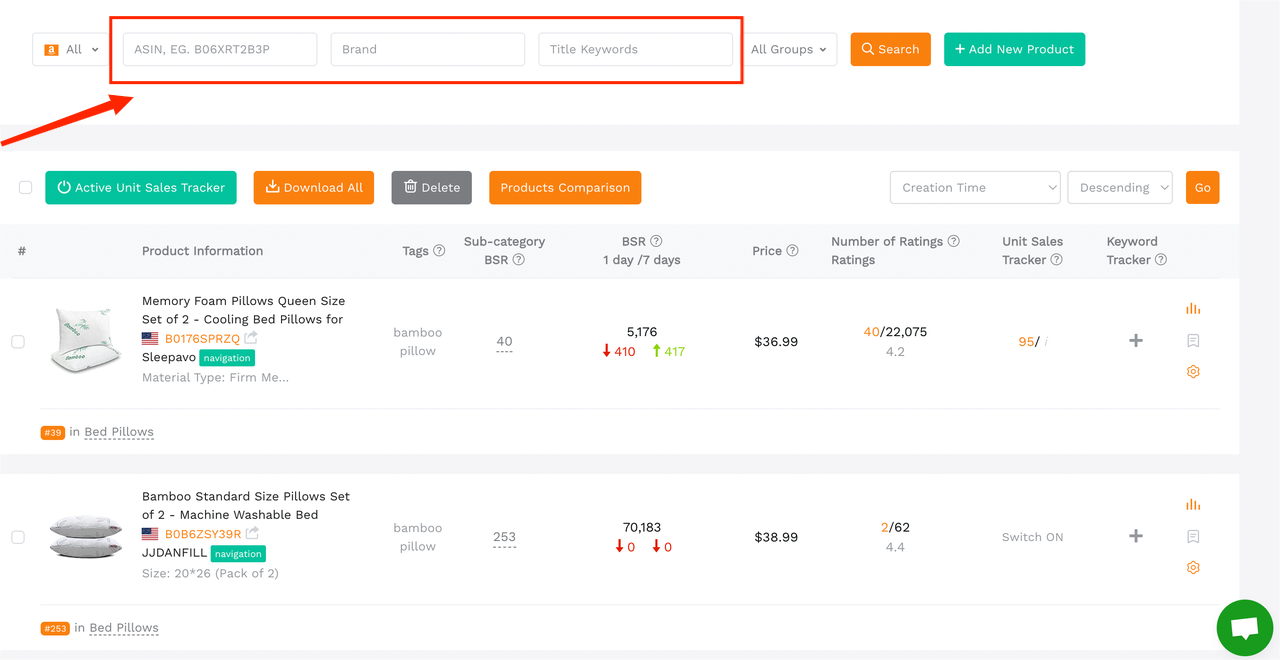 Or the best way is to use "Tag" function.
This will be helpful for quick searches after the seller has populated the Product & Keyword Tracker tool with hundreds of products and keywords.
Just click "All groups" and you are gonna see previously created tags. For example, we created the "bamboo pillow" tag a little ago. If you select it then you are gonna see products related to that tag.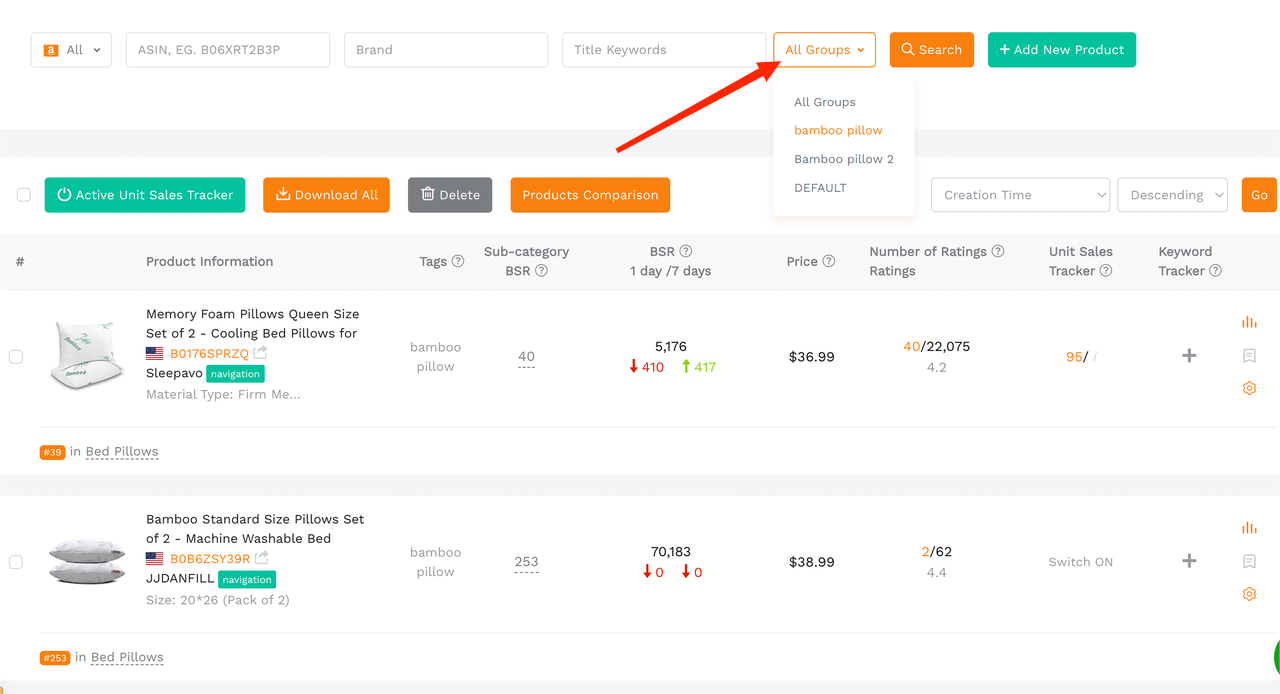 Sellers can see this header menu:"Activate Unite Sales Tracker, Download All, Delete products, or Compare". Just select what products you wanna do action and click according button.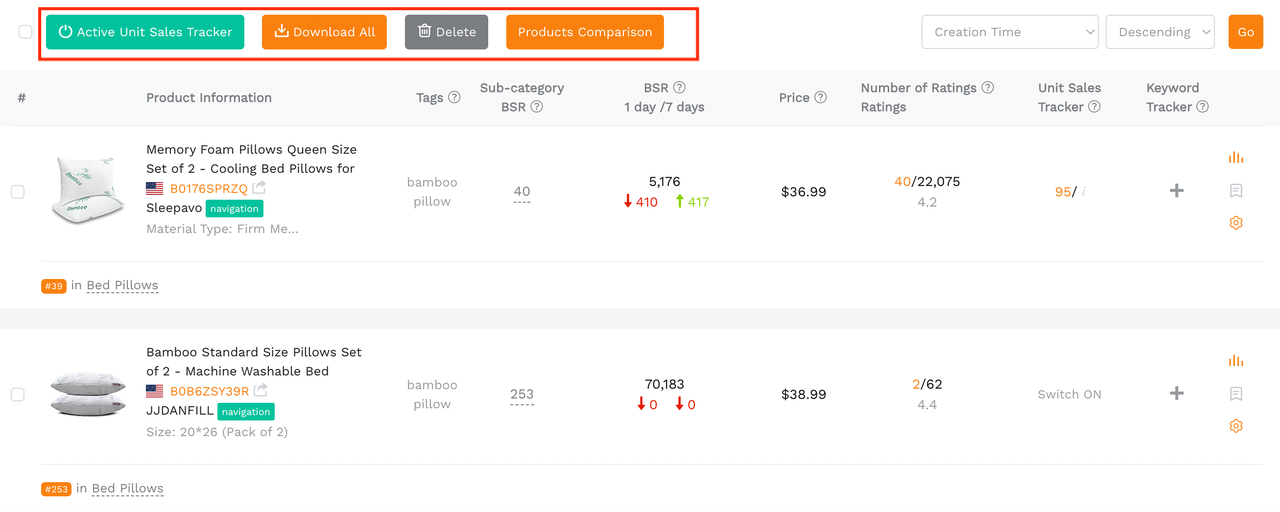 Let's compare these 2 products. Just select them and click "Product Comparison".

This small window pops up. By clicking the menu on the right sellers can compare "Sales, Revenue, Price etc..."
Moreover, you can see historical comparison from the listing created.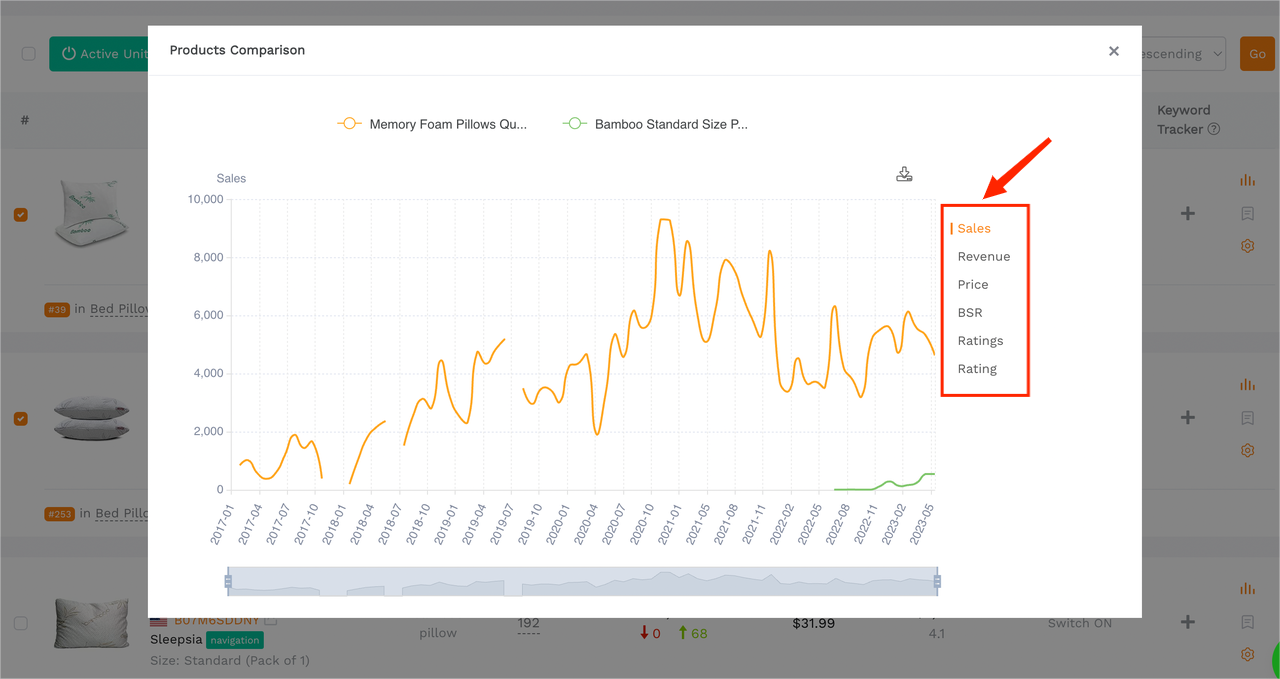 So, this is explanation of "Product & Keyword Tracker". Please write on commecnt section below if you have any questions.

Happy selling.