With the most large and accurate database, Sellersprite offers a suite of tools to help you with product discovery, keyword analysis and marketing to launch and grow your Amazon business.
Here, we're going to walk through the most important features that we have, enable you to integrate them and to be successful on Amazon. So, let's get started.
The first thing we will talk about is to discover the most profitable products and opportunity to sell on Amazon. Total four tools, keyword mining, keyword research, competitor lookup and product research will work for you.
So, first up is keyword research, you can input what kind of keyword you are looking for, let's say the rapid-growth market, one of our built-in presets, it discovers the keyword with high searches and search-growth rate, the minimum searches is 10 thousand, search growth rate is 10% at least, selecting marketplace and category, let's try tools & home improvement, hit search.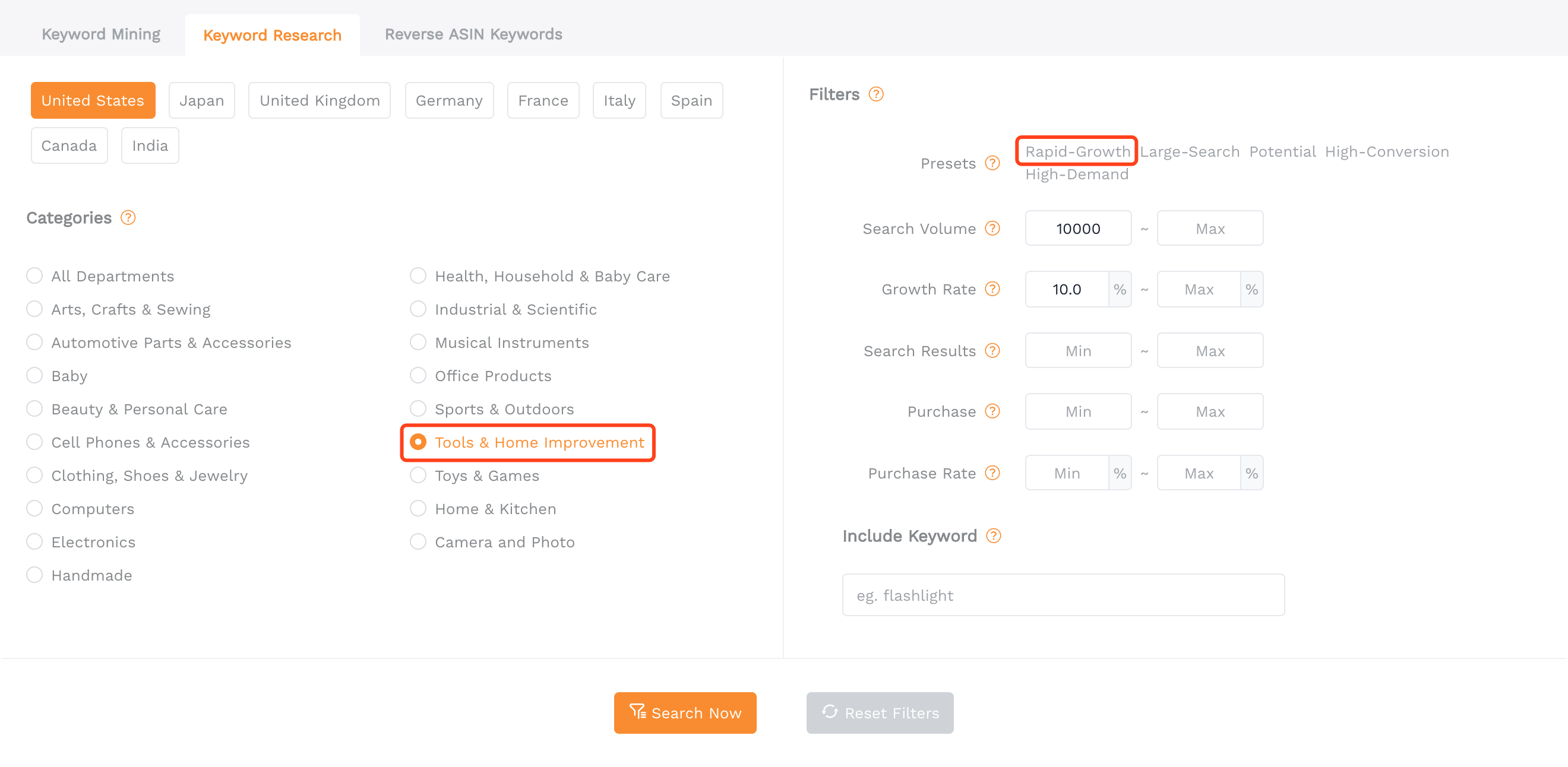 You will get a list of keywords that match your criteria, they are sorted by searches descending, and you can sort by any column that you'd like by clicking the column title.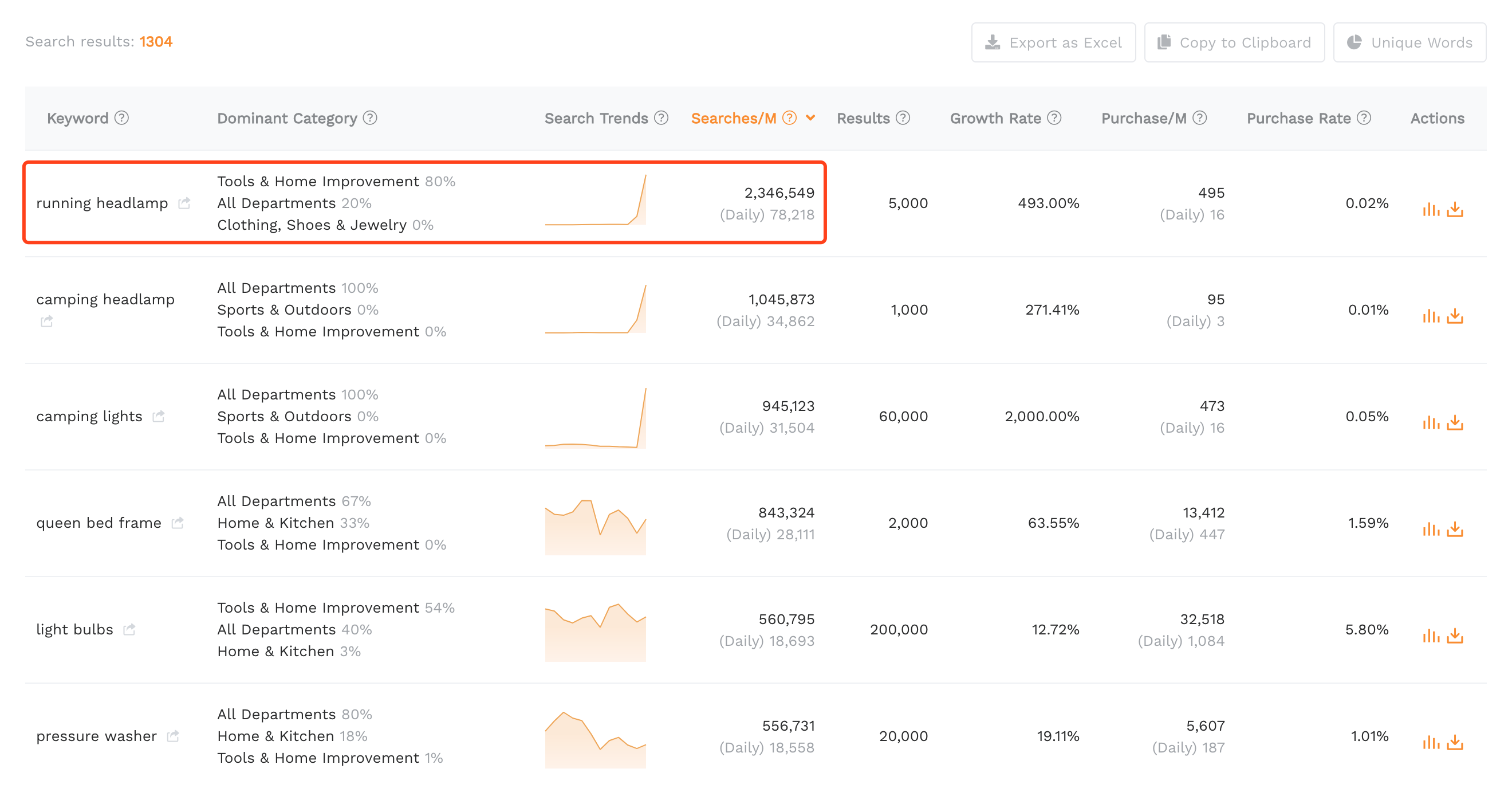 Each keyword results reflects a single market, and the search trends reflects the demand changes and product seasonality best. The first keyword is "running headlamp", the searches for this keyword is all the way low in earlier, starts rising from two months ago, and is super high in the most recent month, with over 2 million searches.

Here is a button where you can dig in further to view the keyword's trends, the button next to it helps you download the historical details, and there is a button can take you to the keyword search result page on Amazon.
Let's say you are interested in an ASIN - B07KG5PDX9 (go for wild headlamp) and want to dive into further, you can move on to our next feature - competitor lookup. This feature allows you to get a deep insight into competitors' information, and exactly how they are performing by entering one or a few of search criteria, the criteria including category, keyword, brand, seller, and ASIN.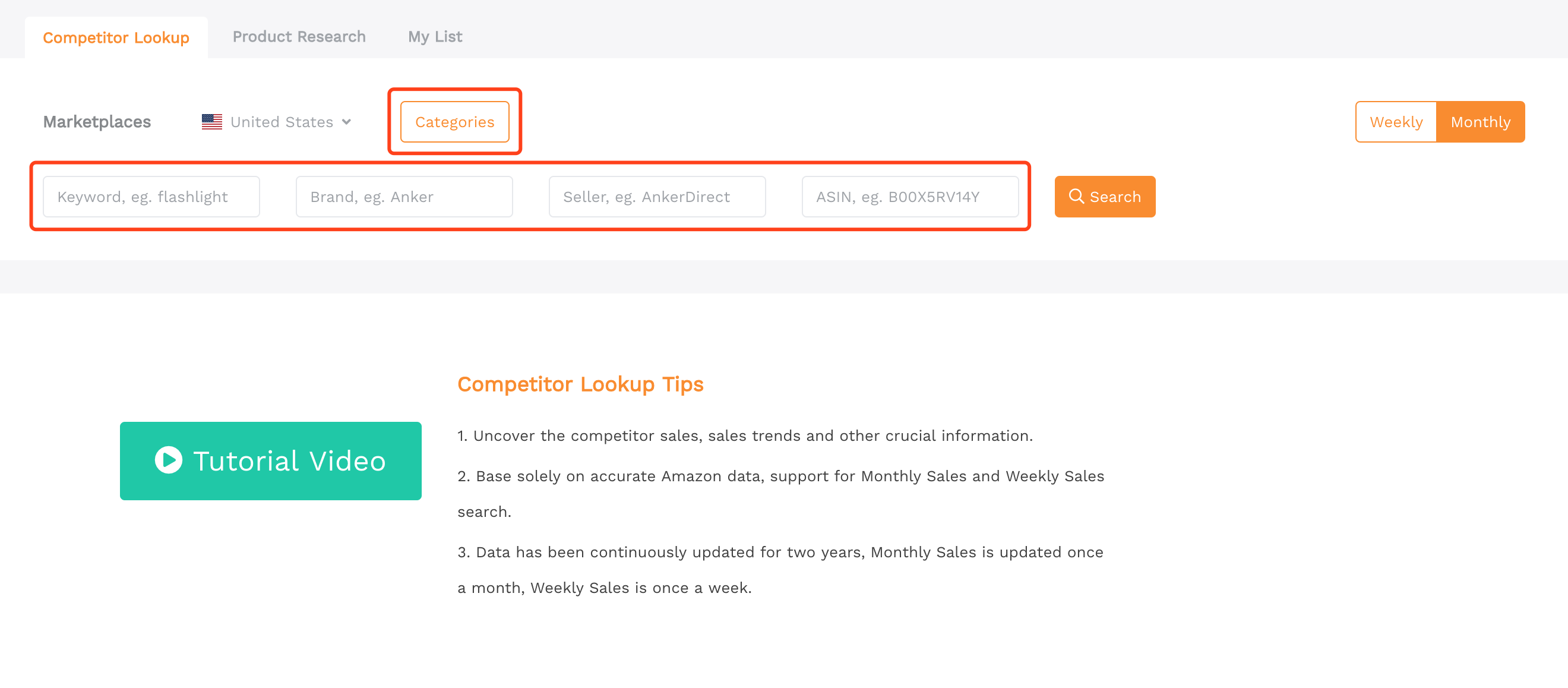 You can search by the ASIN directly, while, right here, I'm gonna to search by keyword, entering and searching the keyword we got before - running headlamp.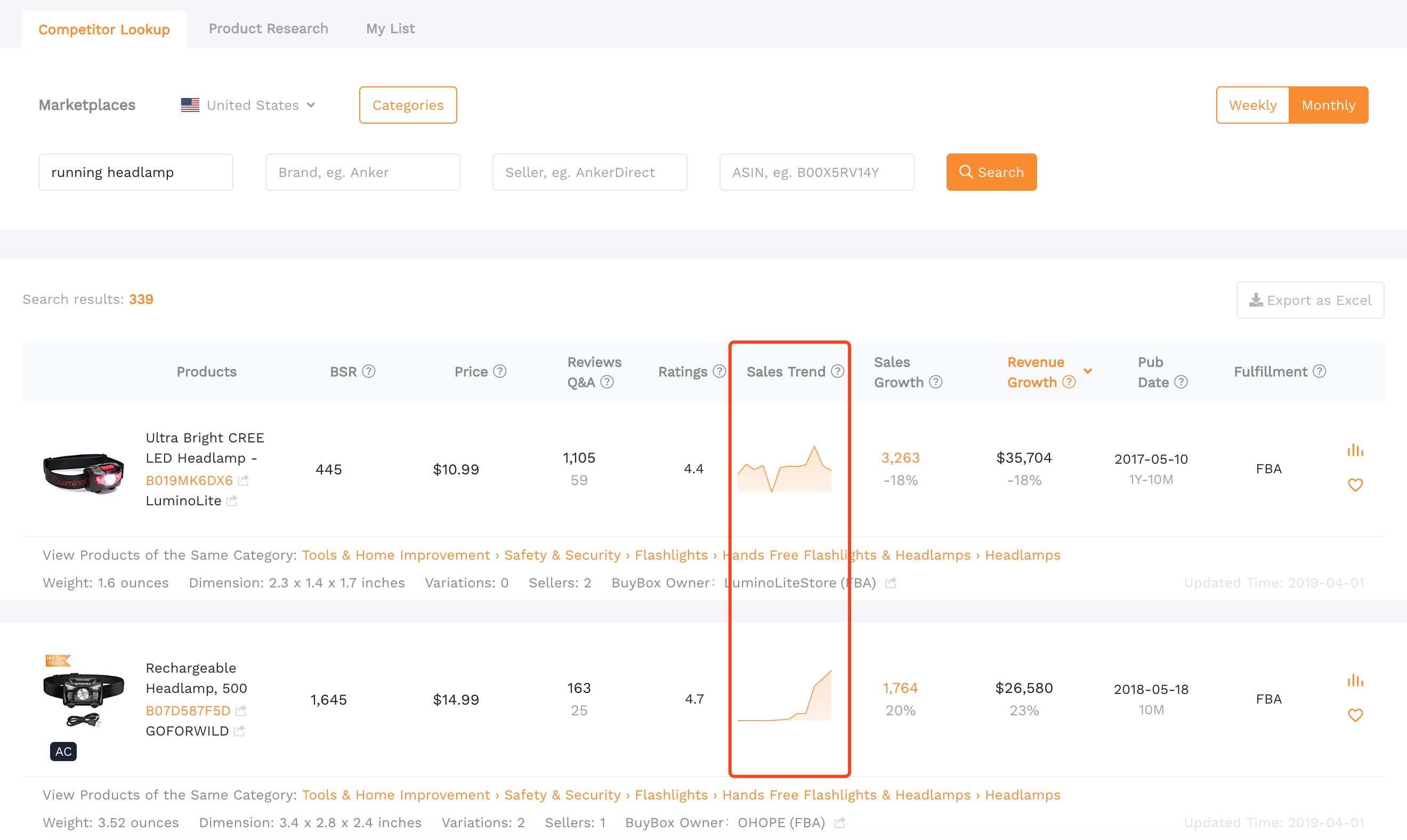 You're gonna have a list of products which include this keyword in their title, sorted by revenue in descending, and you can sort by any column that you'd like by clicking the column title. The product sales trends is similar to the keyword search trends, both are on the rise in recent months.

The ASIN - B07KG5PDX9 (go for wild headlamp) also appears in the results, launches nearly 6 months, sells over 5 hundred units and 10 thousand dollars last month. Click in to see the detailed historical data, we show you the detailed data for sales, revenue, avg price, conversion rate in each month, and seen from the trend graph bellow, sales rump up since it launched.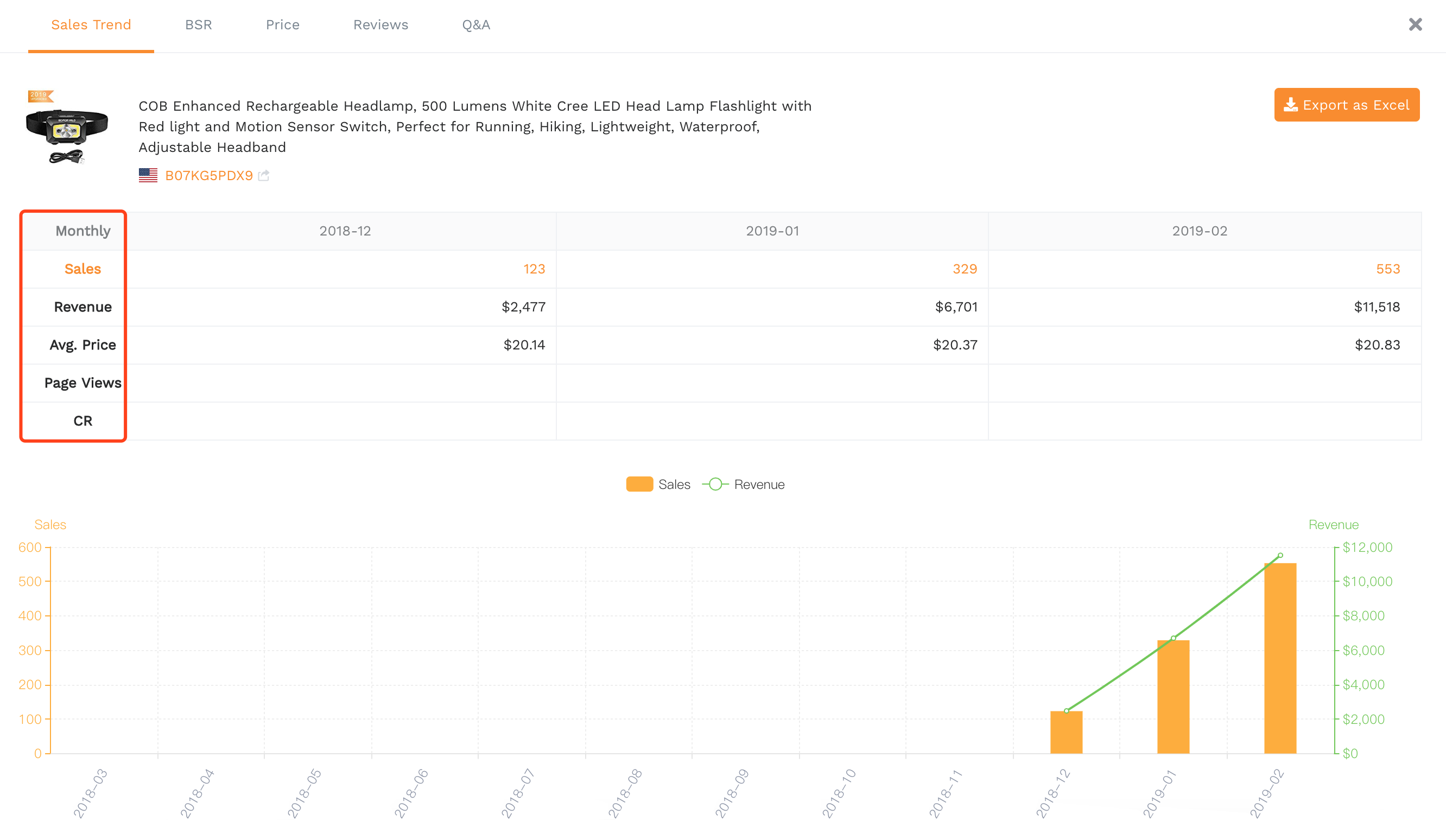 Remember, you are able to switch the result into weekly data by clicking the button on the upper right, and when you find a product you'd like to further research, add it to your list to track and revisit its performance, like sales, keyword rankings and so on. The my list tab will show you all of your saved products.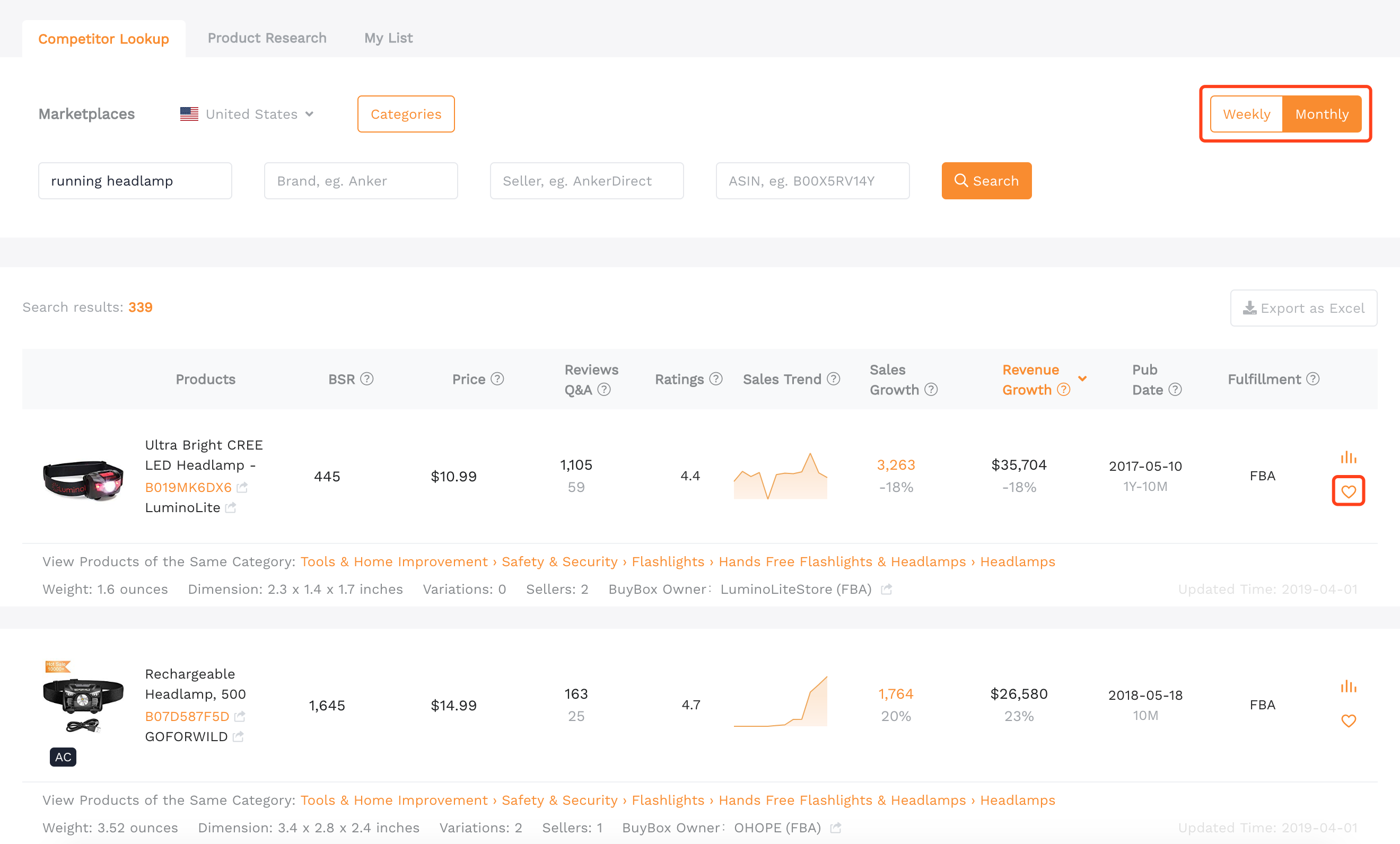 The next is product research, so whereas the keyword better reflects the market, the product helps you generate product idea and make informed decision. Here you can input what kind of product you are looking for.
Let's say the potential product, it discovers the products that are selling well and has a good sales growth rate.The maximum monthly sales is 600, the growth rate is 10% at least, and launches less than 6 months, let's try tools&home improvement category.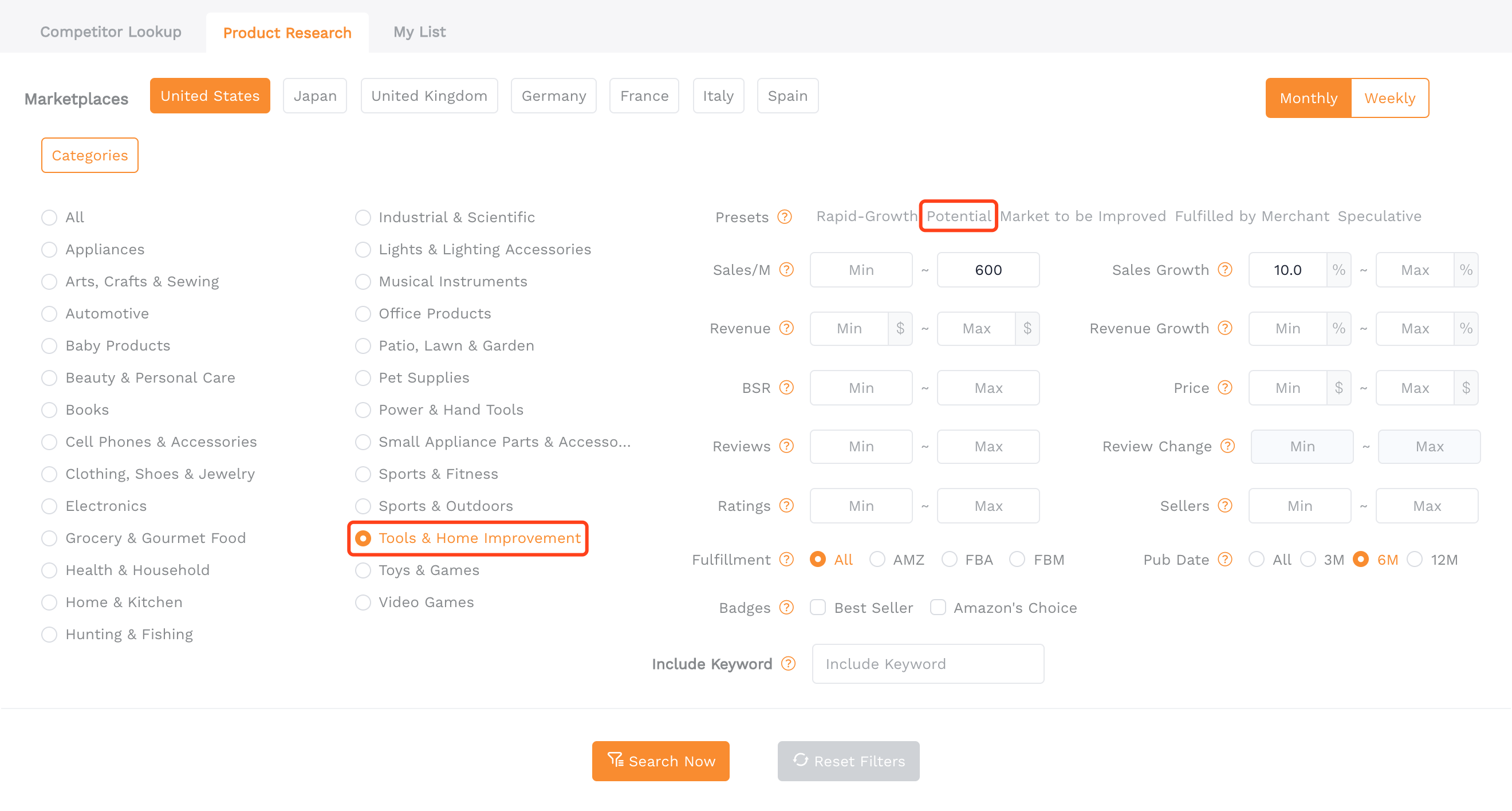 Quite a mass of data is got here, you are able to narrow down the results by entering more filters, BSR, reviews, badges and so on, whatever you'd preferred to do, the more you filter, the more targeted your results are going to be.
Along with each individual product, you will see the basic product information, category, monthly sales, revenue, launch date and other important data for research. And there is a button where you can dig in further to view the product's detailed data and trends. In addition, you are able to click the category node to see the products under the same category.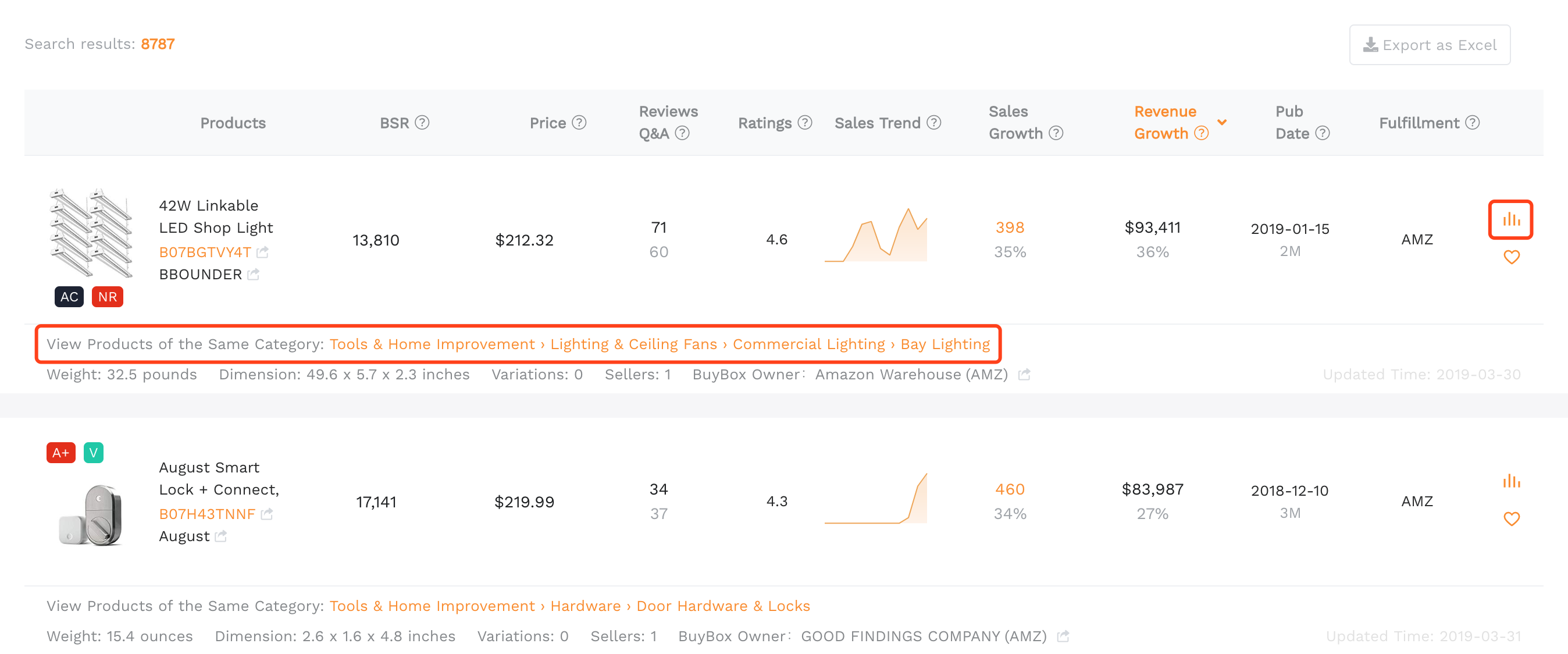 We show you the historical trends for sales, BSR, price, reviews and Q&A.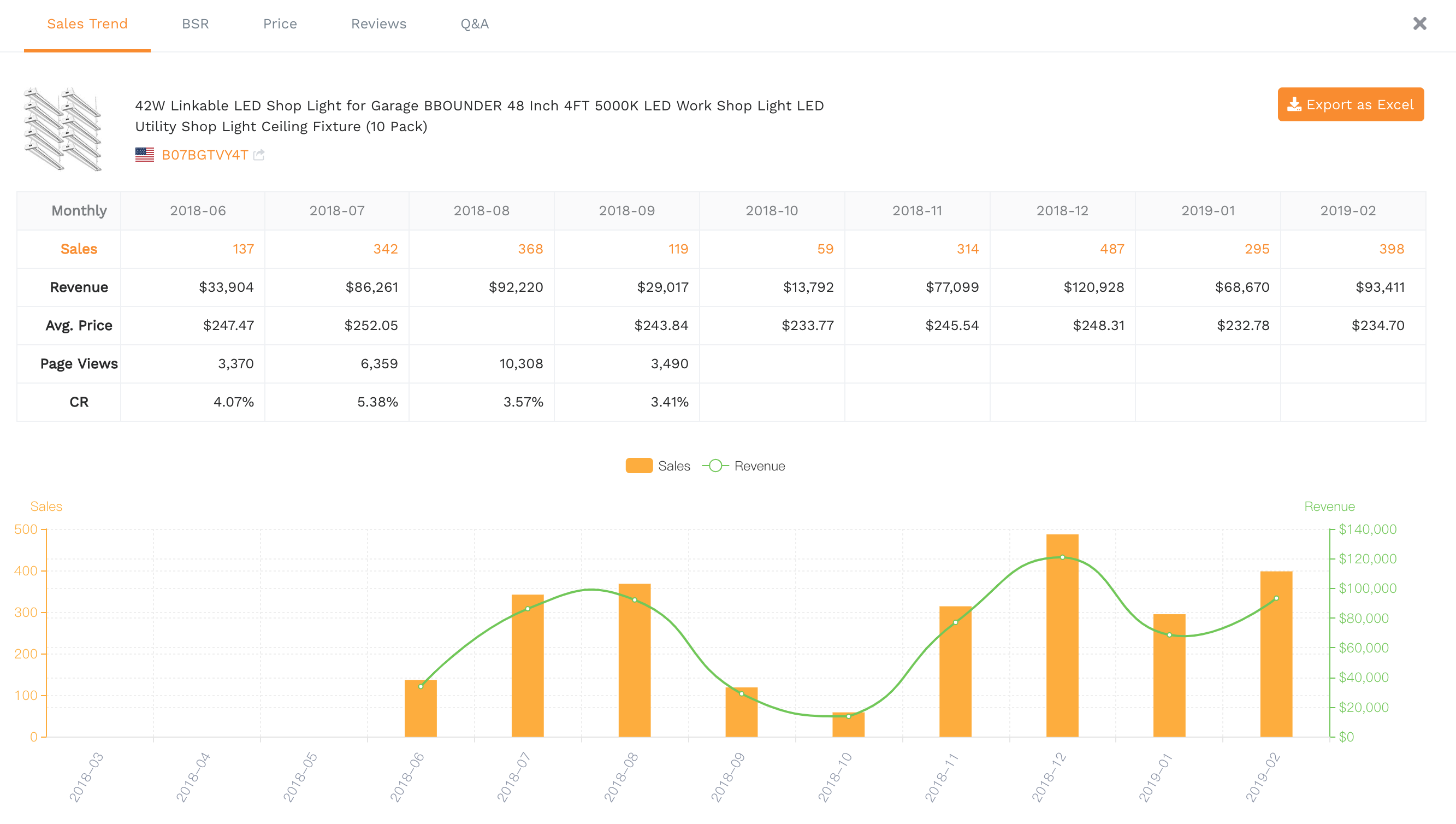 Go ahead and scroll down, you are able to browse each individual results by turning pages or preview by clicking the pictures. Click in and click the arrow to switch the picture forward and backward. The title right here will take you to the listing page on Amazon.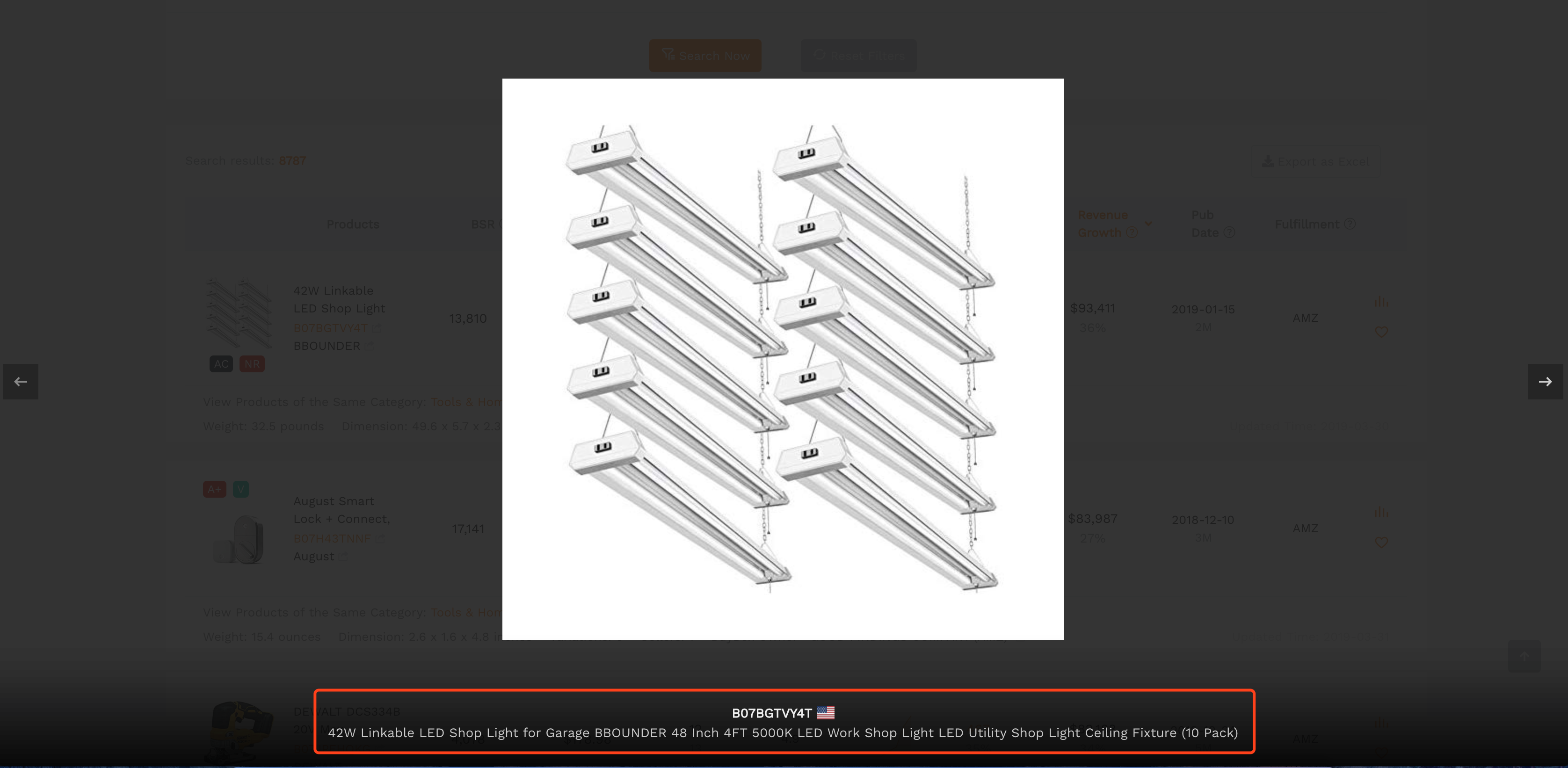 Once you've got the product to sell on Amazon, you're wondering what keyword to put in your listing and sponsored ads. To make your listing is searched and presented to shopper, the keyword in listing must be indexed by Amazon algorithm. so, it is critical to integrate high volume and importantly relevant keywords as part of your listings.
Total two tools, reverse ASIN and keyword mining will work for you.

Let's start with revers ASIN. With this tool, you can enter a product child ASIN to quickly get a list of keywords which drive the traffic to your or your competitor listings.Let's try the ASIN - B07KG5PDX9 (go for wild headlamp) again, entering the ASIN and selecting the right market, it will return you all the traffic-driving keywords for this ASIN, sorted by how many traffic the keyword bring to the ASIN in descending, alongside monthly searches, weight, variations and unique words. It's recommended to optimize your keywords based on more than top 10 competitors.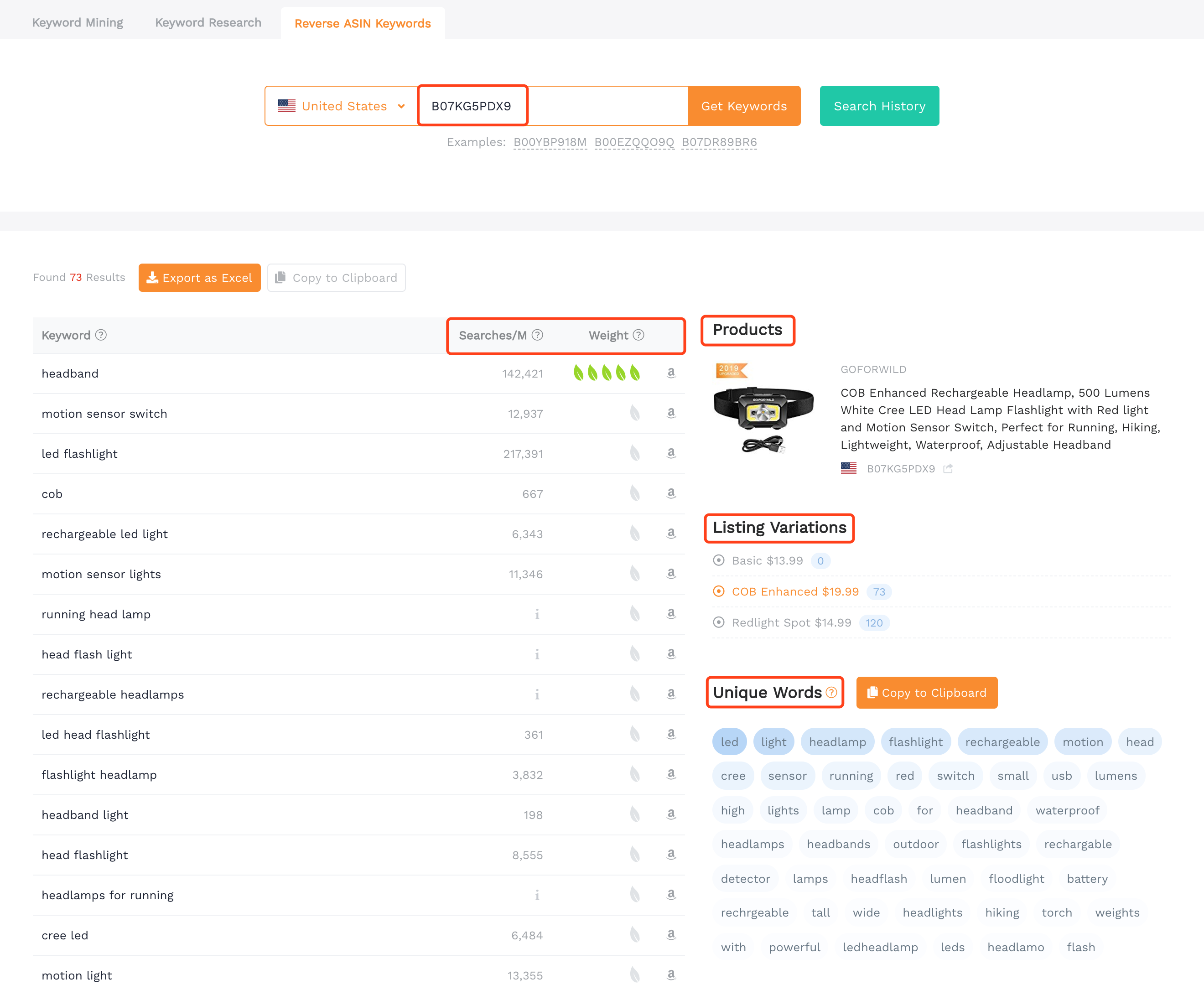 While as reverse ASIN find the keywords of competitors, keyword mining tool helps you find highly relevant keywords along with showing you tons of insightful metrics. So, here you will put a seed keyword, let's try the keyword "headlamp".
Keyword mining returns a list of the most important keywords related to your seed keywords, along with dominant category, search trends, monthly searched, results, purchase, purchase rate, unique words.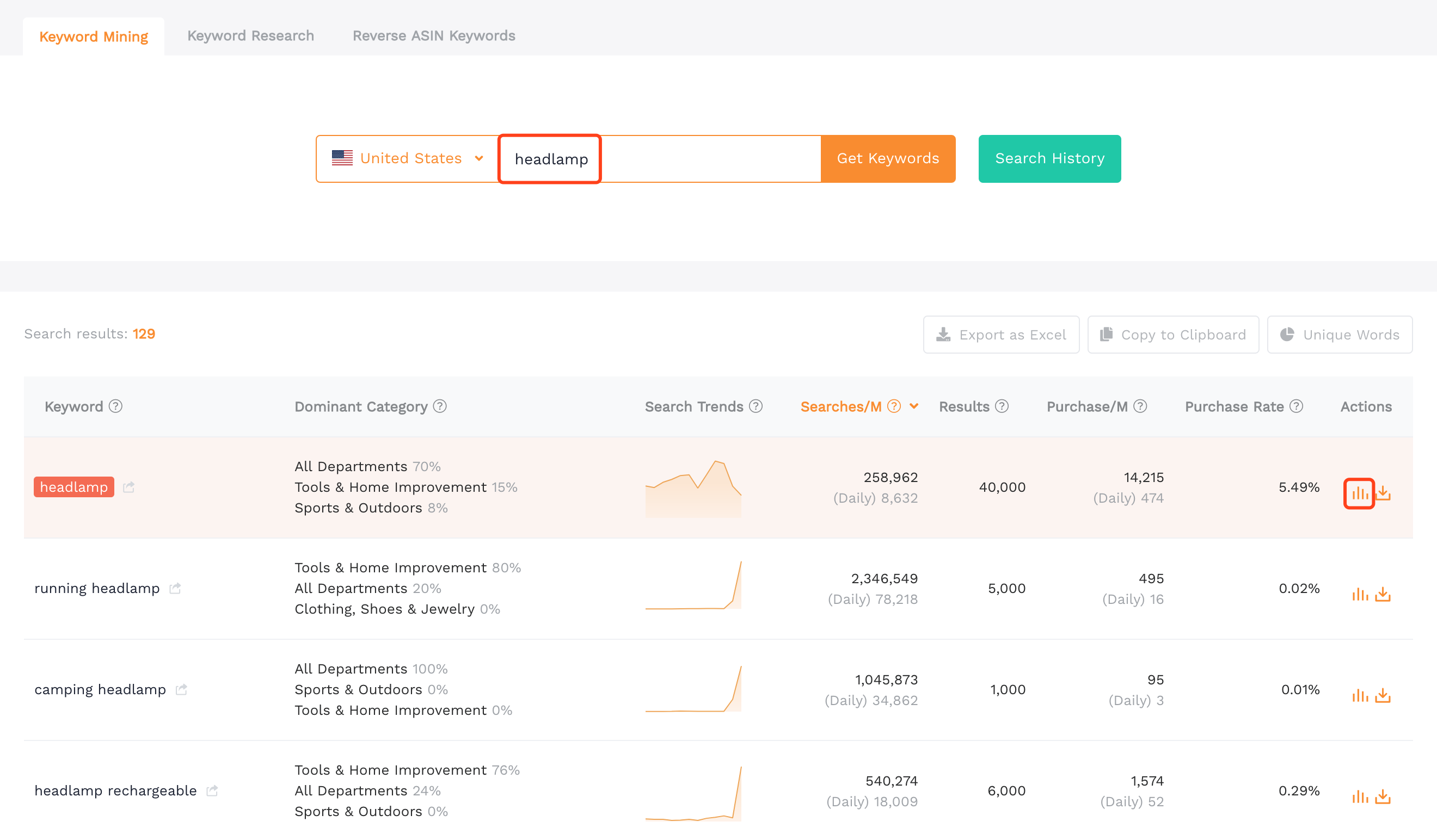 This button allows you to view the historical trends by month or year.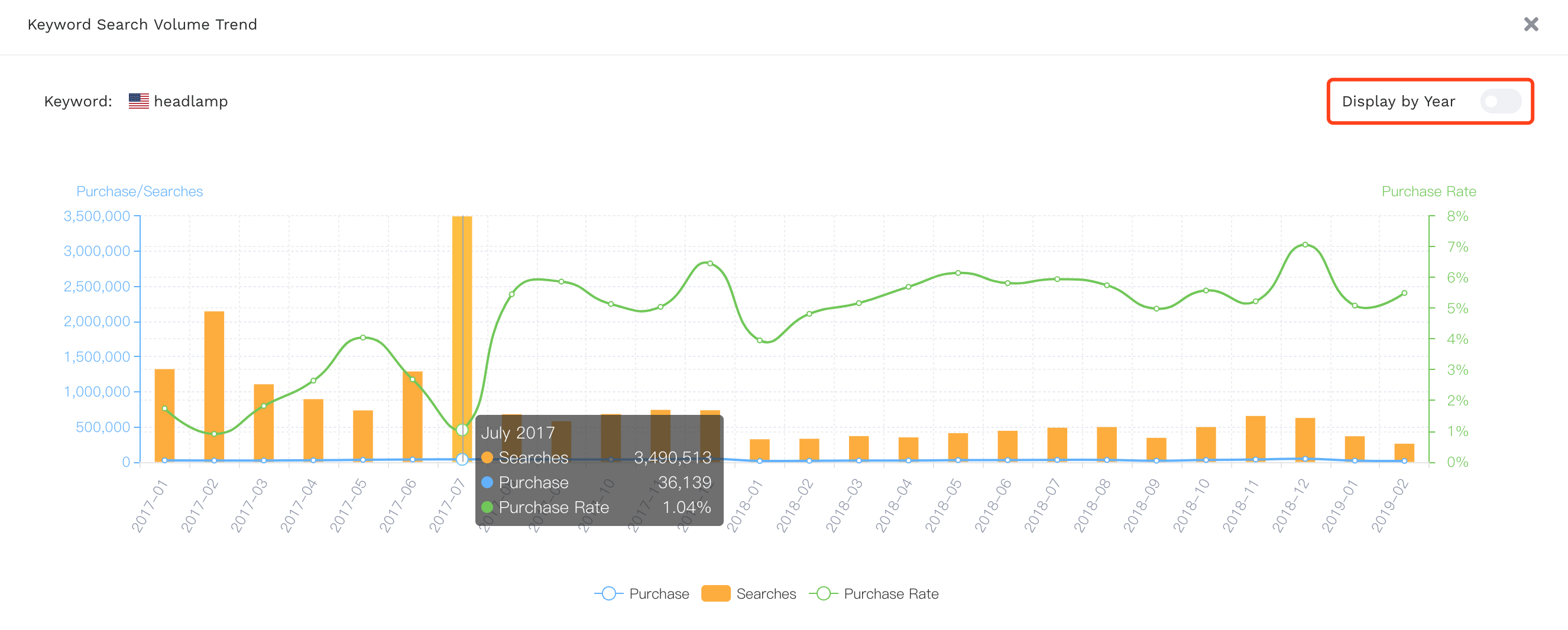 You can hover over the bar to see the detailed data, all which help you to determine which keyword are important and how to prioritize each one for your product.
That's the brief overview on SellerSprite main features, now, we do have tutorial video for each one of the tools, and each tool supports free trial. If you have any questions, please feel free to contact our online service customer, shoot us an Email or read our user guide in text, thank for your watching.