Amazon listing optimization is vitally important nowadays. This involves a series of steps that boost your product's ranking on Amazon. To achieve this, it's essential to align your product's photos, copy, keywords, and other elements. One of the them is "Keyword oprimization".
Then, how to do that?
The perfect tool to leverage for this purpose is the SellerSprite Reverse ASIN, which helps you find the keywords your competitors are using.
SellerSprite Keyword Database is sourced entirely from accurate data compilations taken from Amazon's Search Database, reflective of both historical and current Amazon Shopper behavior.

Here's a step-by-step guide on how to effectively use the Reverse ASIN
1. Select marketplace, select time frame, then add the ASIN find most relevant compatitor, grab its ASIN and add the search bar then click search.
A seller has the ability to choose the region of the Amazon Market,choosing from the United States, Japan, United Kingdom, Germany, France, Italy, Spain, Canada, or India.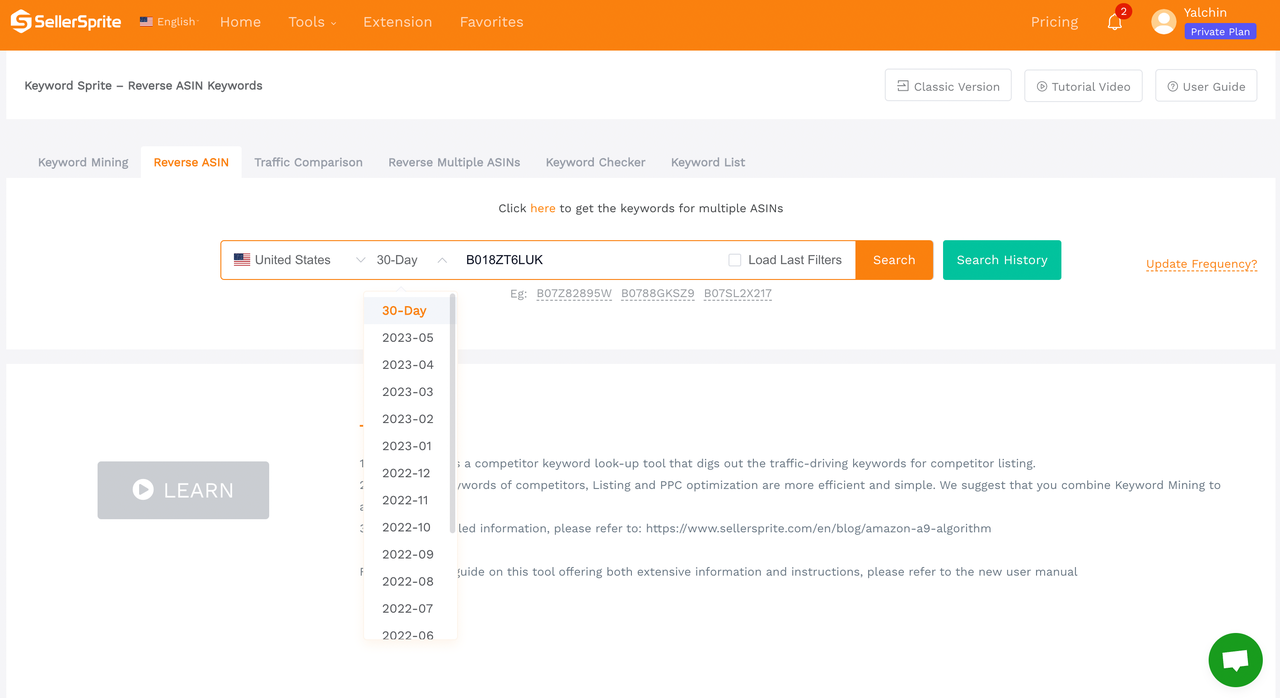 2.

Here you can see variations of our ASIN,there are many variations indeed.

If you click "Ket Keywords of all variations", then you are gonna get all variations keywords.



3. ASIN Lookup
Click on the ASIN Lookup button, a new window will open up with Sales Trend, Historical Trends, Rating Rate, Main Keyword Search Trends. With this chart, you can see the Sales Data and Rating Data of this product.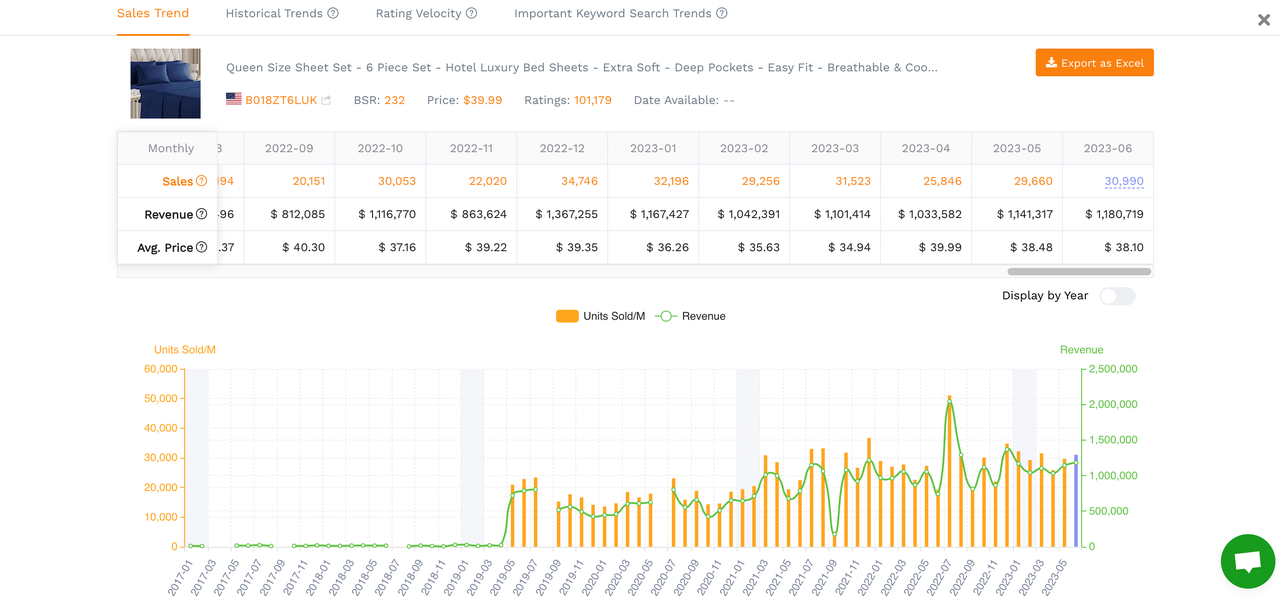 4. Filteration
Filtration allows you to sort Keywords for different metrics and find keyword exactly you are looking for.
Such as Monthly purchase unite, Monthly purchase conversion rate, Amazon's organic rank, Sponsored rank, Weekly and Monthly frequency ranking, to include or exclude specific Keywords.

Although you can select how you want to sort and organize the keyword rankings in the results list, these filters allow you to narrow down the broader results to a list of highly specific keywords. You just need to put numbers on the box of Min and Max.
5. Keyword distrubution
You see here how many Keywords are organically ranked and how many Keywords sponsored. You can see their ratio as well.

6. Keyword analiysis
We got 119 keywords
You see:

-Organic and Sponsored Keyword ranking (their ratio as well).

-Monthly and average Daily search volume.

-Monthly purchase and its conversion rate- We indicate how many orders each Keyword generates and each Keywords conversion rate.

-DSR- Demand to Supply Ratio = Search Volume(Demand)/ Search Results(Supply).

-PPC Bid - We estimate based of tremendous dataset what average PPC bids are there.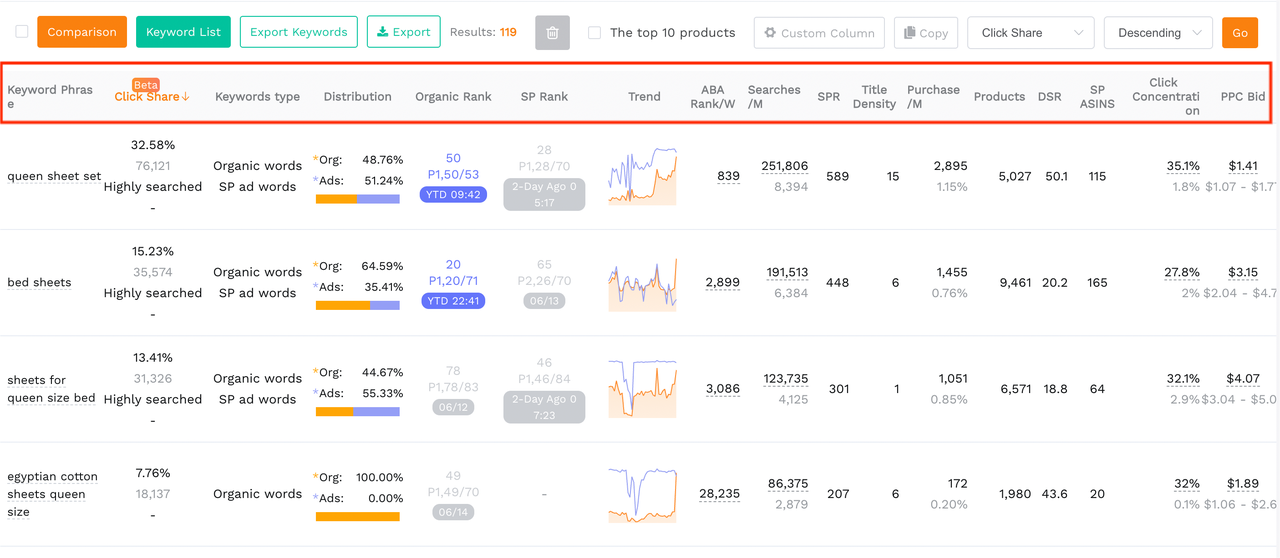 7. Keyword stuffing
You need to select any Keywords you want to do action.
You can compare Keywords by clicking Comparison.
You can add selected Keywords into Keyword list.
You can delete selected Keywords.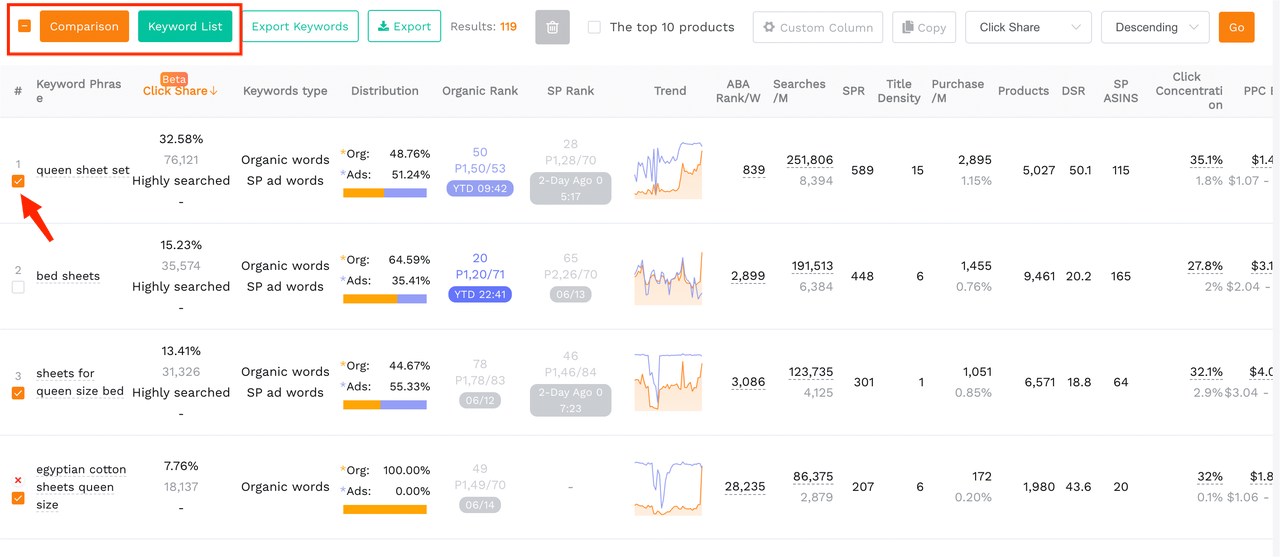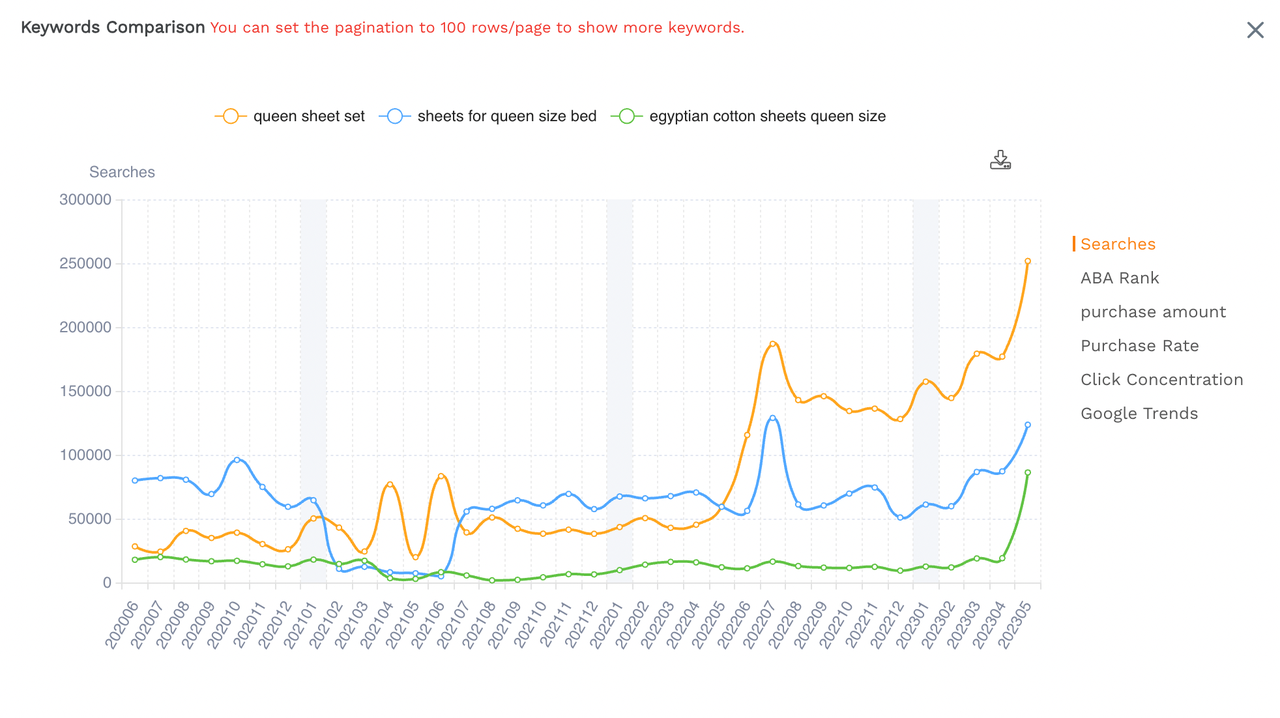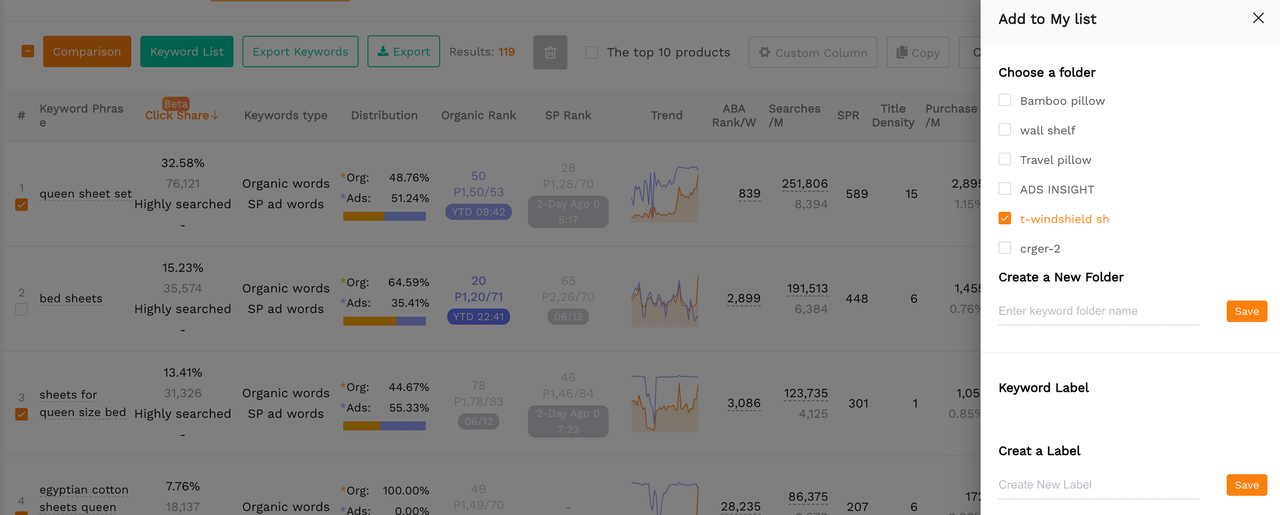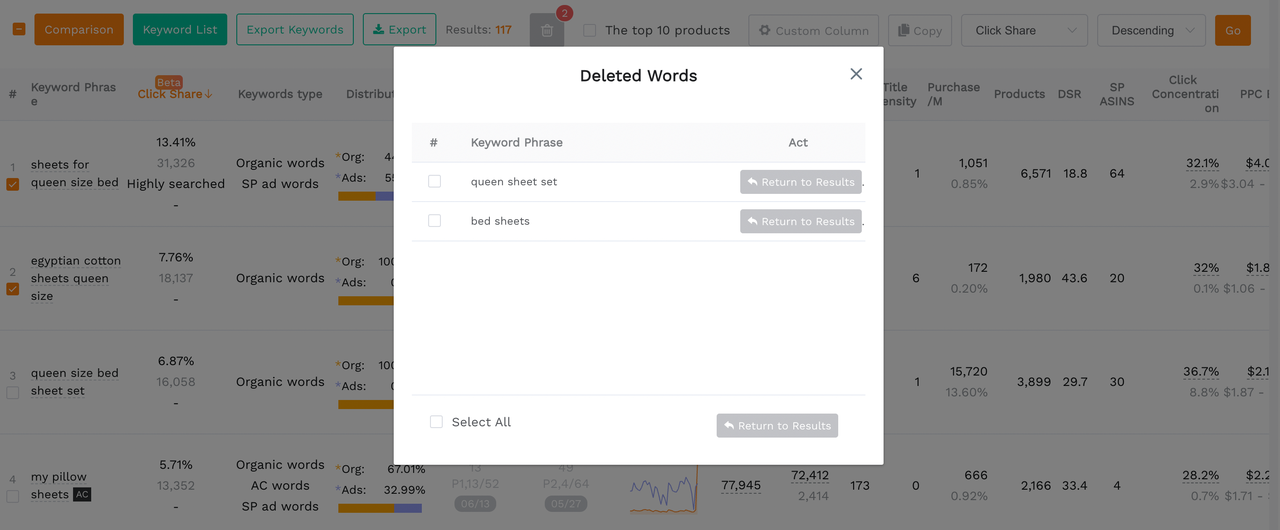 8. Historical trends
If you would like to see historical trends of this keyword, just click here.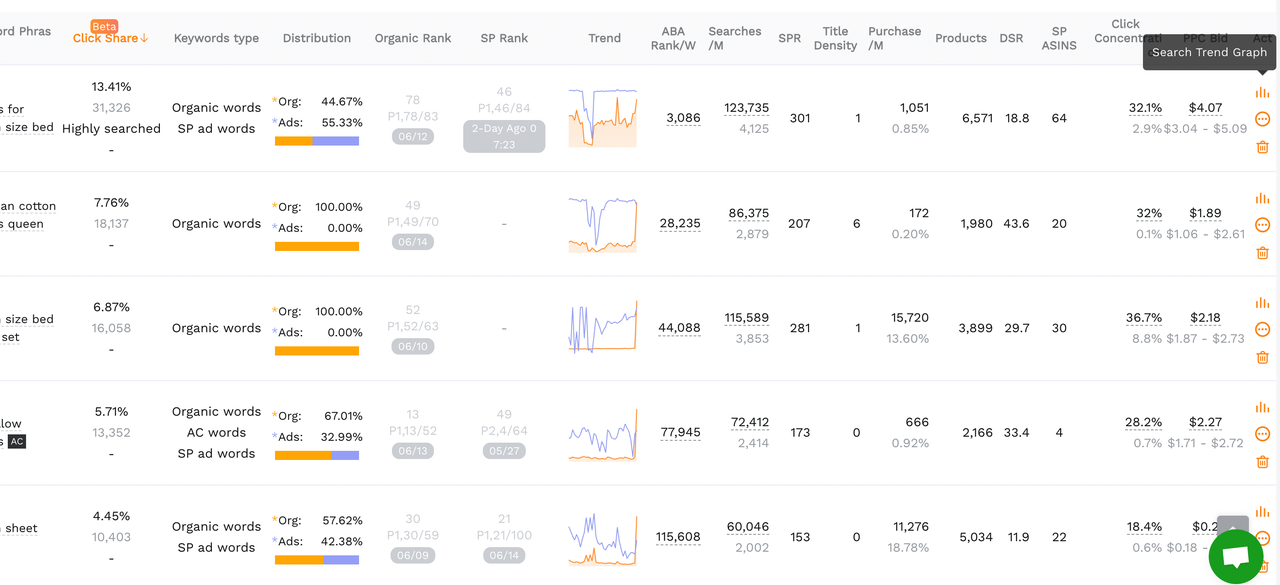 Then we are going to see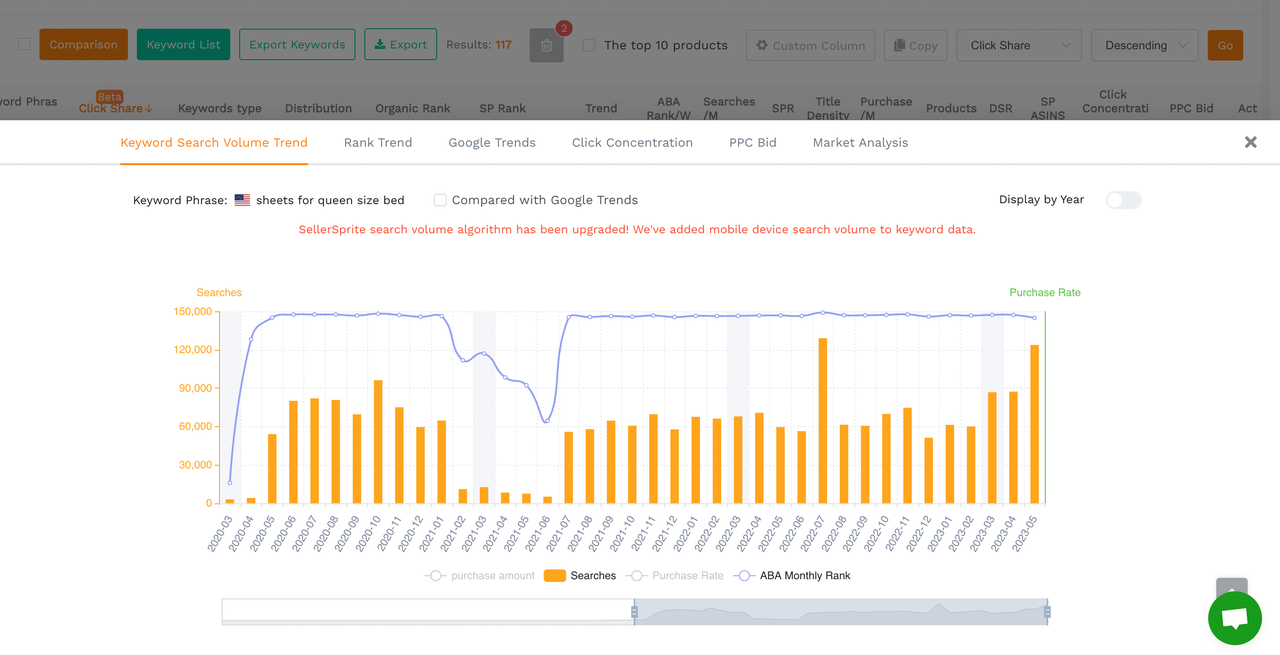 Keyword volume for different time frame.
You can see rank trend, Google trend, click concentration, PPC bids or market analysis etc.
So guys, this is basic explanation of REVERSE ASIN tool. Please write on commecnt section below if you have any questions.