Reverse ASINs:Query up to 20 ASINs at a time of all unique keywords and their ranking. Get up millions of rows of keyword data at your fingertips. It offers us a more accurate keyword-stock by reversing competitors' ASIN's keywords. Cause excellent competitors' keywords have been tested.
Scene one: Get the keywords for multiple ASINs
Typically, for any product with multiple variations, there will be one or two that dominate the listing's traffic. In the follow example, we can see the "Color: black" variant of this product has the most traffic keywords!
Now, you can click this variant to get the 2376 keywords.

But if you want all the traffic keywords of all the 5 ASINs, you can use Reverse ASINs 2.0 tool.
Also take these products as an example, fill B098DSKJNV into the search box of Reverse ASINs 2.0 tool. After clicking the search button, a new window will pup up, There are three ways you can choose .
Mode one: All variations of ASIN entered;
Mode two: The sells well variations of ASIN entered;
Last Mode: The exact ASIN entered.
Whether any Mode, the system will show you the relevant results.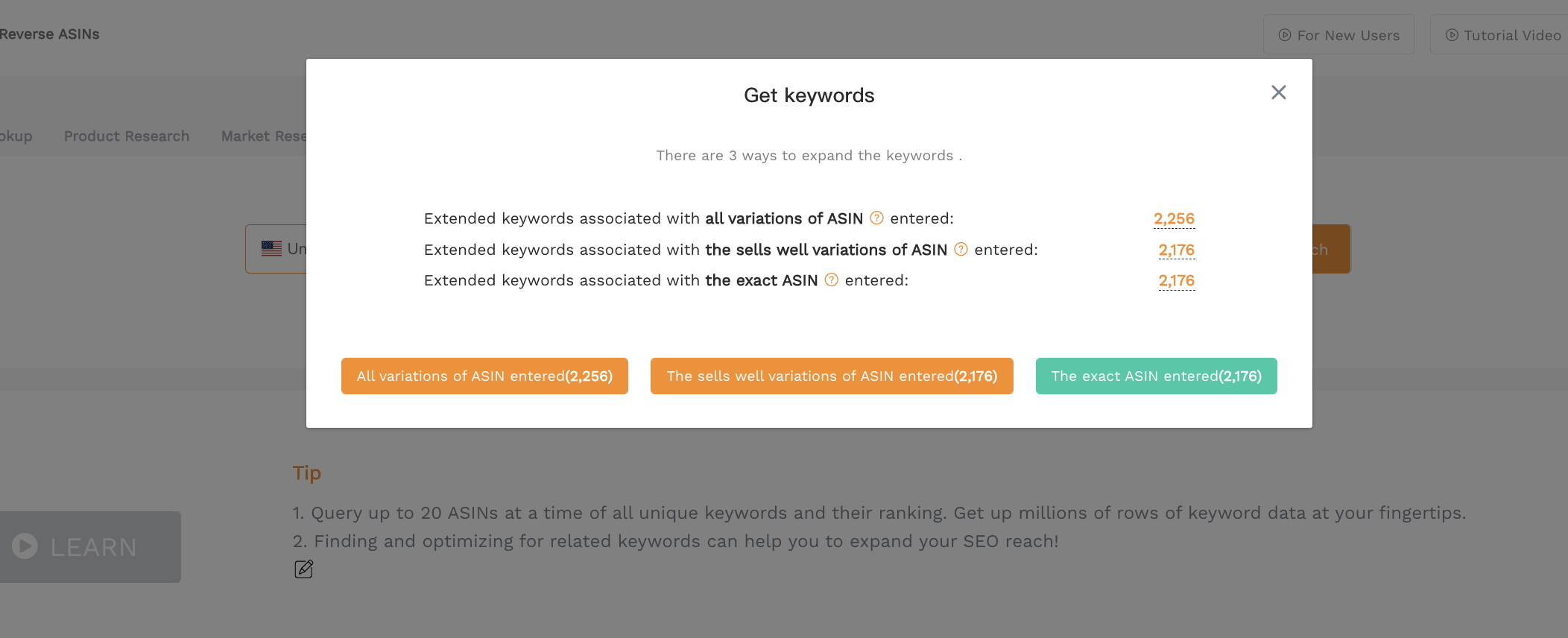 Scene two: Reverse ASIN batch for similar products
You can reverse the top ASINs batch for similar products once together. Which can easily expand your keyword-stock dozens of times. Reverse ASINs will show you traffic keywords after Merge and de duplication System automated。
For example, the Top 5 products in the category"Kids' Backpacks" are our top ASIN competitors:
B09F1MSTX8,B0B53894ST,B09DG83R5T,B08MDTNQNS,B09QSRBHF7
Paste these five ASINs into the search box, no more than twenty ASINs batch at once .(Multiple ASINs are distinguished by spaces, or copy from txt/Excel directly by column, then paste)


Click "Search", choose the last Mode: The exact ASIN entered. There will be 2228 keywords.
Choose Mode two:The sells well variations of ASIN entered.(variation with most traffic keywords),there will be 4625 traffic keywords.
Choose Mode one : All variations of ASIN entered ,there will be 5584 traffic keywords.
Traffic keywords from Mode one are nearly twice that of the last Mode ,so we needn't look for the best-selling one ourselves. Find your competitor, then input any ASIN of your competitor, SellerSprite will show you a huge keyword-stock.
Definitely,Not all of these words can be used. Those keywords with less traffic, low correlation need be rejected to get a more accurate keyword-stock.
Through the filter conditions below the search box, we can quickly filter out unqualified keywords. Such as 【 Weekly ABA rank】and 【Monthly searches 】,all of them can show keyword traffic size. Keywords with less traffic will be filtered out on the condition as【Monthly searches 】is more than 5000. (The screening conditions are only for reference. In actual operation, it's also determined according to the market capacity of the category.)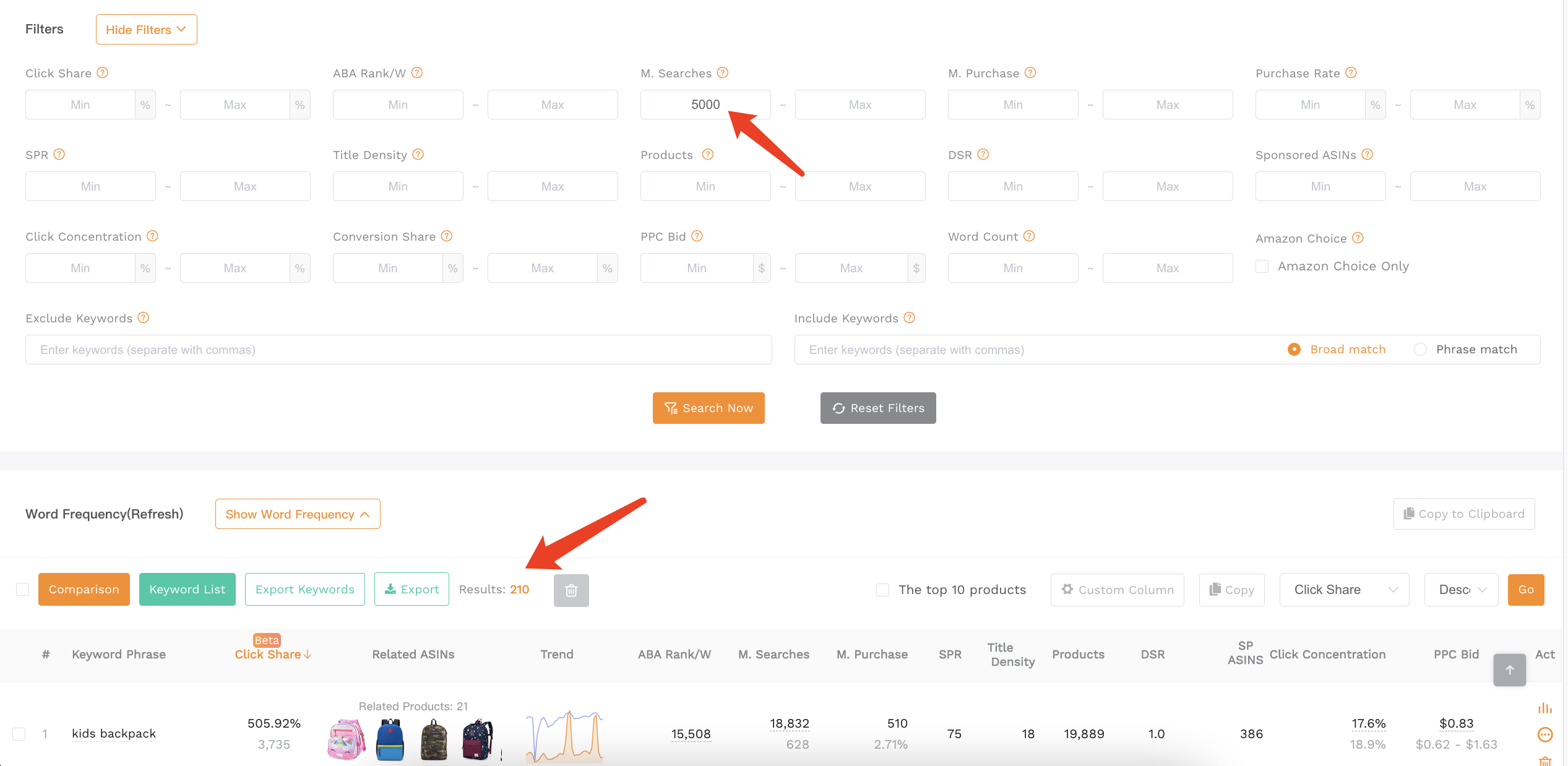 Select the top 10 products. The results list will show you the 10 top competing products that share many of the same keywords in organic results.
By comparing the appearance of the Top 10 products, you can quickly determine whether the keyword is related to the products you operate in batches. The more products of the same type in the Top 10, the more relevant the word is to our products.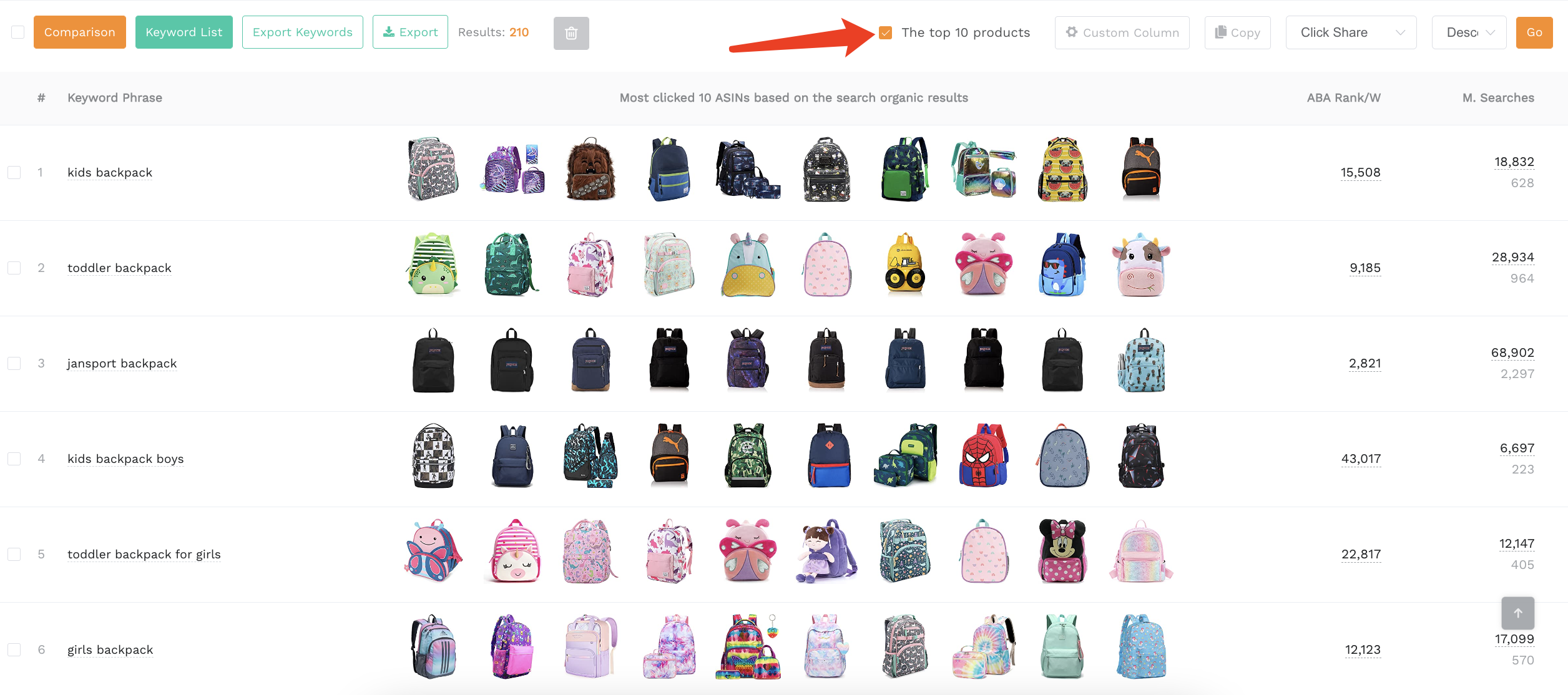 If not, the less relevant the word is to our products. It's unlikely bring traffic to our products.
Click the number of keywords, it can be deleted .

In addition, there are other filter conditions that can help you to find keywords you want.
Such as SPR which can forecast the number of orders required for each keyword to reach the Amazon home page. You can find keywords with less amount required on the home page for advertising.
Search results can be sorted according to different indicators, and more qualified keywords can be found first.