In an ever-evolving e-commerce world, Amazon remains a powerhouse, offering shoppers a vast array of products. Over the past 12 months, we've observed a fascinating shift in sales trends on the Amazon US site. According to a recent report, local US sellers have seized the top spot, accounting for a substantial 54.4% of sales. Remarkably, Chinese sellers are nipping at their heels with 39.3% of total sales, showcasing their robust presence. Sales from sellers in other countries constitute only a fraction of the pie.
But the influence of Chinese sellers isn't confined to just the US market. Amazon's global reach has allowed Chinese sellers to flourish on various international Amazon sites, including France, Italy, Spain, Mexico, and Canada. In some of these markets, Chinese sellers surpass even the local competition, underscoring the immense size and exceptional capabilities of the Chinese cross-border seller community.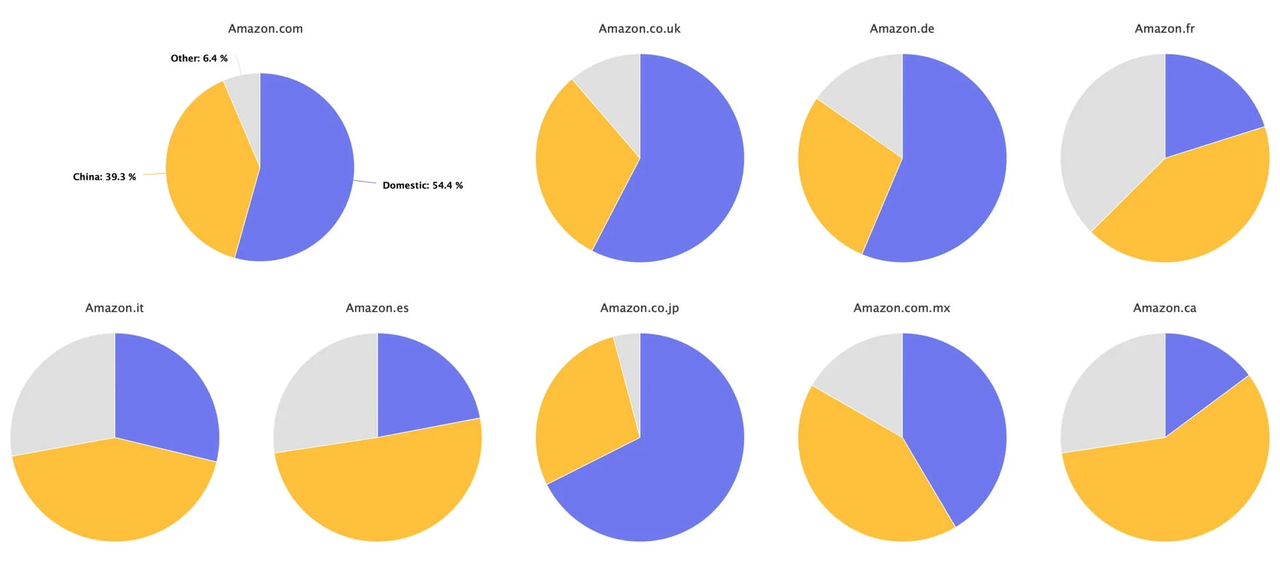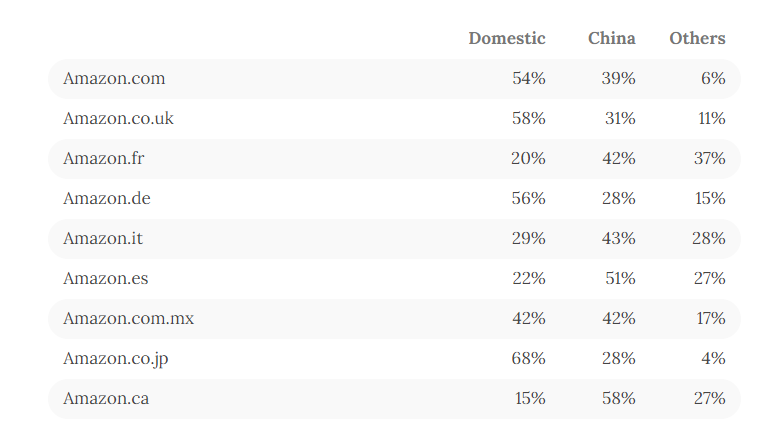 (Data source: Cross-border Eye Observation)
Now, let's delve into the intriguing world of Chinese sellers on Amazon's US site by examining the top ten categories that pique their interest: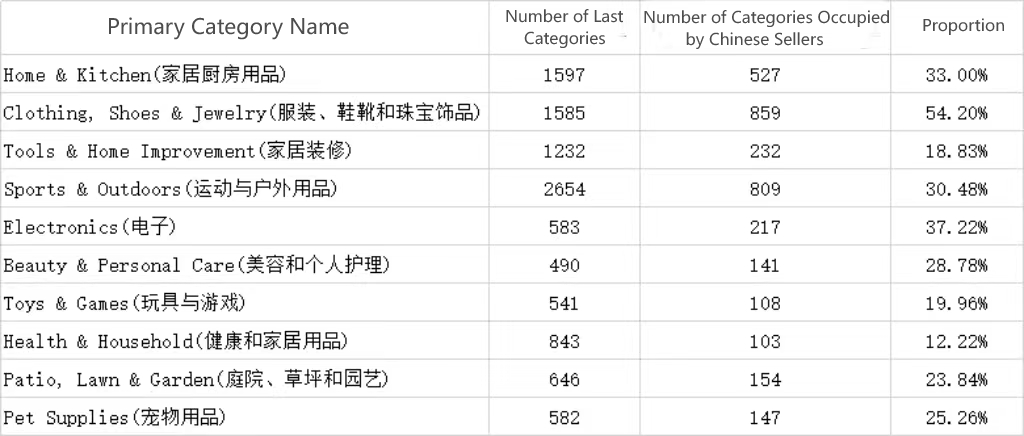 Number of Categories Dominated by Chinese Sellers: This metric reflects the categories where Chinese sellers command the highest share compared to sellers from other countries.
(Data source: SellerSprite)
Among these, four categories stand out, with Chinese sellers wielding dominance exceeding 30%. At the forefront is "Clothing, Shoes & Jewelry" with a commanding 54.2% share.
This data underscores a captivating narrative: Chinese sellers are progressively making their mark on Amazon. Wherever they venture, they bring fierce competition and intense marketing efforts, often making it challenging for small and medium-sized sellers to carve out their space in these categories.
Now, let's explore the defining characteristics of categories that have succumbed to the sway of Chinese sellers. Consider the "Clothing, Shoes & Jewelry" category, where they reign supreme on the US site. Here's a closer look at the performance of various subcategories:
High A+ Product Share:
Subcategory - "Clothing, Shoes & Jewelry › Girls › Clothing › Dresses › Casual"


In this subcategory, Chinese sellers boast a staggering 70% share, and A+ products account for a remarkable 80% of listings.

High Average Review Scores:
Category: Clothing, Shoes & Jewelry › Baby › Baby Girls › Shoes › Boots

Chinese sellers hold a robust 49% share, with an impressive average review score of 4.6, backed by a total of 1,354 reviews.
High FBA Product Share:
Category: Clothing, Shoes & Jewelry › Women › Clothing › Dresses › Club & Night Out

In this subcategory, Chinese sellers dominate with a staggering 97% share, and a substantial 95% of them use FBA for product fulfillment.
Intense Price Competition:
Category: Clothing, Shoes & Jewelry › Women › Accessories › Sunglasses & Eyewear Accessories › Sunglasses

Chinese sellers have an 85% share, and the average price of products is $14.28, with new products averaging $8.32.
In essence, entering these categories requires sellers to possess operational capabilities that can match up to the competition. This includes creating high-quality A+ product pages, amassing a substantial number of reviews and QA, utilizing FBA for product fulfillment, and potentially engaging in price wars.
So, as you embark on your product selection journey, a word of caution: be mindful of categories where Chinese sellers have a stronghold. These categories demand a strategic approach and a readiness to face fierce competition.
The Amazon marketplace is a dynamic ecosystem, shaped by the evolving strategies and strengths of its sellers. The rise of Chinese sellers is a testament to their resilience, adaptability, and their ability to make a significant impact on a global scale.