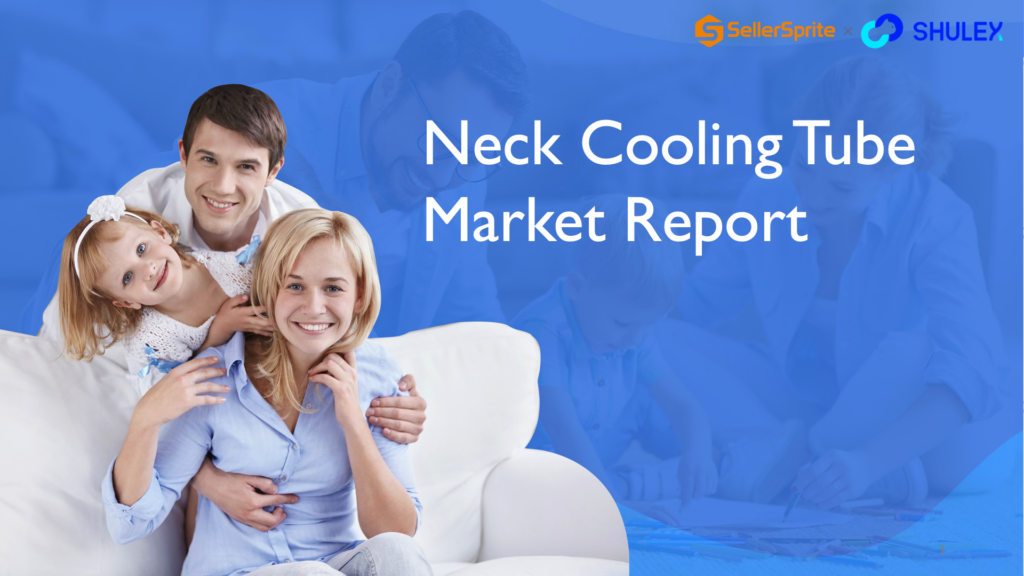 Health & Household > Cold Packs > Neck Cooling Tube/Pack
Health & Household > Cold Packs > Ice Neck Ring
Introduction
Neck coolers have become popular for their ability to alleviate pain and reduce swelling through hot and cold therapy. With the rise of short video marketing on TikTok, the product has gained huge traffic and become an instant hit among consumers in the summer of 2023. Personal care products like neck coolers on, such as cooling rings, cold compress towels, and neck ice bags, are also showing strong Amazon growth momentum. These products are not only suitable for personal care scenarios but also for outdoor sports and 3C electronics, stimulating market demand in multiple directions. This report will provide a brief analysis of the Health & Household and Sports & Outdoors sub-markets on the Amazon US market, including market, product, competition, profit, and other sections, to provide valuable information for Amazon cross-border sellers and industry stakeholders.
Contents
1.Market Insights
2.Product Research
3.Competitive Analysis
4.Profit Analysis
Market Insights of Cold Packs
1. The overall sales data of the category is on the rise, with the top 100 BSR sales steadily increasing and with a significant increase. It is expected that the sales peak will exceed 20 million USDin 2023.
2. The market capacity is large and still growing. Since last year, the number of products has mostly remained around 1600-1900.
3. Looking at the data for one year, the sales volume fluctuates little throughout the year, but there are small peaks in June-July and November-December.
4. Looking at the annual sales changes in the past three years, the sales growth rate of the category is significant, and the sales of cooling products have continued to rise.

The market can be divided into four niche market as below: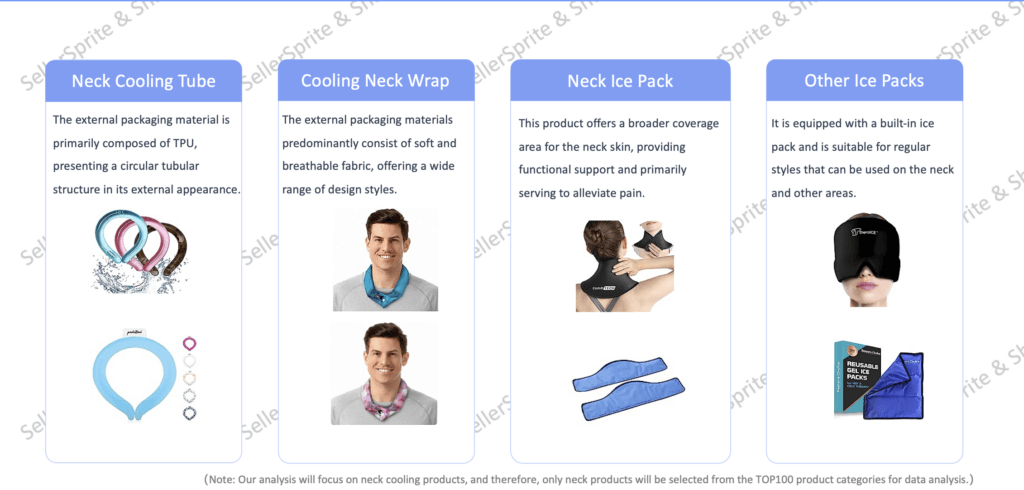 The customer profile of the four niche markets:
New and innovative products can be operated as a new method by changing the scene, keywords, or packaging.
Other neck cooling products with similar effects include neck fans and neck-hanging fans, which are categorized under Personal Fans and Portable Air Conditioners, and are gradually becoming mainstream and popular.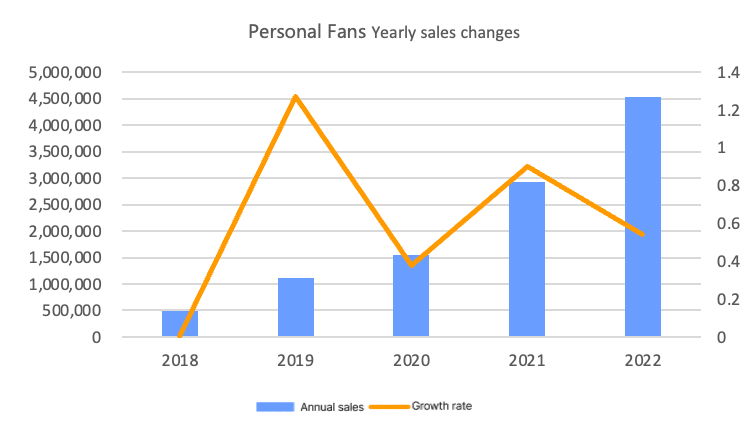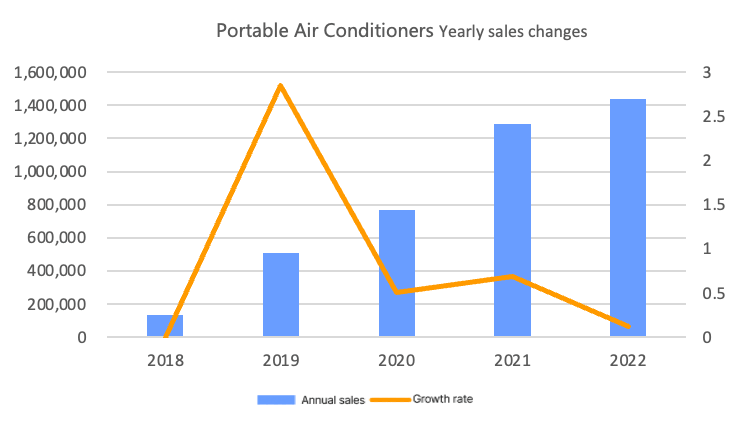 Summary
Overall scale performance:Each sub-category maintains a steady growth trend, and cold compress products are still in the incremental market.
Search trend:Seasonal factors are significant, with summer being a peak period of demand outbreak.
Competition situation:Multiple sub-categories operate with different strategies, which is a major change in market competition.
Future market trends:Differentiated product transformation and rapid iterative updates may be the main direction.
Product Research
Neck Cooling Tube Style
The appearance of neck cooling rings is primarily circular, with a tubular structure resembling a ring when viewed from the cross-section. Therefore, in the product titles, words like "tube" and "ring" are commonly used to describe the design.
The external casing material of neck cooling rings is often made of TPU (Thermoplastic Polyurethane), while the cooling liquid used for filling is typically PCM (Phase Change Material). PCM freezes faster than water and provides a longer duration of cooling, making it suitable for meeting the cooling needs without the requirement of batteries.•In terms of product colors, there are traditional colors such as black, white, blue, and purple. However, more products are using cool mint green, ice blue, and light blue as the main color schemes to enhance the summer cooling sensation.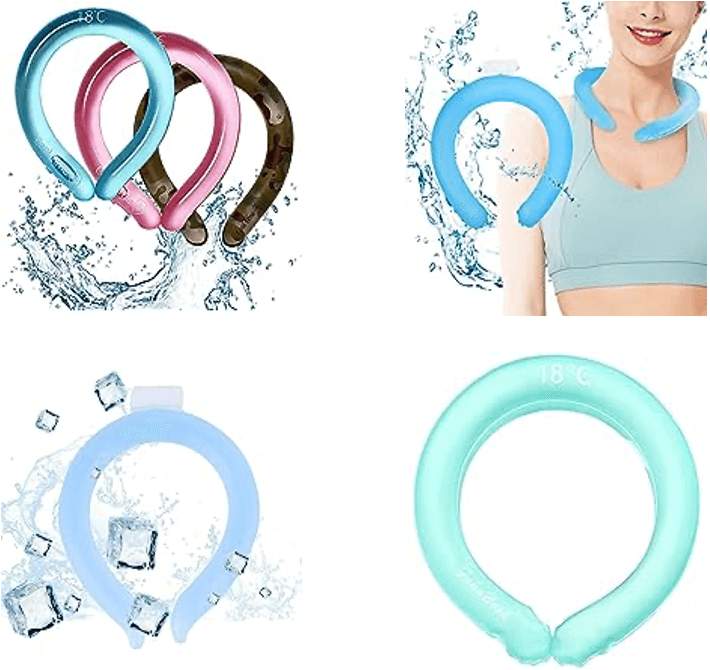 The significant increase in sales may lead to a subsequent decrease in prices
1. Compared to previous years, there is usually a peak in sales during the summer season. However, this year, the sales volume and revenue of neck cooling rings have increased significantly, with revenue nearly doubling.

2. Simultaneously observing the average selling price, there has been a gradual downward trend in recent years. On one hand, the entry of numerous new sellers has led to price competition. On the other hand, during the peak summer season, many sellers start promotional activities, resulting in price reductions.
3. Price range: the $17-$20.99 price range has the highest competition, with Asins accounting for 27.5% of the market share. This price range also has the highest number of new products.

Brand Monopoly
The top three brands in the category account for 22% of sales, while the top ten brands account for 53% of sales. Currently, there is no brand monopoly in the market, which means there is a great opportunity for new brands and new products to enter the market.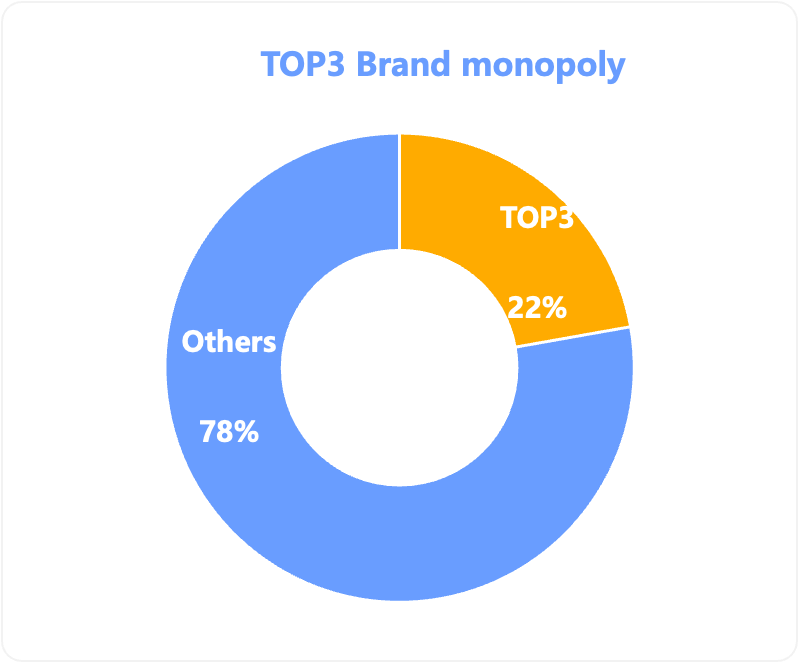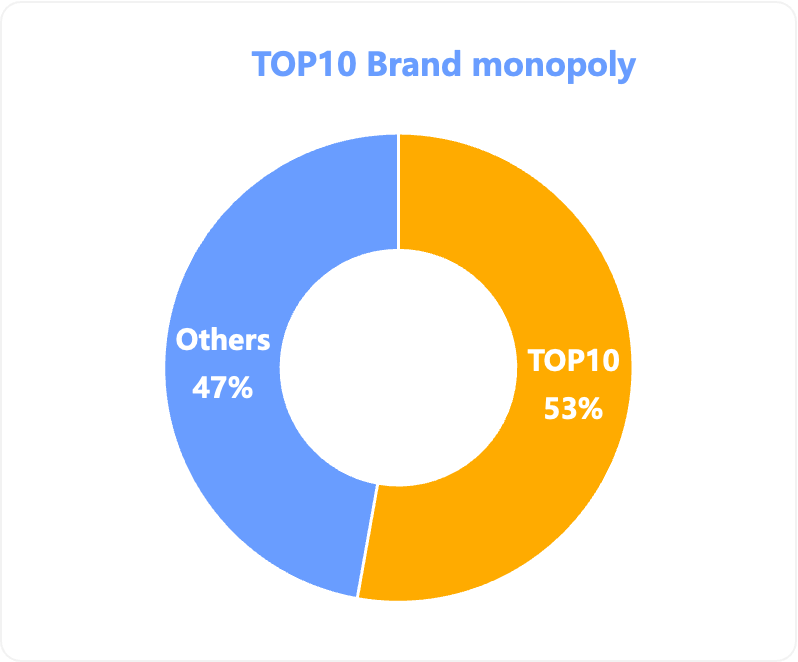 1. From the perspective of revenue scale, CoolTimeUSA and mpac+ are currently the dominant brands in the neck cooling ring market, occupying a significant portion of the market share for similar products. Taking a closer look at the performance of the top brands, CoolTimeUSA has been in the market for a longer time but only has one product under its brand, and it has recently faced severe stock shortages. On the other hand, mpac+ is a technology company based in Seoul, South Korea, with its own independent research and development team. They started operating on Amazon in 2022.
2. Currently, there is no brand that has a significant advantage in terms of product quantity in the neck cooling ring market, and there is also a lack of strong brand recognition. This presents ample opportunities for new sellers entering the market.
| | | | | | |
| --- | --- | --- | --- | --- | --- |
| Brand | ASIN | Monthly sales | Monthly Sales Proportion | Monthly Revenue | Monthly Revenue Proportion |
| CoolTimeUSA | 1 | 10,286 | 39.40% | $200,577 | 36.70% |
| mpac+ | 2 | 5,584 | 21.40% | $156,045 | 28.60% |
| KN FLAX | 2 | 2,660 | 10.20% | $53,173 | 9.70% |
| Padutson | 2 | 2,403 | 9.20% | $33,618 | 6.20% |
| WILLOW WEAVE | 1 | 912 | 3.50% | $13,306 | 2.40% |
| HI FINE CARE | 2 | 879 | 3.40% | $18,525 | 3.40% |
| KOREAC | 2 | 409 | 1.60% | $10,721 | 2.00% |
| Preboun | 3 | 400 | 1.50% | $15,462 | 2.80% |
| Jinnal | 1 | 350 | 1.30% | $4,197 | 0.80% |
| YOYORI | 1 | 310 | 1.20% | $4,647 | 0.90% |
| Toonshare | 1 | 295 | 1.10% | $5,573 | 1.00% |
| climafusion | 3 | 244 | 0.90% | $4,554 | 0.80% |
Differentiation product
· Appearance: Amazon has a few sellers who are starting to look for new ideas in terms of appearance, such as patterns and unconventional shapes (cat paws, small tentacles, etc.)
· Functionality: neck cooling rings can also be combined with mosquito repellent and other effects to attract advanced customers with more product features.
· Accessories: consider incorporating accessories such as portable carrying cases and the option to purchase additional replacement parts.
Competitive Analysis
Customer Profile
From the demographic and venue data, it can be seen that there are three target groups that we are focusing on:
1. Outdoor workers: 15% of reviews mention that they are postal workers, and 7.1% mention that they are gardeners. This group tends to purchase multiple items and use them throughout the day.
2. Indoor laborers: 10% of reviews mention that they are chefs, and 10% mention that they are nurses. Their usage scenarios are mostly in indoor enclosed environments, and they do not need to wear the product all day, but they still have certain requirements for cooling time.
3. Outdoor training: This group can be divided into various roles, including coaches, athletes, and dog walkers, among others. It encompasses a wide range of sports such as golf, tennis, and baseball.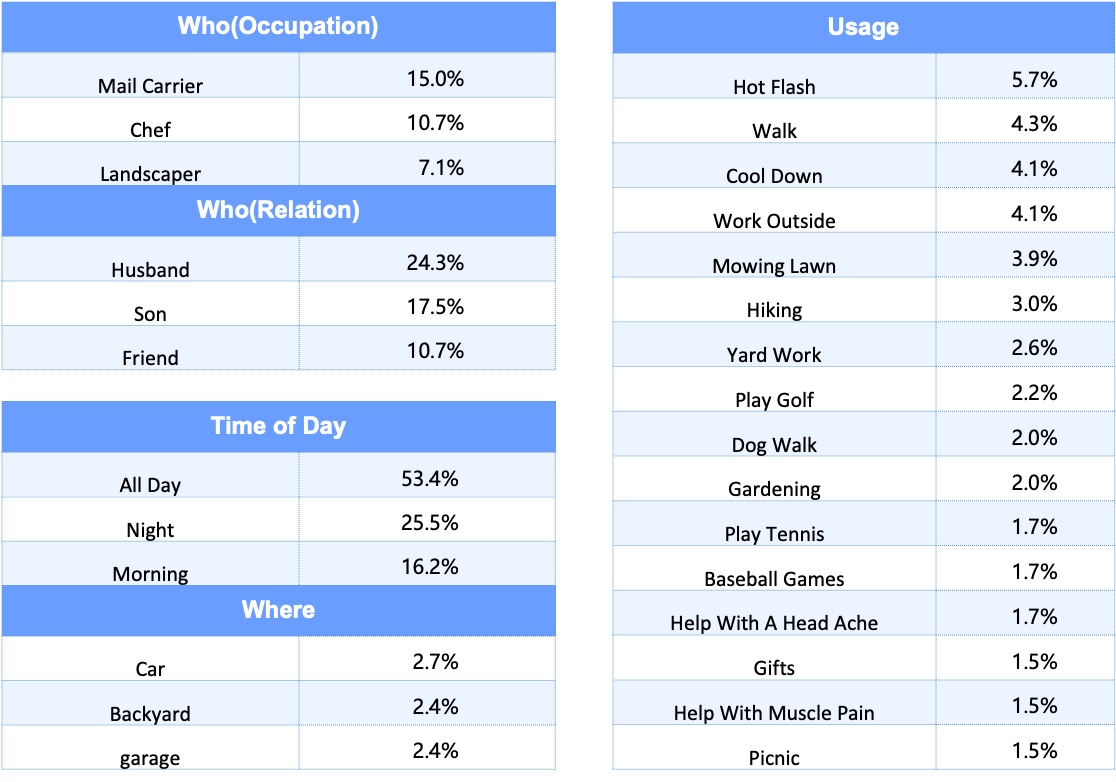 The pain point that we have addressed but remains unresolved in the market is our competitive advantage over our competitors.
· There are 196 negative reviews mentioning 'doesn't stay cold', accounting for 49% of all negative reviews. Cooling time is the top concern for consumers. From the original reviews, it can be seen that the product melts after 15-25 minutes of use. Therefore, we should focus on improving the cooling performance in different environments, such as changing the packaging materials, to ensure that the neck cooler ring can stay cold for a sufficient amount of time.
· English: There are 52 reviews mentioning freezing slowly, accounting for 13% of the negative reviews. Among the negative reviews, consumers mainly complain about having to wait for more than 40 minutes for freezing, which contradicts the advertised 10-minute freezing time, or the inability to freeze quickly in emergency situations.

The inherent advantages of the category itself serve as the basic threshold for us to enter this category.
· There are 118 positive reviews mentioning good cold insulation performance, accounting for 31.5% of all reviews. The portable product provides a continuous cooling effect by maintaining the cold, as reported by direct customer experience. In the original reviews, consumers expressed satisfaction with products that can stay cold for more than 2 hours.
· 41 positive reviews, accounting for 20%, mentioned durability and easy use. Customer experience with durability is that the product can last an entire summer without any complex operation. In the original reviews, consumers reported that the product is durable, with no liquid leakage even after repeated use, and the material quality is good, making it simple and useful and worth the money.

The problems located in the top left corner are the most important factors affecting the decline in star rating, as they have a lower rating and are mentioned more frequently.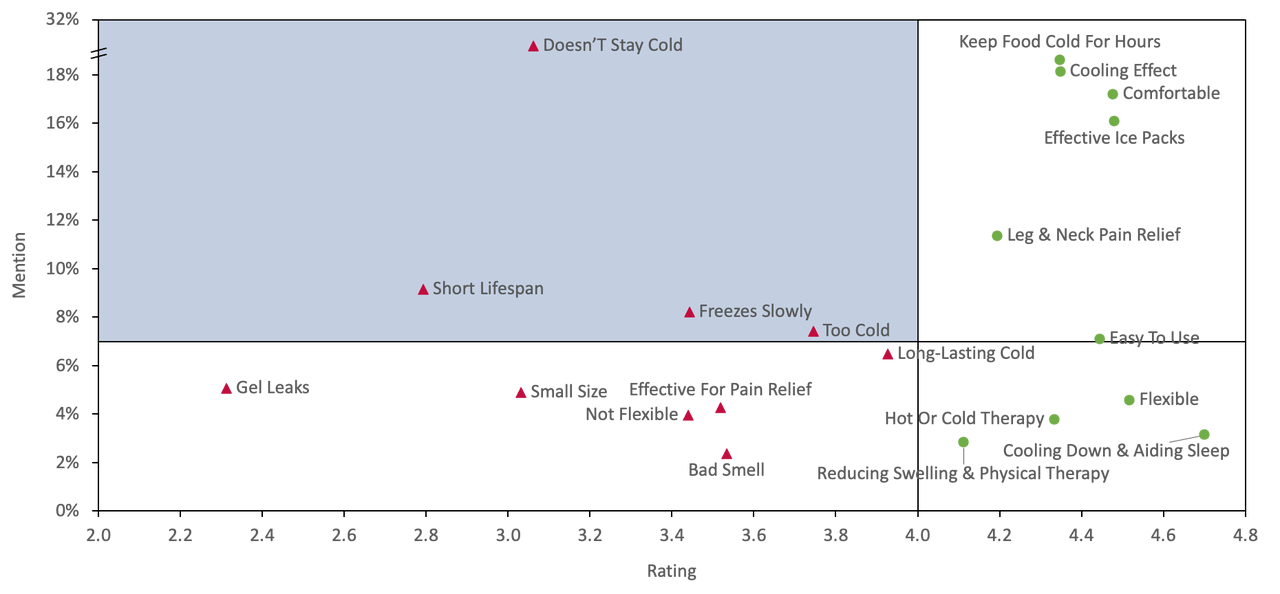 Turning consumer purchasing motivations into competitive selling points for the product can appeal to consumers and increase sales conversion.
· 24% of customers mentioned the cooling and refreshing effect of the Neck Cooling Ring. We can emphasize its great cool down effect, fast cooling feature, and low price advantage as selling points.
· Additionally, another 24% of customers mentioned that the product offers value for money, indicating price sensitivity among customers. We can attract consumers through promotional activities such as discounts, gifts, and limited-time offers, allowing them to experience the affordability and value of purchasing the Neck Cooling Ring.

Product Design Suggestions
•Basic requirements for the product: Portability, ease of use, durability.
•Unique advantages of the product: Cooling time of 40 minutes or more, rapid freezing capability.
•Long-lasting cooling: When improving functionality, it is important to prioritize extending the cooling time to enhance the product's positive rating. Along with the choice of materials, finding low-cost solutions for insulation is crucial.
•Rapid freezing: Customers essentially need a product that can continuously provide cooling. It would be a good idea to consider designing a product that can be used with an insulated bag and can accommodate multiple cooling packs.
Marketing Suggestions
•Emphasize multiple rapid freezing times and long-lasting cooling effects as selling points.
•Combination or group purchasing mode: Offer bundled sales options to facilitate outdoor rotation and achieve long-lasting cooling effects. Alternatively, target outdoor camping sites, sports training facilities, and coaches to initiate group purchases.
• Highlight versatility for various scenarios: Promote the product as multi-functional, suitable for sports, travel, and humid indoor environments.
Profit Analysis
Important considerations:
1.Profit calculation is closely related to the dimensions (length, width, height) and weight of the product, as well as the logistics channel quotations from different logistics providers at the time of calculation.
2.Products containing liquids may require an MSDS certificate. It is necessary to assess based on the actual shipping location and the logistics provider's channel.
3.Only core expenditure is considered in the calculation. Any additional expenses that may have been overlooked should be calculated separately.

SellerSprite - The Professional Amazon Keyword Optimization and Product Research Tool.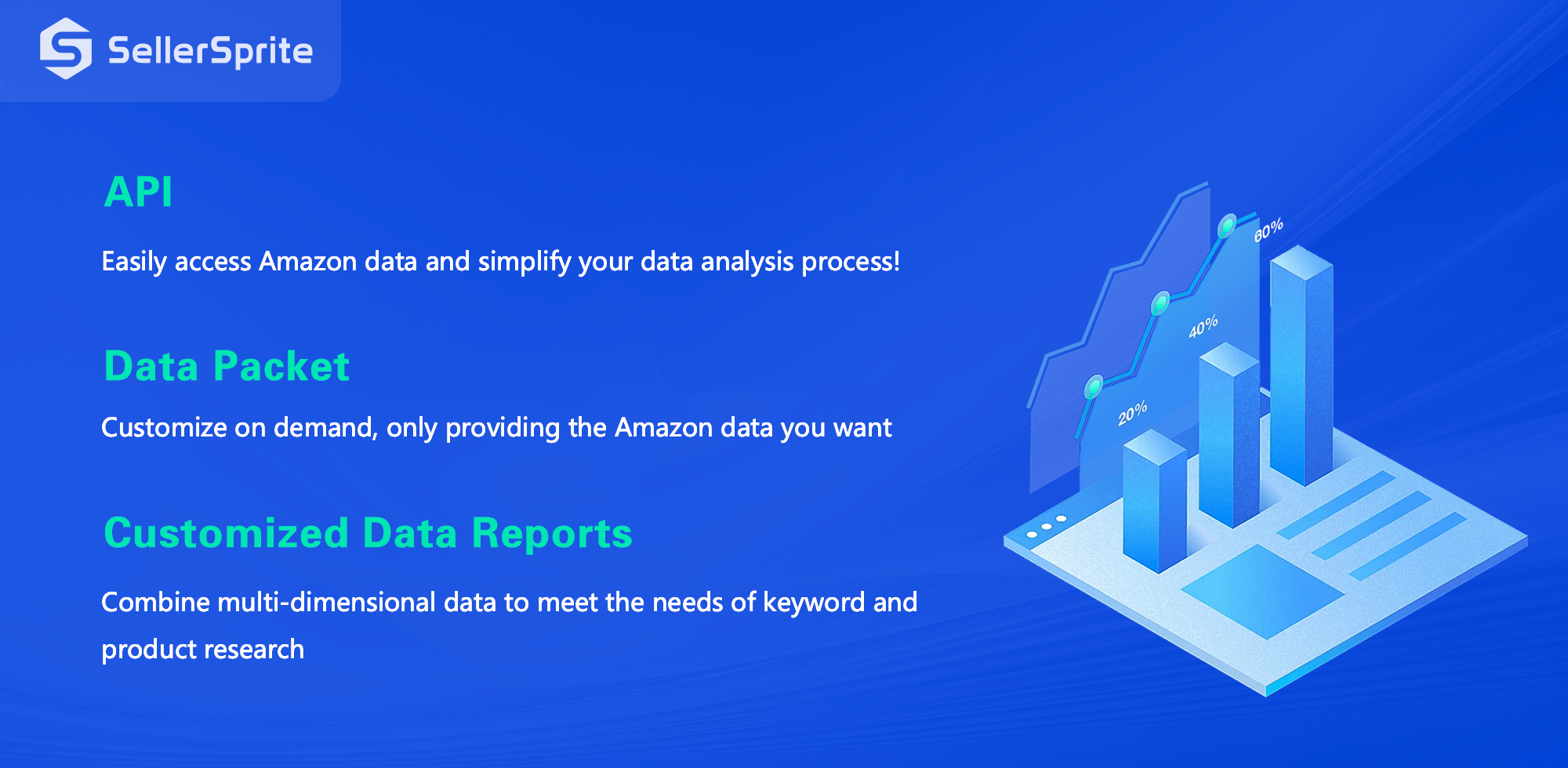 Learn More about Data Service

SellerSprite API Pricing:
https://www.sellersprite.com/en/help/about-api
Contact US: bi@iyunya.com