With the outbreak of coronavirus around the world, many sellers were affected when Amazon FBA temporarily refused non-essential items to enter the warehouse last month. However, FBM sellers were not immune to the situation due to logistics difficulties.

E-commerce is facing a major reshuffle. Is the epidemic a disaster or salvation for e-commerce? The epidemic will eventually pass. When the global epidemic reaches an inflection point, the e-commerce industry will usher in a new era. But for the majority of sellers, the most important thing is to get through this hard time.

So how has this massive virus outbreak affected amazon?
First, there has been a surge in searches for necessities such as masks, hand sanitizers, and toilet paper.
According to data on SellerSprite - Keyword Mining, the search volume of "hand sanitizer" in February is 14.6 million, which surges by 631% compared to January. It reaches to 15.32 million in March.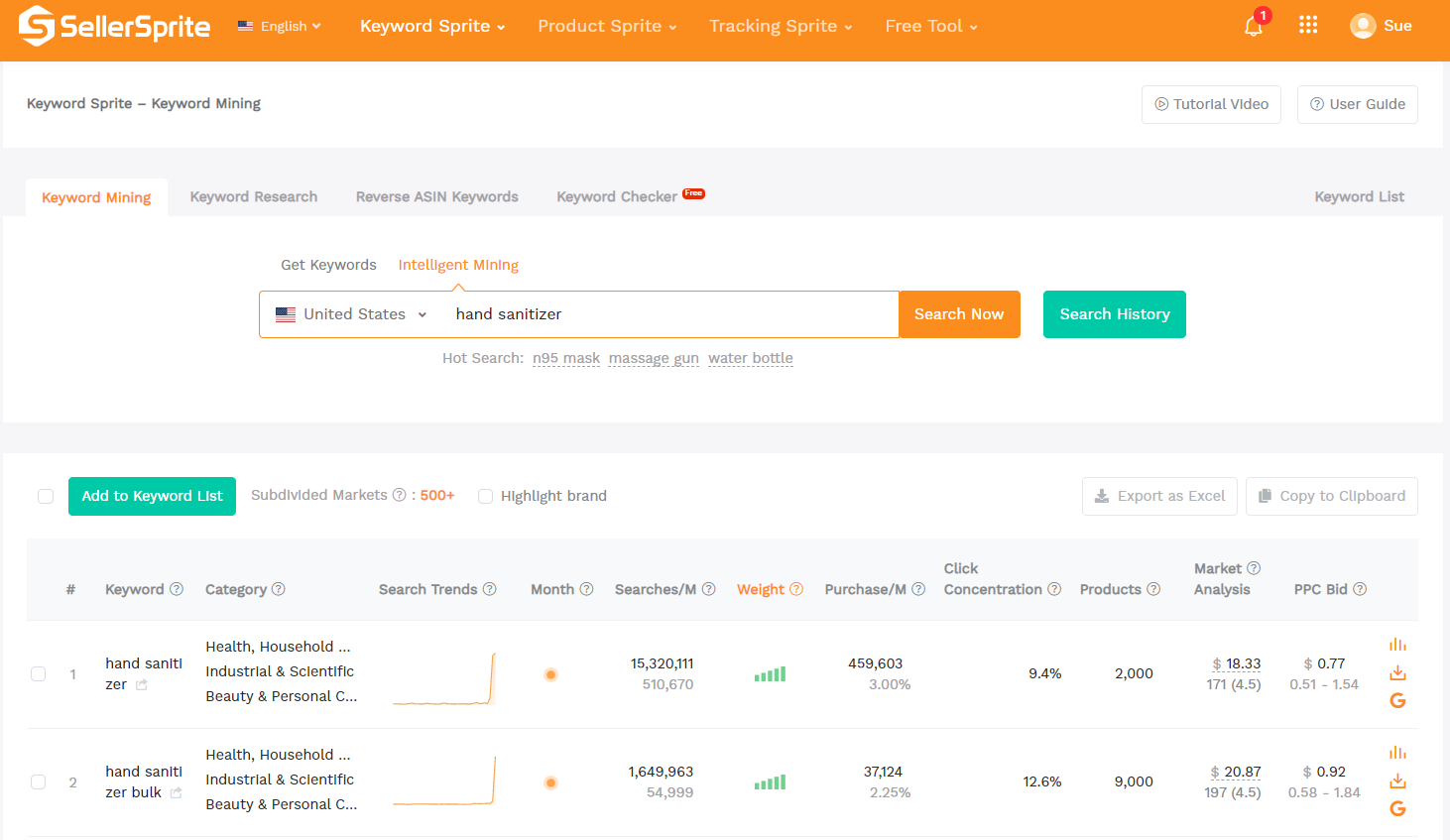 Through Intelligent Mining, we found that other keywords in the same subdivided market also show the same phenomenon: the search volume surged in February and increased steadily in March.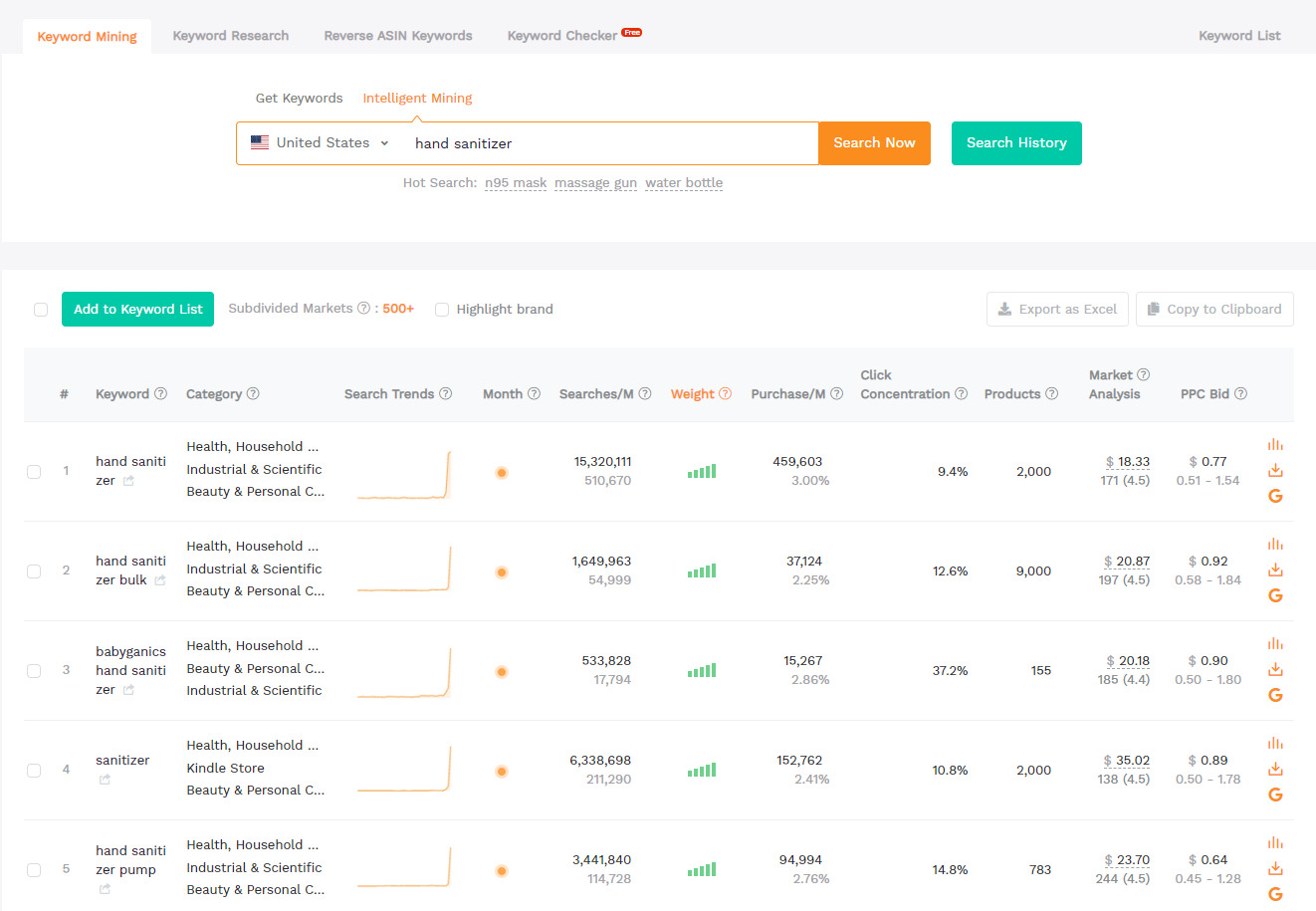 ·Hand sanitizer bulk: the search volume increased by 248% in February compared to January;
·Babyganics hand sanitizer: the search volume increased by 84% in February and reached 374% in March.

At the same time, combined with the Google Trends, it can be seen that the searches for hand sanitizer and other similar products have reached the highest level in the past five years, with the demand far exceeding the supply.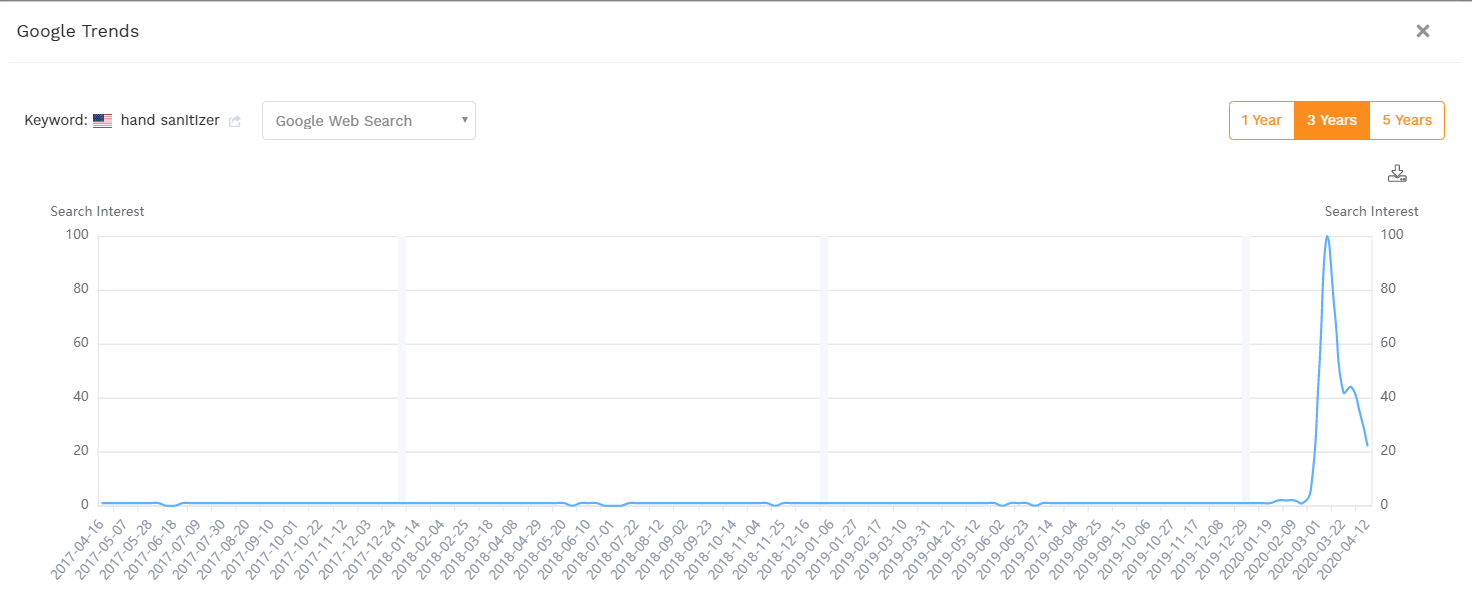 What has changed in consumer demand?
Affected by the epidemic, people around the world began to work from home. Searches for office products such as cameras, keyboards, and mice, home fitness equipment such as resistance bands, dumbbells, and yoga mats, and online entertainment products such as Sony PS4 and Nintendo Switch also rise rapidly.
According to data on SellerSprite - Keyword Research, keywords with soaring searches on Amazon in March is shown as follows: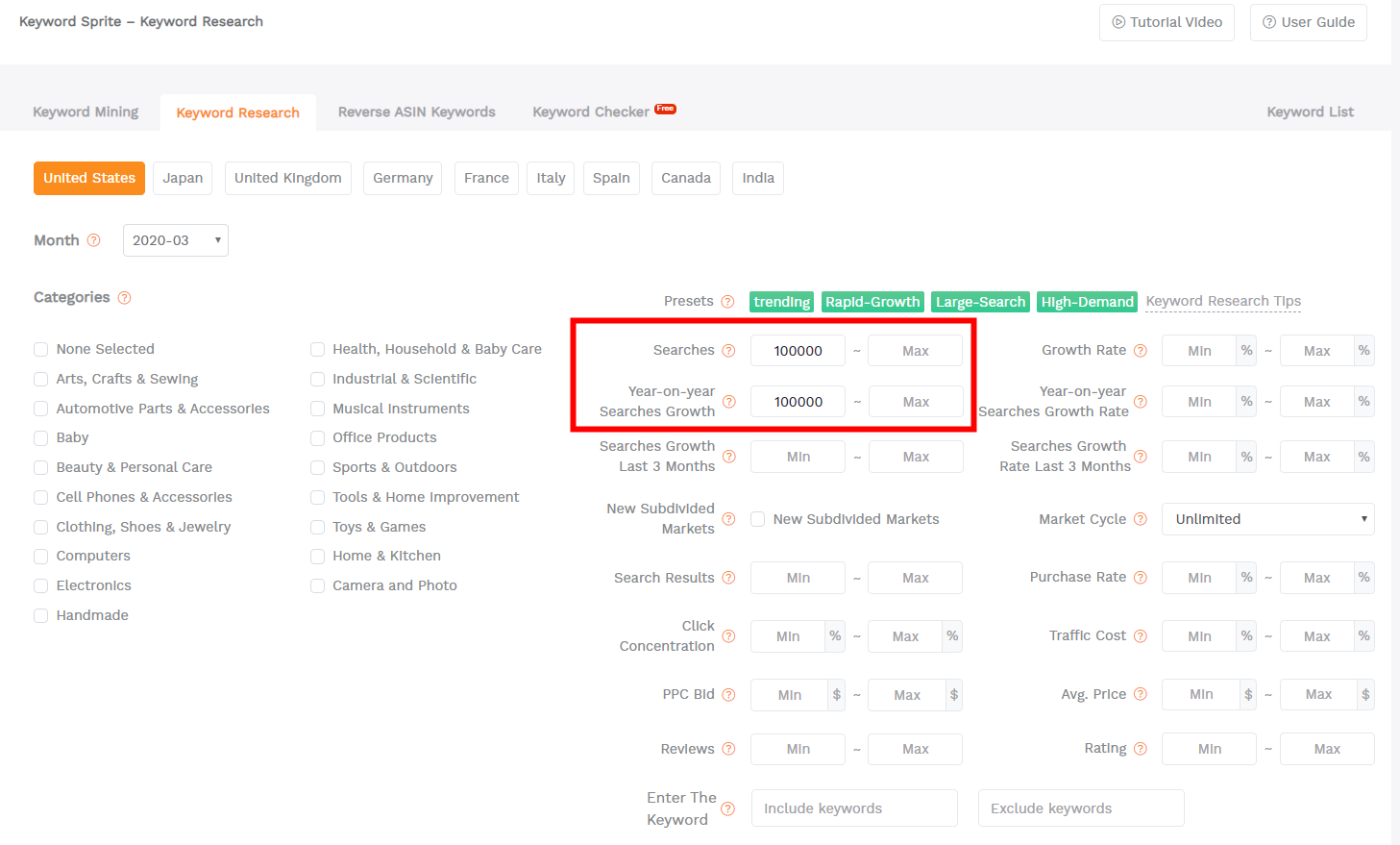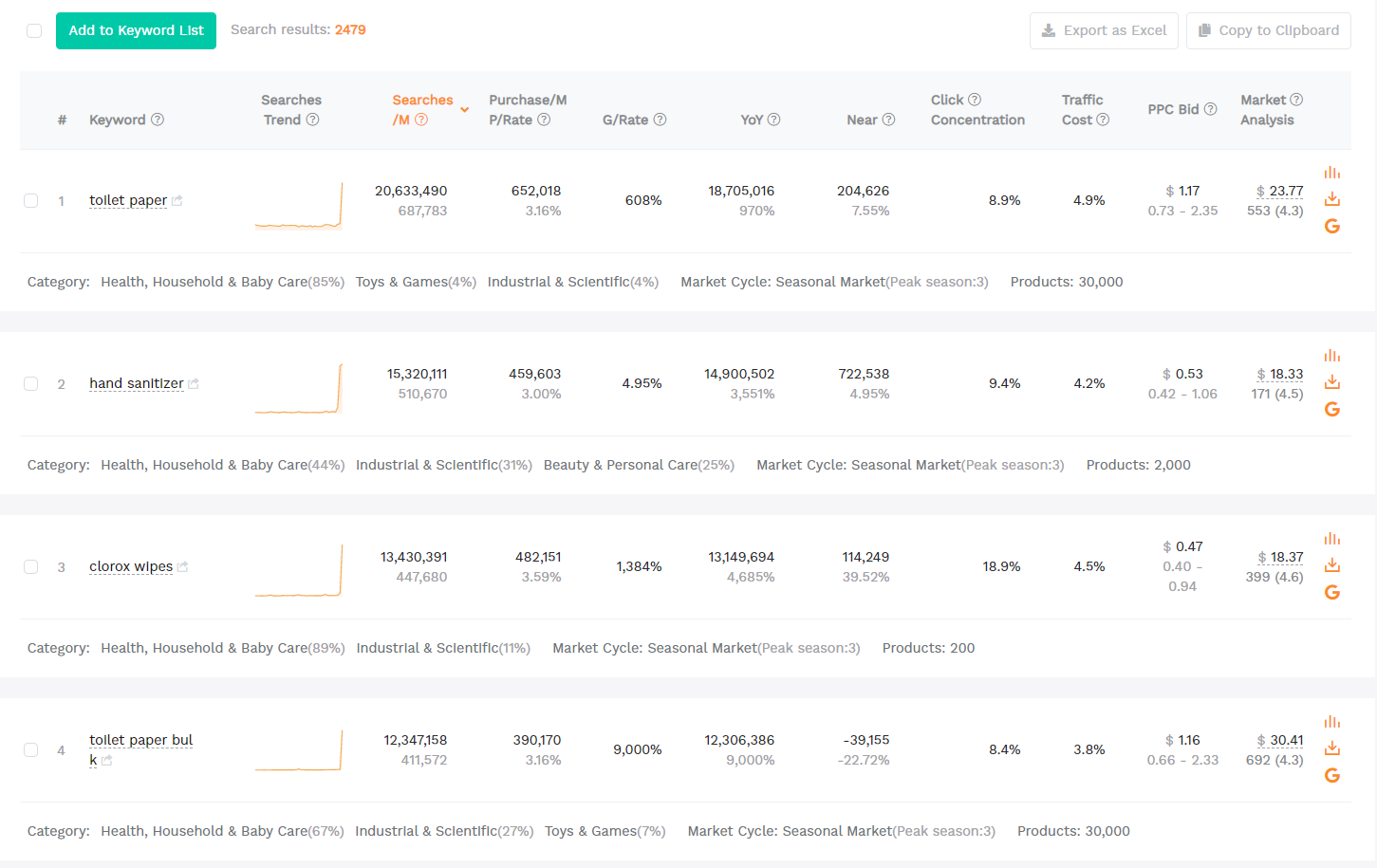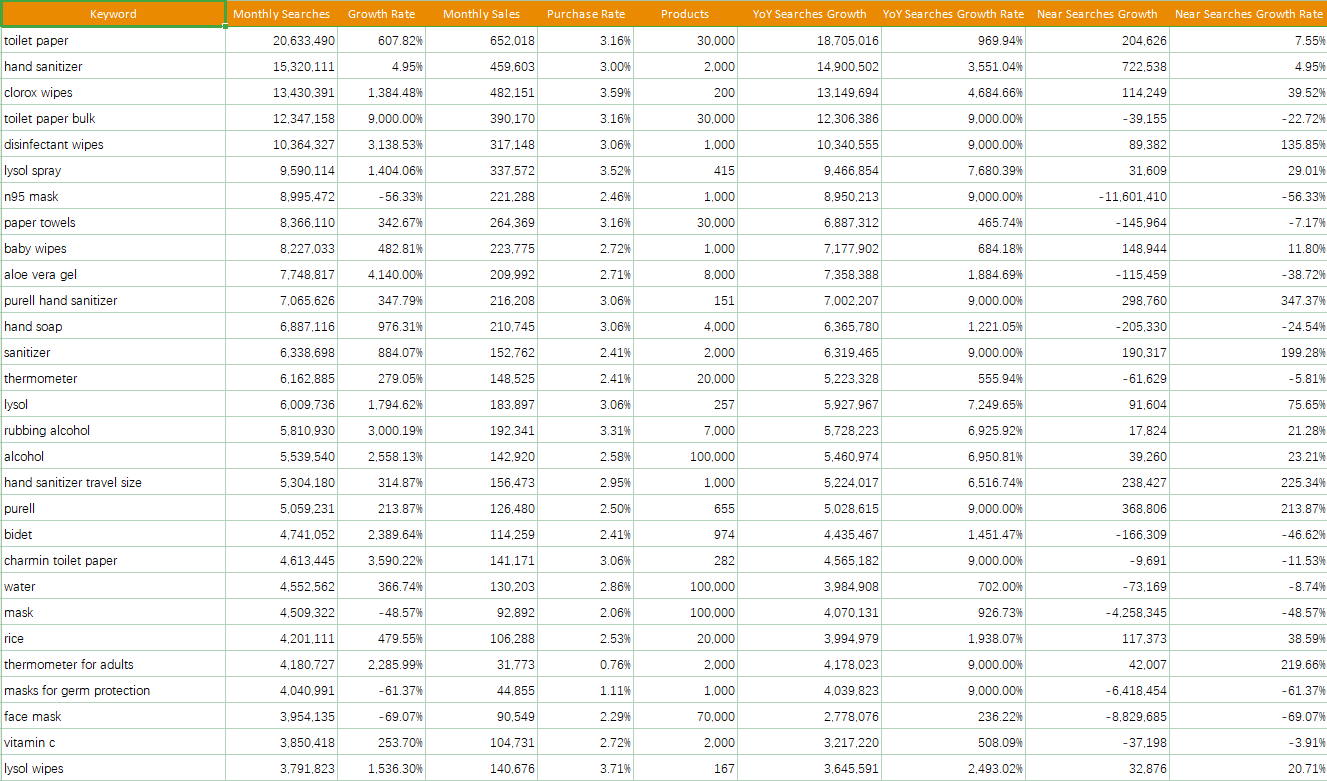 The search volume for most daily necessities surged and continued unabated. While the search volume for categories such as outdoor, clothing, and furnishing declined significantly as Amazon temporarily blocked the storage of non-essential products last month.

According to the latest news, Amazon has begun to ease restrictions on the storage of non-essential products, and many sellers said that some hot Listings in the storefront can create shipping plans. Therefore, even if Amazon isn't going to relax all restrictions at once, a gradually opening of shipping rights is enough for sellers to seize the opportunity.