Catalog:
1 / Home office
2 / Child Care
3 / Pet Care
4 / Home wear
With the release of "Home Quarantine Order", hundreds of millions of people in Europe and the United States have been forced to stay at home, including parents with children, students who are driven crazy by online classes, and most people with weight gain.
Study and word from home become a new normal during the epidemic prevention period. More and more people spend time in the home office, which undoubtedly increases consumer demand for home office supplies. At the same time, more and more time spent at home with children and pets has increased demand for children's toys, pet products, and home wear.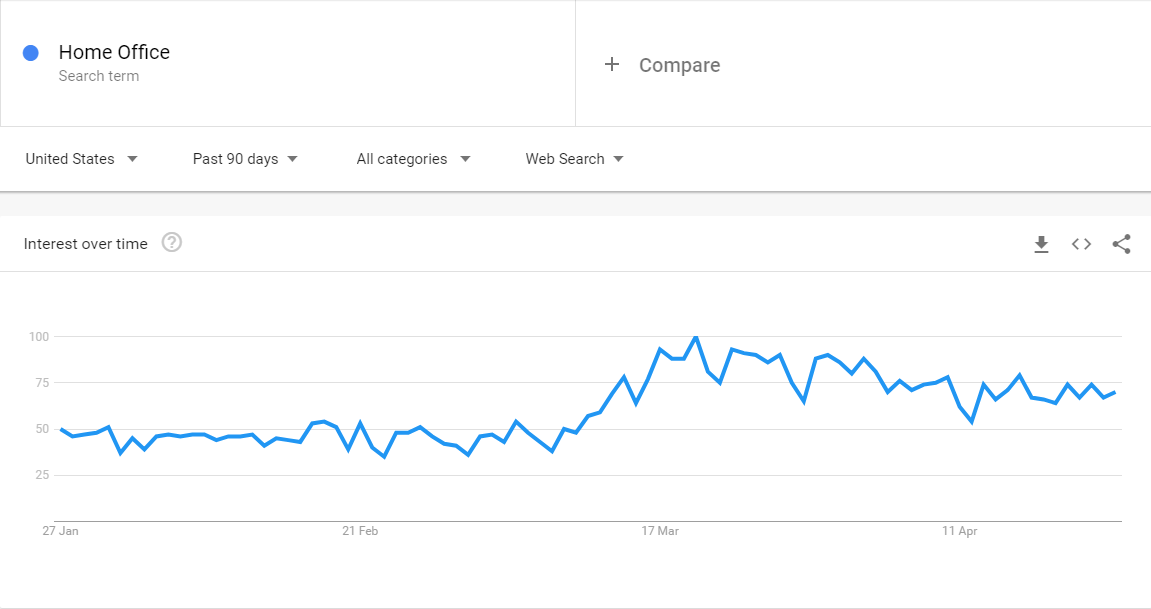 1. Home office
1.1 Office electronic products
Examples: router, display stand, and hub
Consumer concerns: Before the outbreak, most people do not have the habit of working at home and lack of home office conditions. Therefore, the hardware that can assist the home office during the outbreak is particularly popular. For example, the router increases network speed and reduce delay, monitor stand improves office experience, hub solves the problem of multiple devices and cables, etc.
Suggestion: The threshold for these categories is not high, and the recent demand is strong, so it is a good choice to start with stand, hub, or wire.
Compliance requirement: CE certification
Hot selling marketplaces: the US and Europe.
In addition to individual consumers, commercial enterprises and educational institutions will also purchase these products in bulk through Amazon Business to help their employees, teachers, and students work and study at home more efficiently.
1.2 Computer desk/desk
Consumer concerns: whether the material is firm and safe, whether there are a lifting function and storage space, whether it is convenient to install and move.
Suggestion: Working from home has become a general trend, in addition to the basic material structure requirements of the desk, consumer demand for functionality is also increasing, such as an ergonomic desk or computer lifting tables. What's more, the use rate of the dual-display is becoming popular, and the use area of the desktop is also a concern.
Hot selling marketplaces: the US and Europe.
1.3 Office chair
Consumer concerns: fabric structure material, seat comfort, cost performance, and functionality.
Suggestion: The chair is almost indispensable furniture in home office. The health and comfort of the chair are the most concerned point, whether the height of the back, the thickness, and angle of the seat can be adjusted, whether it is designed ergonomically. These are all things that consumers will consider when selecting, and they can be highlighted in the product detail page and video.
Hot selling marketplaces: the US and Europe.

2. Child Care
2.1 Educational toys
Scenario: Affected by the epidemic, teenagers and children spend a lot of time at home, so the demand for toy products has greatly increased. The behavioral game can help children spend their time and improve their practical ability. In addition, how to continue to learn at home, or explore the wild and nature is a common concern of parents due to the absence of school classes, so these products will also receive attention.
Consumer concerns: interest, puzzle, product safety, and education.
Suggestion:
1) Game toys currently mainly focus on "chess and card toys". This category has a high degree of brand and intellectual property concentration, so sellers need to pay special attention to intellectual property issues when entering this market, including but not limited to card image design, game rule design, etc. Be sure to carefully review the product's intellectual property in the relevant areas of the target country before launching it. Please make sure to sell the original products or access the relevant authorities of the target market;
2) There may not be too many opportunities for sellers in "chess and card toys", but it can be explored in "behavioral game toys". When selecting products, you must fully understand the local culture and preferences, and prefer to choose products that are popular in the local area;
3) Such products are usually packaged in cartons, which makes the volume too large and wastes space, greatly increases the logistics cost, and reduces the profit. Sellers can design more compact and optimized packaging plans to release more profit from the logistics link.
2.2 Children toys in the yard
Scenario: European and Americans mostly have their own courtyards, so even if they cannot go out due to the epidemic, European and Americans will build entertainment facilities in their own courtyards.
Consumer concerns: interest, sports, safety, and stability, buildable, and sense of space.
Suggestion:
1) This kind of product often has a large size and weight, which makes the proportion of logistics in cost will be relatively high.
2) This kind of product is often involved in installation problems, and it should be as best as possible in terms of installation convenience and structural stability. Since the unit price of such products is often high, special attention should be paid to the details. For example, the completeness and matching of screws and other parts can not be neglected, to avoid returns because of very small problems. The manual should be accurate and easy to read.
3) Outdoor products often have a seasonality, such as swimming pools, swings, etc. It is also important to grasp the seasonality of products and control the rhythm of the supply chain in combination with the production and transportation cycle of products.

3. Pet Care
3.1 Pet grooming and trimming tools
Examples: pet hair comb, pet hair scissors, pet hair shaver, pet sticky brush, and pet nail clipper.
Consumer concerns: comb's function(needle comb/row comb/hair removal comb/massage comb/comprehensive comb, etc.), size(suitable for pet size), scissors and shaving tools' material, design technology, supporting tools are easy to operate, safe and easy to use, and will not make pets feel uncomfortable.
Recent trend: Electric products are gaining popularity among young consumers, who are willing to spend more to get a convenient product experience.
Hot selling marketplaces: US and Europe.
More information:
1) If pet medical supplies are involved, the requirements of Amazon medical equipment should be met: https://sellercentral.amazon.com/gp/help/help.html?itemID=200164650&language=zh_CN&ref=ag_200164650_cont_200164330
2) If it is an electronic product, it must meet the relevant requirements of Amazon battery products: https://sellercentral.amazon.com/gp/help/G200383420

4. Home wear
4.1 Casual wear at home
1) Ladies' home wear/pajamas
Examples: pajamas/home wear suits > nightgowns/bathrobes > nightdresses > Pajamas pants/home pants > thermal underwear sets.
Consumer concerns: Consumers pursue comfortable, relaxed, and lightweight home wear and pajamas, and have special seasonal requirements.
Suggestion: Some of the hottest elements that sellers can pay attention to are comfort, relaxation, softness, lightness, skin-friendly, moisture absorption and perspiration, breathability, durability(no pilling), warmth(winter), no label design(avoid irritating skin), pocket design, cute cartoon shapes or patterns, and Q4 Christmas theme.
Material: cotton, polyester fiber, spandex, viscose, elastic fiber, satin, and coral(winter).
Popular colors and patterns: black, white, gray, pink, red, beige, blue, navy, green, purple, plaid, and print. At the same time, you can also focus on the parent-child pajamas suit.
Hot selling marketplace: US.
2) Men's home wear/pajamas
Examples: men's T-shirts
Consumer concerns: material, breathability, and comfort.
Suggestion: [North America] Compared to European buyers, customers in North America are more willing to show their individuality. Small embellishments and large prints are the ones they like on T-shirts; [Europe] They tend to buy simple style, the color tends to simple but elegant, and no print; [Japan] They have a unique Japanese style, which conforms to the figure and aesthetic of Asians.
Hot selling marketplaces: North America, Europe, and Japan.
4.2 Men's and women's underwear
Examples: Women's body-hugging underwear, women's invisible underwear, women's sports underwear, and panties; men's bottoming shirts, and underpants (mainly boxers).
Consumer concerns: Whether consumers in Europe, America, or Japan, the requirements for underwear must be comfortable and skin-friendly, but also reflect the beauty of the body. Whether it is to get along with family members, or with friends through remote video on the Internet, consumers want to present themselves relaxed and active.
Suggestion: During the epidemic, women became the main consumer group. While purchasing epidemic prevention items to protect the health of their families, they never forget to please themselves. The basic underwear of simple and comfortable is favored by many customers; At the same time, the sports underwear sold in sets can be used for daily home wear and sports.
Hot selling elements: Women's underwear includes stable support performance, gathering effect, slimming function(corset, waist, effective control of flab fat, spine protection, fat burning), adjustable shoulder strap, multi-breasted(size), bra support(high/medium/low - suitable for different sports scenes), detachable bar pad, I-shaped design, ultra-thin tapered edges(nipple), lace, sexy, seamless technology, and no rims. Men's underwear includes no shrinkage, no fading, breathability, and skin-friendly.
Material: polyester fiber, nylon, spandex, Lycra, cotton, silk used in sexy underwear, latex and silicone used in the nipple, etc.
Popular colors and patterns: The basic colors of underwear are mainly black, white, gray, etc. Women's underwear also includes beige and nude colors; at the same time, European and American female consumers are more avant-garde in underwear than Japanese customers, the recent hot colors include blue, navy, green, purple, plaid, and printing, while Japanese customers prefer soft and cute colors, such as light blue, pink, etc.
Hot selling marketplaces: US, Europe, and Japan.
4.3 Baby clothes and accessories
1) Baby clothes
Consumer concerns: fabric, comfort, and size.
Suggestion: when it comes to baby clothes, buyers are most concerned about the fabric, material, and comfort. Buyers in Europe and the United States prefer to purchase the set when buying children's clothes.
Hot selling marketplaces: North America and Europe.
2) Children's accessories
Consumer concerns: material and price.
Suggestion: The accessories for little girls are most popular with hair accessories and hairpin sets. The basic models are mostly a set of 12 or 20 hairpins in different colors. The accessories for little boys are mainly in hats and gloves and sunglasses.
Hot selling marketplaces: North America and Europe.