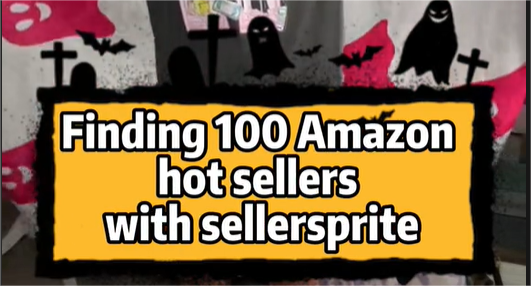 Are you an aspiring e-commerce entrepreneur looking to up your product research game? Are you an established seller aiming to stay ahead of the competition? If so, you're in the right place! SellerSprite is your key to discovering the latest and most effective product research methods. 🚀
In today's fast-paced e-commerce landscape, knowing how to research and select the right products can mean the difference between success and failure. Fortunately, there's an exciting platform where you can find invaluable insights, tips, and strategies to supercharge your product research efforts – TikTok! 🎥
Why Should You Follow SellerSprite on TikTok?
1. Discover Winning Products: At SellerSprite, we're all about unveiling those hidden gems and trending products. Follow us to get the inside scoop on products that can potentially take your business to new heights.
2. Market Trends Unveiled: E-commerce success is not just about finding a great product; it's about understanding market trends. Our TikTok account will provide you with insights into market dynamics and customer behavior that can drive your sales.
3. Optimize Your Listings: Struggling with product listings that don't convert? We've got you covered. We'll share proven strategies to optimize your listings and maximize your profits.
4. Save Time and Money: Avoid common pitfalls and costly mistakes with our expert advice. Our TikTok content will show you how to streamline your product research, saving you time and money.
5. Join Our E-commerce Community: Connect with a community of like-minded entrepreneurs who share your passion. Share experiences, ask questions, and gain valuable insights to help you along your e-commerce journey.
SellerSprite is your go-to source for all things product research, and TikTok is where we share our top-notch knowledge in a fun and engaging way. Whether you're a seasoned pro or just starting, our TikTok content is designed to help you succeed in the world of e-commerce.
Ready to dive into the world of e-commerce, make your journey more enjoyable, and boost your profits? Follow us on TikTok today and become part of the thriving SellerSprite community.
Don't miss out on this opportunity to unlock the secrets of successful product research. Your e-commerce journey is about to get a whole lot more exciting! 🌟
Follow SellerSprite on TikTok now: Click Here
Stay tuned for expert tips, the latest trends, and exciting giveaways. We can't wait to see you there!
Happy selling and happy following!
SellerSprite Team 🚀