1. Sell hot niche products
When selecting products, you should look for the products that consumers want to buy. So first of all, you need to find out what kind of product makes consumers want to buy. It may be a beauty product recommended by beauty blogger Kylie Jenner; or a new toy for the child's birthday; or a fitness equipment recommended by LeBron James.
In other words, the product has to be popular or hot. But in fact, it is difficult to grasp product trends. For example, who knows that the fidget spinner would be the best-selling product in 2017?
We can utilize Google Trends to track the search volume of any keyword, and then approximate the consumer demand for products. If someone is searching for a product online, they probably want to buy it.
Let's take a look at the search trends of "fidget spinner" in the past 5 years: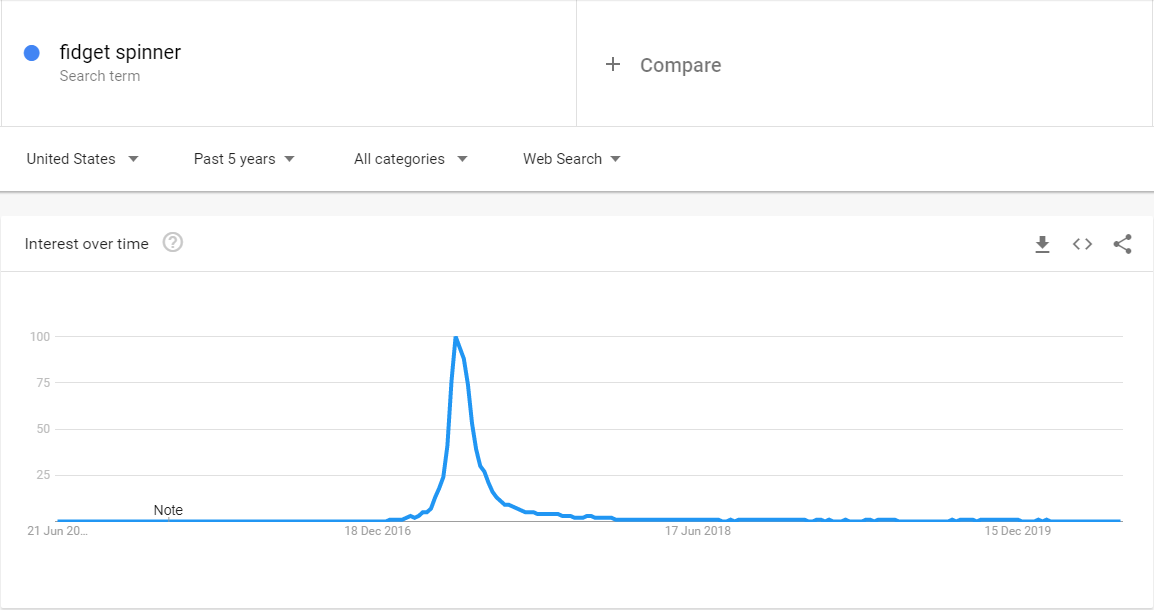 Since the beginning of 2017, the search volume of the product (that is, consumer interest in the product) has grown dramatically. Google does not explicitly show the number of searches for a word, so all search results are relative. As we can see, there were 100 times more searches in mid-2017 than in 2015.
Interest in "fidget spinner" broke out in early 2017, but fell sharply by the end of the year, which means that it is important to seize the opportunity, but do not blindly follow the hot products. Keep in mind that it takes time to build a successful store on Amazon and the probability of getting rich overnight is small.
2. Sell products you are familiar with
Of all the factors that determine your success on Amazon, the most important is probably the quantity and quality of reviews in your store. In other words, to be successful, you have to find products that Amazon consumers will like.
However, the best way to find out whether consumers like your product is to ask yourself whether you like your product. This requires you to put yourself in the consumer's shoes and understand the quality of your product. The premise is that you should first have a basic understanding of your product.
3. Utilize product research tools
For product research, Jungle Scout, AMZScout,
SellerSprite
, etc. are all good tools.
Take SellerSprite as an example. We can figure out which products to sell on Amazon by simply trying to search for a few different product categories. We initially tried the "football tees", but found that this was not a good niche market: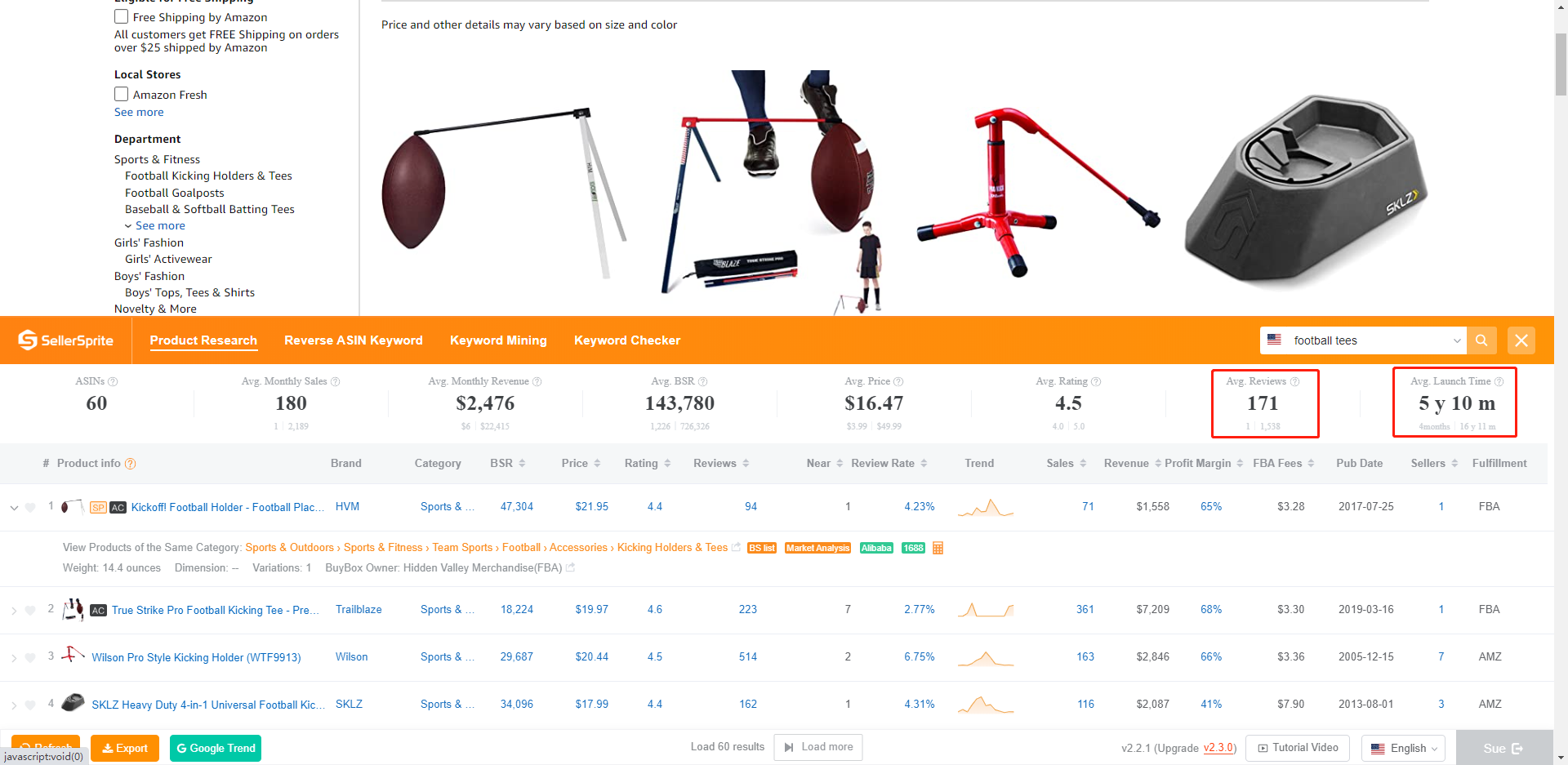 Next, we tried the "football display cases" (as shown), which seemed to be a profitable niche product: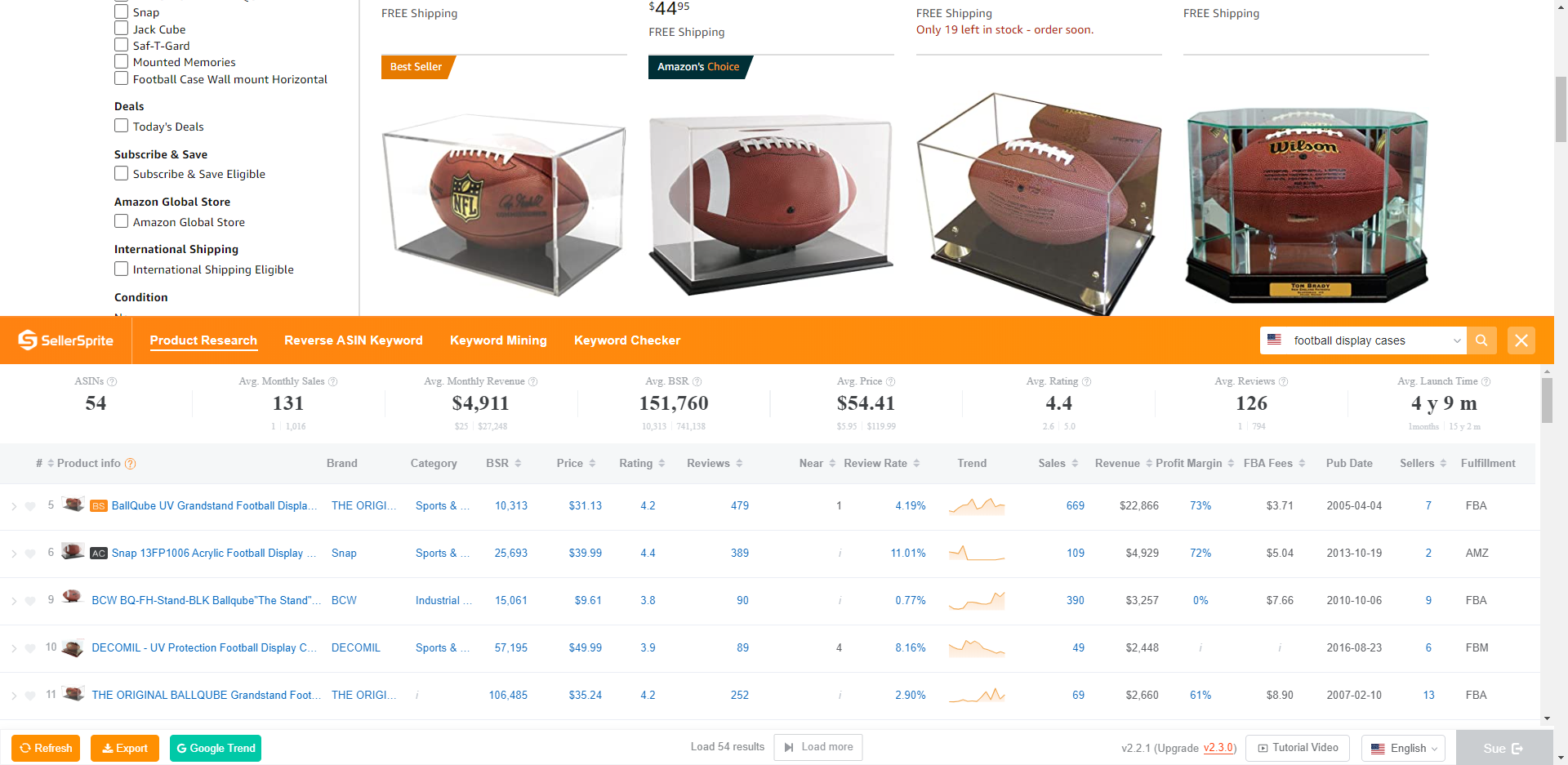 After doing product research and getting detailed information on Listing, shipping costs, product costs, and Amazon fees for this niche product, we are ready to start our own amazon store.
4. Sell products that can be developed into production lines
Sell something that you can make into a series of products, not to say that you are going to release an entire series of products immediately.
The risk is too high because you can't be absolutely sure whether your product will be needed by consumers, let alone producing an entire series. In addition, you cannot be sure that your supplier will be able to deliver on time. Furthermore, labeling products and classifying multiple SKUs may encounter problems.
For all these reasons, the best approach for anyone starting out on Amazon is to release only one product, see how it works, and then grow the business. Nevertheless, even in the early stages, you must start thinking about how to extend the product category.
For example, if your first variant sells well and want to introduce the second variant, then you can refer to the previous product reviews. Generally speaking, if you have done a lot of paid advertising for the product before, you will know which type of advertising works better when you launch similar products.
5. Improve existing products
What is the best-selling product? Products that can solve the obvious problems of customers. Therefore, figure out what is the hot product by understanding the needs of Amazon consumers.
It seems much more difficult to do market research if you're trying to sell a product online. After all, in the e-commerce industry, you are unlikely to meet your customers in real life. In a sense, your customer is just a name, a shipping address, or an order number.
So how do you gather feedback from customers? The answer is the review.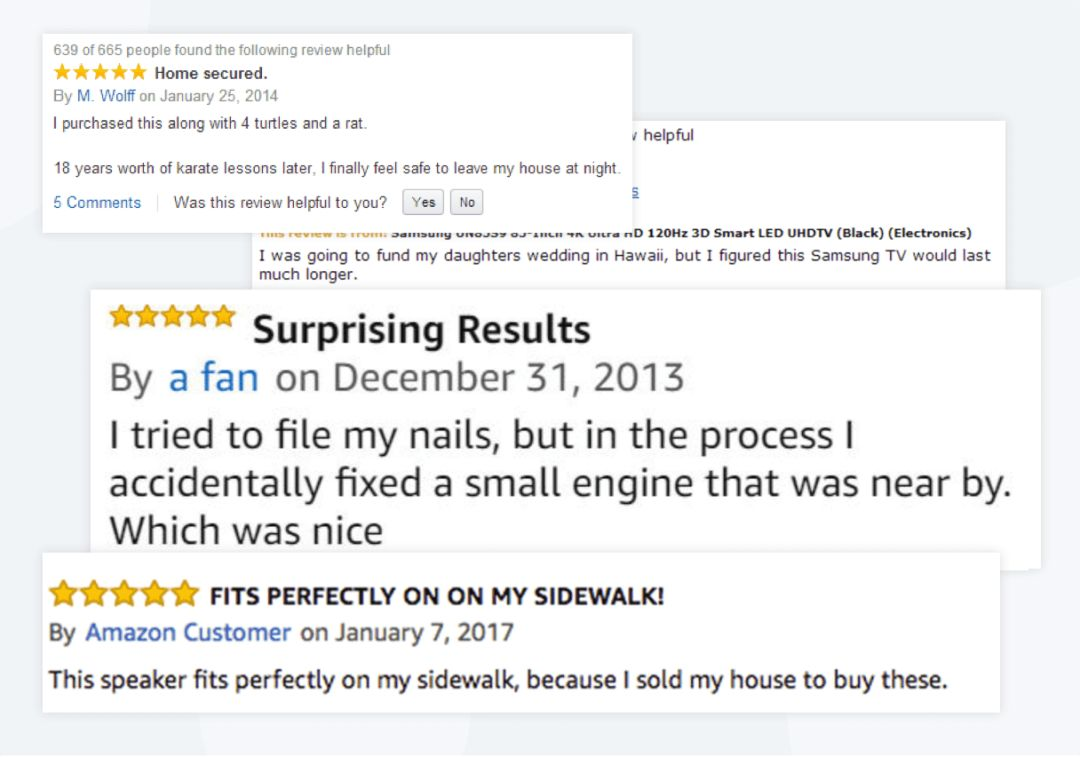 Amazon has built a huge database of user feedback, the Amazon customer review system. The system is not based on sellers; its purpose is to help other buyers to purchase products with public information. In addition, until you release the first product, you will not be able to get feedback from the product itself, but from similar products.
Even so, customer reviews can still provide a wealth of information for new Amazon sellers. More specifically, they are an important source of inspiration and creativity for those looking for hot products on Amazon.
After searching "football display cases" on Amazon, we got a product "The "Ultra Pro Football Clear Square Holder" with 4 star rating, which means that even if customers are not completely satisfied with the product, it sells well. If you sell similar products, you will be successful after improving some defects of existing products.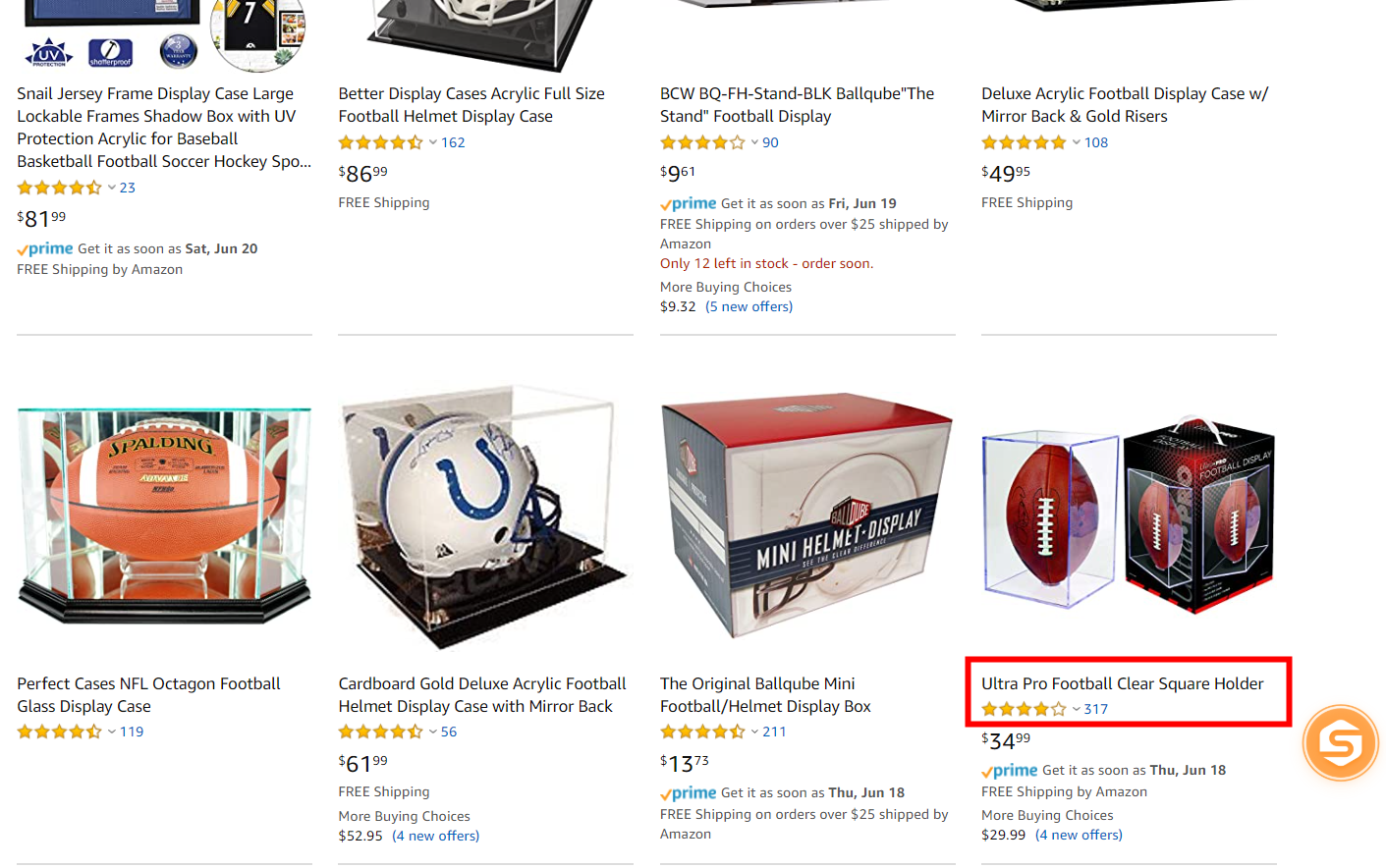 With this in mind, we can check the reviews of this product, especially the negative reviews.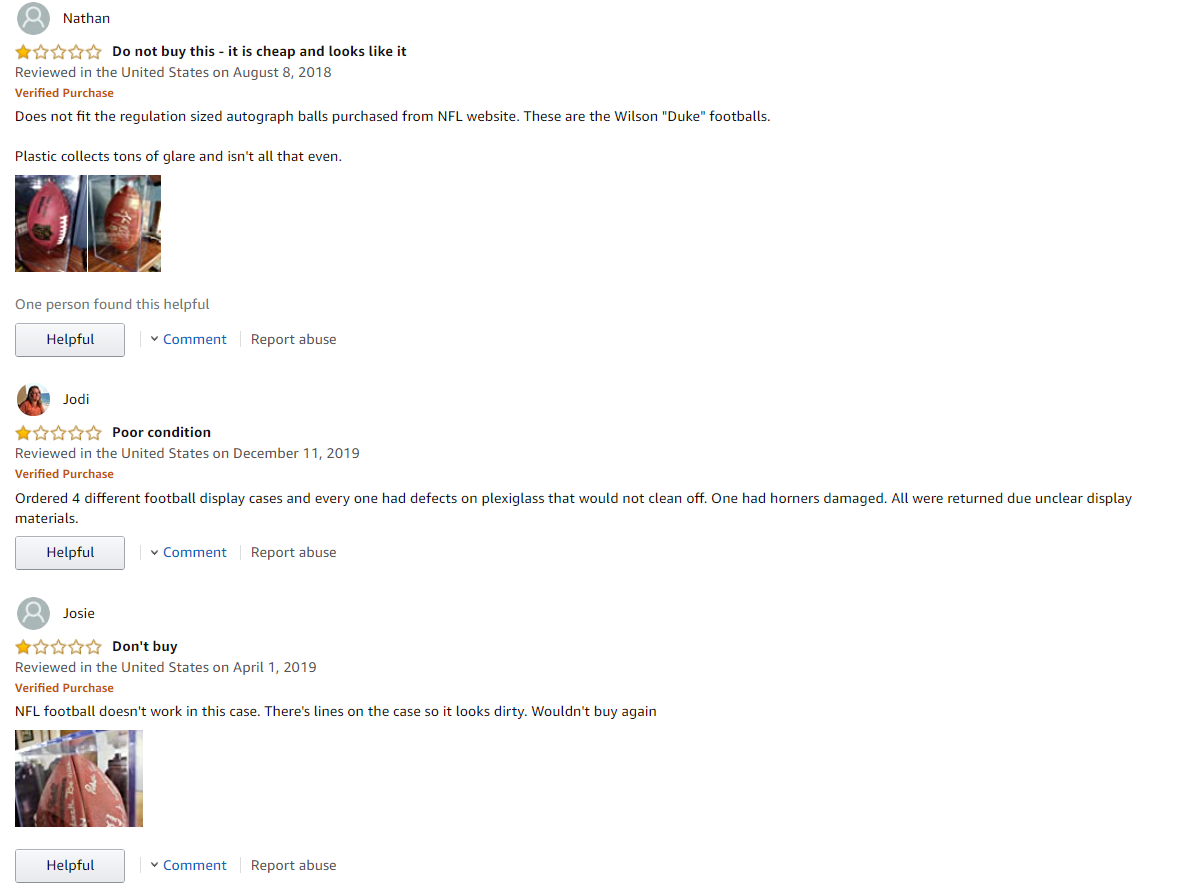 Customers have some dissatisfaction with this product, mainly in the following aspects:
Looks cheap/shoddy

The football is hard to hold in the case

Balls and cases vary in size

The product was damaged on arrival.
As can be seen from the above example, we can clearly know what kind of football display cases customers want through reviews. They want to receive the products in good condition, preferably in good quality and easy to install.
6. Sell products with "sales depth"
The easiest way to see how a product is selling on Amazon is to check the Amazon BSR.

Amazon does not disclose the exact sales information of its products, but BSR can give you a good idea of whether the product is selling well. The lower the BSR(ie, closer to 1), the better the product will sell. But more than that, there are many niche products that are "unbalanced", because some sellers can "crush" competitors with only one product.
7. Don't sell seasonal products
If you look for hot products in winter, you will see Santa suits, Christmas lights, and new calendars everywhere. So, should you sell plastic reindeer on Amazon in 2020?
Products like this have obvious seasonality. The product only sells better at one time of the year than at other times. Seasonal products are not only Christmas-related products, but also beach towels, sunscreen and swimming trunks; or Valentine's Day cards and roses.
When selecting products, consider whether this product has seasonality. There are two reasons. First, if a seasonal product is in the peak sales season, it's easy to be fooled into thinking it is more popular than it really is. Second, even if you exactly know how popular the product is, there are peak and low seasons throughout the year, and it is difficult to manage your inventory.
8. Sell products from Amazon BSR
For example, the following image is the best seller of Sports & Outdoors.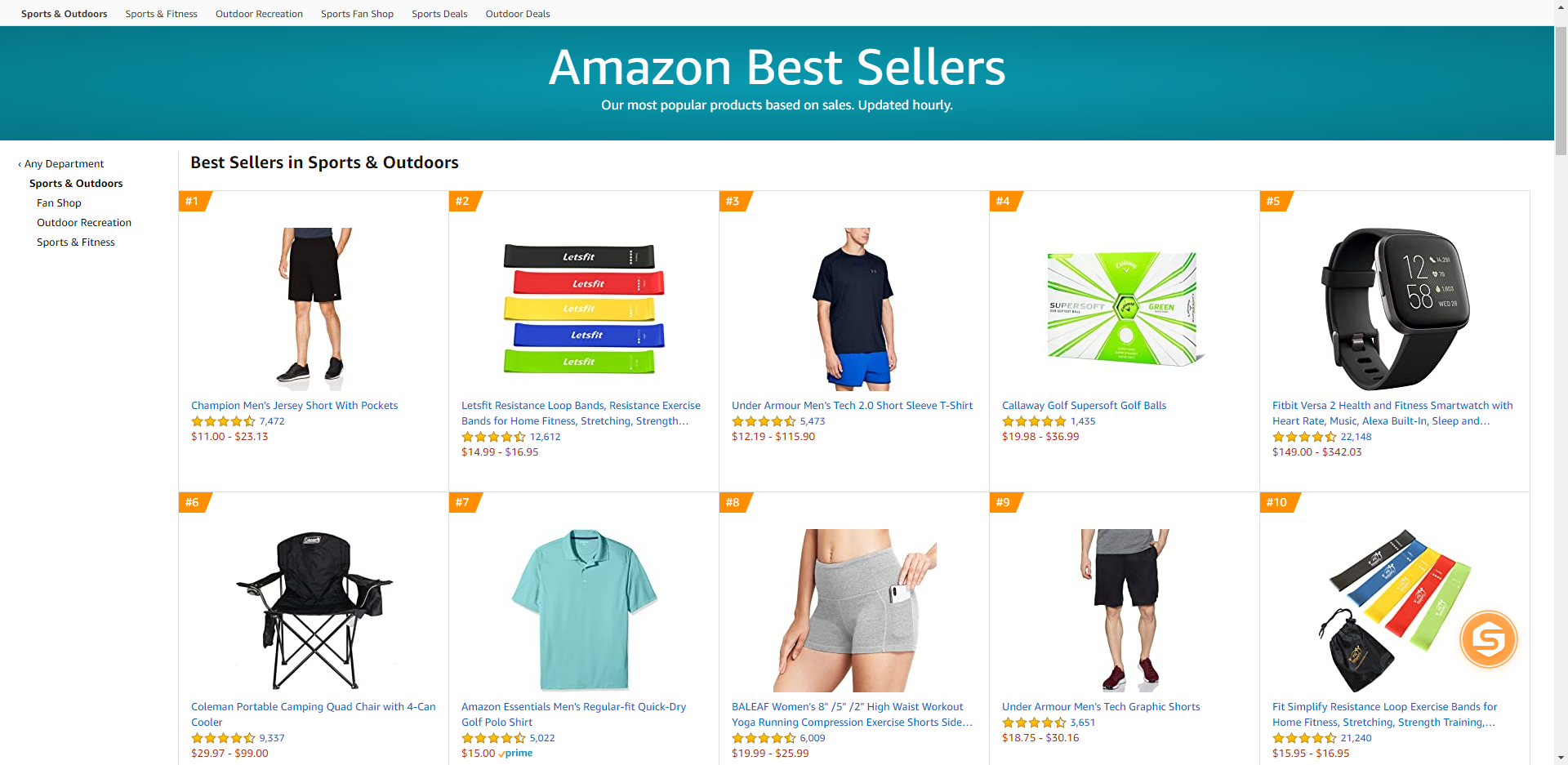 Or you can also check Amazon "Movers & Shakers". It shows the biggest gainers in sales rank over the past 24 hours. You'll see a sudden surge in demand for previously mediocre products.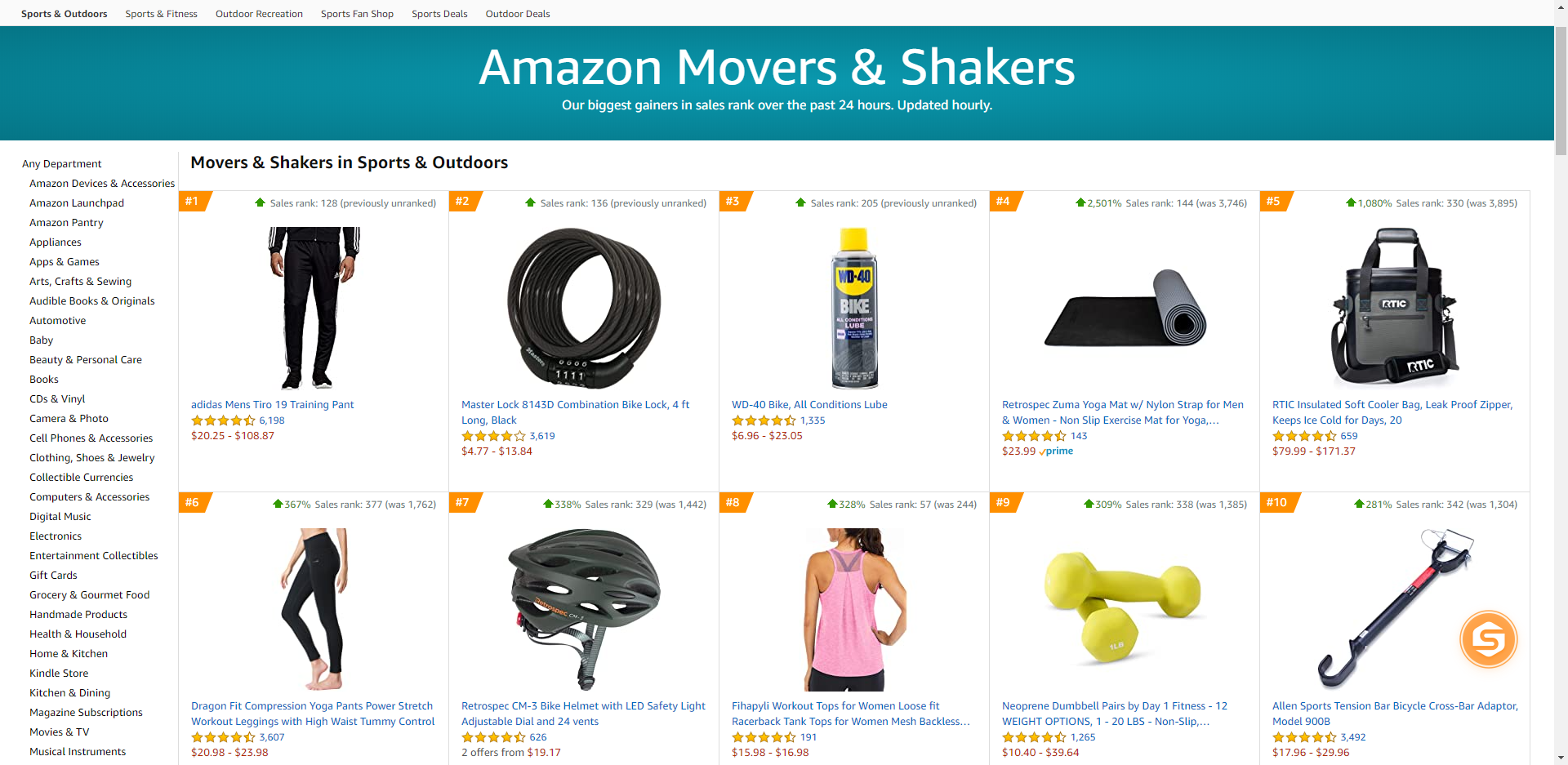 Viewing the list of best-selling products is a good way for sellers to find hot products as early as possible. But seasonality is the biggest factor affecting the best seller rank. Therefore, if you are going to refer to these lists to select products, especially through the Amazon "Movers & Shakers", make sure that the uptrend you find is sustainable and not a temporary one.
9. Sell products that are not in high demand
Amazon has allowed third-party sellers to sell products on its platform for years. Since then, especially in the past few years, market competition has become fierce and product updates have been rapid.
This means that most hot niche products are already quite saturated. Big brands may have already occupied the market; or there may be a third-party seller who has already set a successful precedent, and it may be difficult for new sellers to catch up. Moreover, with many new sellers on Amazon flocking to the same niche, there is little room for newcomers.
So how to find these niche niche markets? Google and Amazon already have provided solutions.
Both Amazon and Google now offer autofill in the search box. That is, when you enter something in the search box, it will be automatically fills with the search terms you may want to type. Autofill is the result of multiple searches for the keyword by others. With autofill, you can accurately understand what customers want to buy (especially Amazon consumers).
10. Sell pro-tested products with market demand
Test the product before launch. In other words, rather than having Amazon tell you how popular a product is with data, it is better to know whether the product has market demand.
Before the first consumer decides to buy your product after you launch it on Amazon, you can avoid consumer dissatisfaction by testing the Listing for possible problems. For example, you have done preliminary research and think that your product will sell well on Amazon. At this point, you can test it in the following three ways:
Place ads on Google AdWords to see the CTR of the product's ads;

Marketing on Facebook to see which product have the highest audience engagement;

Create a simple dropshipping website to see how the product sells without inventory.