Competitors are the best teachers. For most Amazon sellers, Anker is a worthy example. When researching competitors, the first is to analyze and learn the competitor's Listing and absorb its good content for your own use. For consumers, Listing is the product itself. Whether a consumer will make a purchase decision largely depends on whether your Listing has convinced him.
An excellent seller is bound to be diligent in Listing writing. Here's an analysis of the Listing just released by Anker.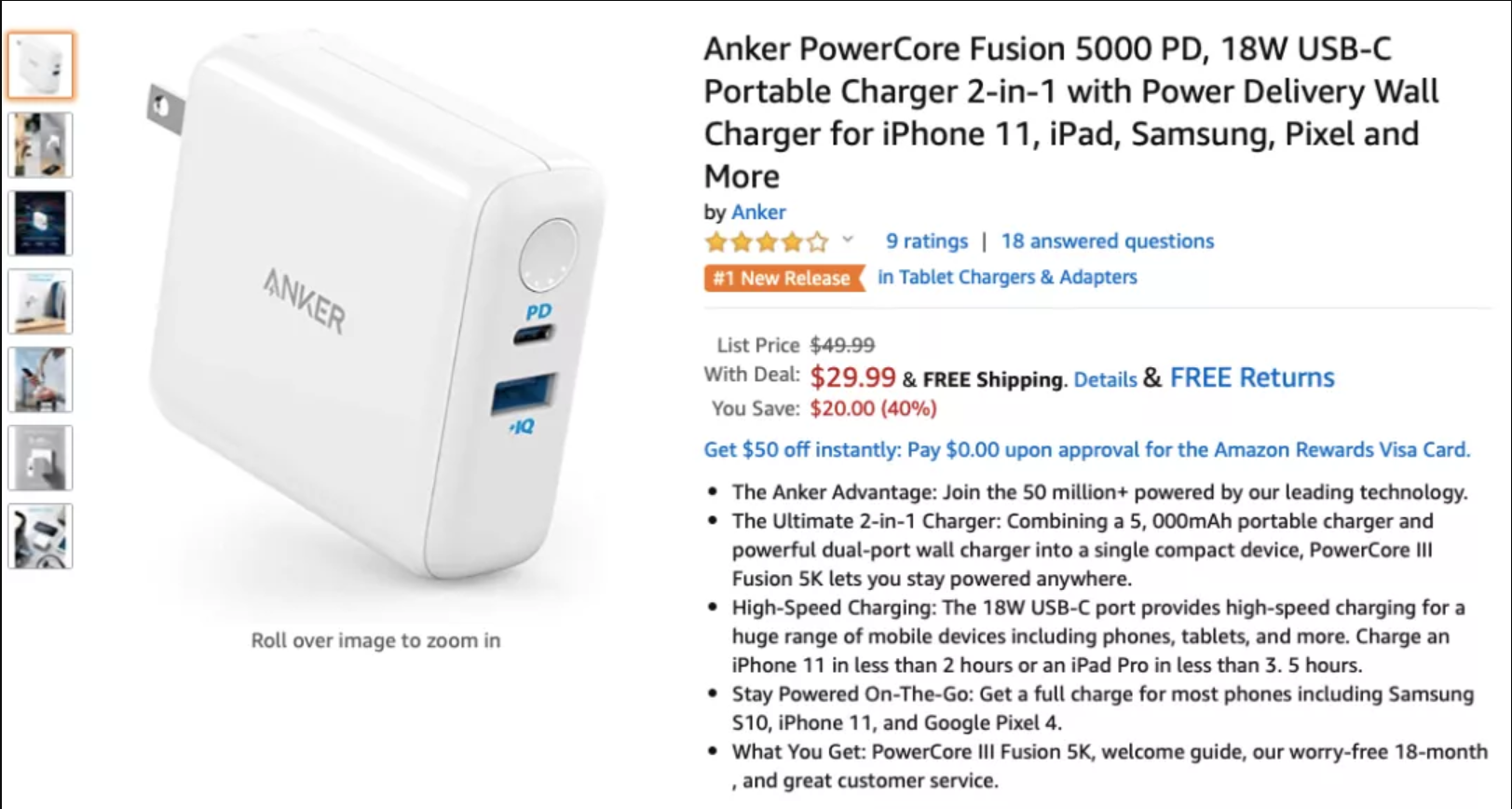 As you can see from the picture above, this Listing is no.1 in the "New Releases", and only has 9 reviews. Let's just take a look at the writing ideas.
The Anker Advantage: Join the 50 million+ powered by our leading technology.
The Ultimate 2-in-1 Charger: Combining a 5, 000mAh portable charger and powerful dual-port wall charger into a single compact device, PowerCore III Fusion 5K lets you stay powered anywhere.
High-Speed Charging: The 18W USB-C port provides high-speed charging for a huge range of mobile devices including phones, tablets, and more. Charge an iPhone 11 in less than 2 hours or an iPad Pro in less than 3. 5 hours.
Stay Powered On-The-Go: Get a full charge for most phones including Samsung S10, iPhone 11, and Google Pixel 4.
What You Get: PowerCore III Fusion 5K, welcome guide, our worry-free 18-month , and great customer service.
The first line "The Anker Advantage: Join the 50 million+ powered by our leading technology." What's the point of writing it this way? Most consumers are in the process of shopping with doubts. They doubt your product quality, service, etc. To resolve this problem, you need to rely on word of mouth. A lot of false reviews may result in account restrictions, the phrase "joining the 50 million consumers" is a good way.
There are two particularities in psychology: First, everyone has a herd mentality; Second, between warm and sensible words and cold technical parameters, people tend to choose sensible words that are easy to understnd. In the first line of the description, Anker can fulfill both demands.
In the second, third, and fourth lines of the description, Anker writes his own technology-related parameters, but if you do a little research, you will find that each point he emphasizes is in contact with consumers, that is, my parameter (Features) can help you. Consumers never care about your features, and they always think about what's good for me. Anker integrates its own product features into the benefits it brings to consumers, such as the convenience of two-in-one, the efficiency of fast charging, the adaptability of multiple models, etc., all of which are the concerns of consumers when purchasing.
In the fifth line of the description, Anker tells consumers what products they will receive, and emphasizes that they provide 18 months warranty and high-quality customer service, so as to resolve consumers' doubts in purchasing and facilitate them to make purchasing decisions quickly.
Compared with Anker's Listing, many sellers are always perfunctory, and even write the Listing as specification, or simply copy some content from the specification.