Recently, it was reported that Amazon Prime Day may be held in October. For Amazon sellers, Prime Day is the biggest shopping holiday in the summer. Amazon has not announced the specific date of Prime Day, which normally takes place in July, because of the outbreak of the epidemic.

Due to the Coronavirus pandemic, Prime Day is expected to be held from late September to October this year. Amazon wants to end its "Prime Day Deals" as soon as possible before the start of the "Black Friday" shopping season in November. Prime Day cannot be earlier than the last week of September and likely to last until early October.

There is also something about "Prime Day Deals 2020" on Amazon.



It shows that Amazon 2020 Prime Day FBA delivery deadline is September 25, 2020, Prime Day coupon submission deadline is 1 week before the start of the Prime Day, and Prime Day Deals application deadline is July 10.

Meanwhile, a seller has revealed that this year's Amazon Prime Day will be held on October 3 and sent out a screenshot of the notification related to Prime Day.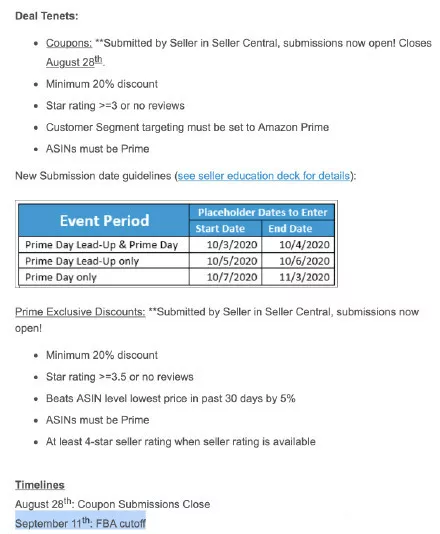 Prime Day Lead-Up & Prime Day: 10/3/2020 -10/4/2020;
Prime Day Lead-Up only: 10/5/2020 -10/6/2020;
Prime Day only: 10/7/2020-11/3/2020.

The notice also spells out details for Prime Day, including the following 5 aspects:
1. Minimum 20% discount;
2. Star rating >=3.5 or no reviews;
3. Beats ASIN level lowest price in the past 30 days by 5%;
4. ASINs must be Prime;
5. At least 4 star seller rating when seller rating is available.

Although Amazon has not yet officially announced the specific date of Prime Day, sellers can also make preparations based on the above information to plan marketing campaigns for the upcoming traffic peak, and strive to increase sales and store conversion rates.

Tips for Prime Day marketing:
1. Take advantage of unofficial promotions;
2. Optimize the Amazon product details page;
3. Do not raise the retail price too high before the promotion;
4. Place Amazon sponsored products and sponsored brand advertising campaigns;
5. Launch promotions outside Amazon;
6. Use psychological effects to guide consumers to purchase.